At Pacifica Senior Living we love adding a splash of fun. Holidays and events are a great excuse to add a little extra pizzazz and excitement to our activities and craft times. Across our communities, our residents and team members have been making some amazing fall and Halloween creations.

Activities - especially creative ones - are not only fun, but they are hugely beneficial for older adults. A creative outlet can help boost moods, great endorphins, and be both calming and relaxing.

For old adults, crafting is also excellent for enhancing hand-eye coordination, and dexterity. This means it can help strengthen your mind, a key way to help stave off memory loss, and can strengthen your hands, which can help with arthritis and stiffness.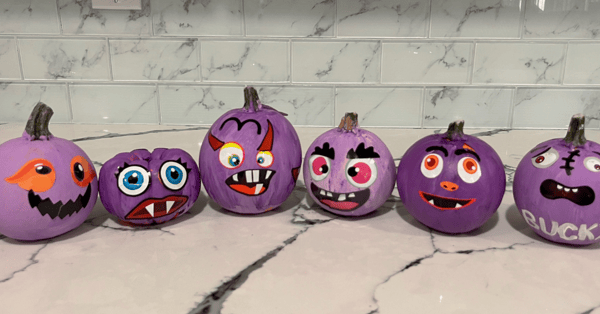 Crafting with friends is also social, so our residents and team members can enjoy spending quality time with one another as they get artsy. Whether you are a seasoned artist or trying something for the first time, getting involved in arts and craft activities should be all about having fun.

Let your creative juices flow, try something new, and see what you can come up with.

Here are some examples of the amazing creations some of our communities have made this month:

Fall Gnomes
Fall gnomes are adorable, and the best part? You can keep them up all season long!
Some of our residents from Gold Country Senior Living tried out this fun craft using cardboard elf shapes, fake leaves for the beards, and burlap for the hats.

You can get creative with feathers, flowers, or festive decorations to personalize your hats, and pom poms or styrofoam balls for the noses.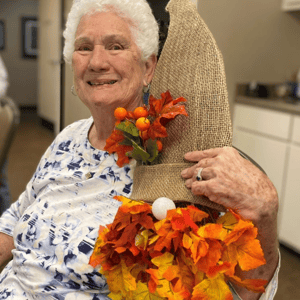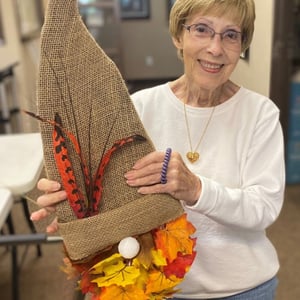 "Stained Glass" Paper Fall Leaves


Paper Mache fall leaves are another great season-long decoration. They are the perfect way to add a little color, and double as excellent thanksgiving décor. Our lovely residents at Pacifica Senior Living Chino Hills made 'stained glass' style paper leaves.

Cut squares of tissue paper in various fall colors and glue onto acetate paper or any kind of thin clear plastic (glue stick works well for this). Cut a leaf shape from cardboard, or use purchased leaf foam frames. Stick them down over the colored paper squares and cut away any excess.

Add a loop of string at the top for the perfect sun-catcher!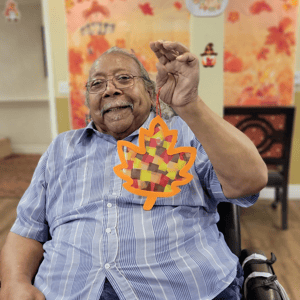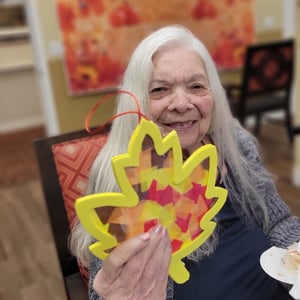 Festive Door Decorations
Decorating your door for the season is a simple way to add a little fun. The best part is you can make a variety of door hangers, and switch them out whenever you like. Some of our residents at Pacifica Senior Living Menifee and Meridian at Lantana painted festive door hangers for their apartment doors.

For this craft they used pre-cut wooden circle door hangers, or pre-cut spooky cat designs. For the circles, you can add your own painted and stamped designs, as well as flowers, and leaves or glittery accents. For the cats, pick and choose if you want a traditional black cat, or a more exotic color palette.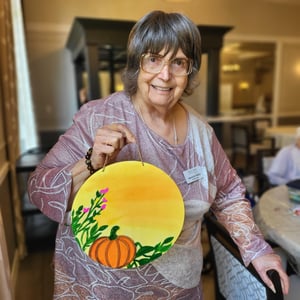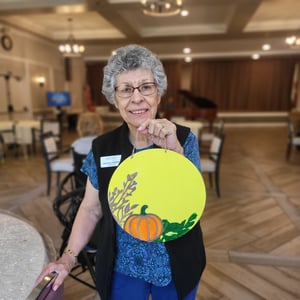 Pumpkin Painting

Pumpkin painting is one of the most popular crafts across our communities. Our residents and team members love painting both real or fake pumpkins in spooky designs, festive colors, or themes. Painting pumpkins is a simpler alternative to carving - and wont go bad in warmer climates! Pick a pumpkin of any size, and create your own masterpiece! Simple acrylic paints work well.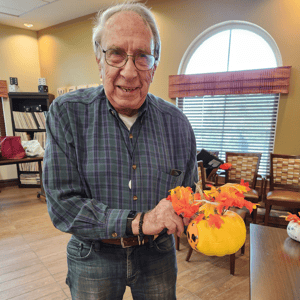 Haunted Houses
If walking through a Haunted House isn't quite your thing, why not make your own mini version? These adorable haunted houses are full of spooky charm, without the big scares.

Our residents in Pacifica Senior Living San Leandro enjoyed making mini haunted mansions ahead of Halloween. Use old cardboard boxes, construction paper, paper towel rolls, paper cups - or whatever supplies you have on hand to make the house shape. Decorate with colored paper, stickers, fake spider webs etc. for a super spooky look.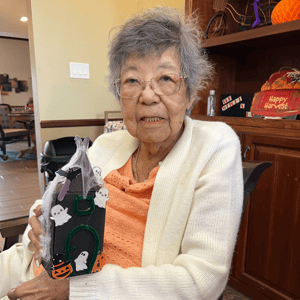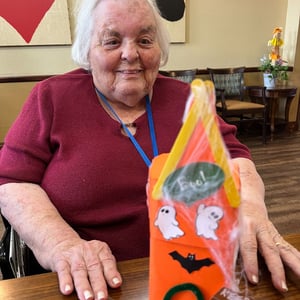 Festive Paintings

If you really want to let your creativity shine, grab some canvases and paint your own creation! Whether you go for a spooky ghost, a festive fall scene, Thanksgiving turkeys, or skeletons and ghouls, you have the freedom to paint whatever you like!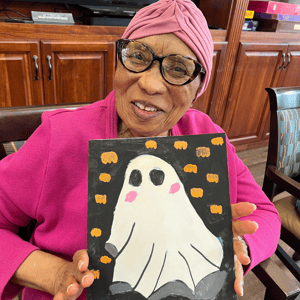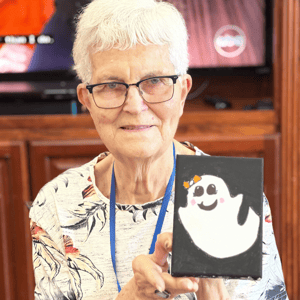 Crafting is one of our favorite activities at Pacifica Senior Living. It is a great way for team members and residents to come together and enjoy social time, while engaging in something creative and therapeutic. We offer a wide range of art activities so everyone can get involved and make something they will love.

This October our residents have been hard at work adding some festive flair to their apartments and our communities. We hope these craft ideas have inspired you, too, to try out a spooky craft or start your own art club.

Want to learn more about our programs, therapies and activities? Reach out to us! We offer a robust calendar or events and activities, catered to the needs, abilities and preferences of our residents in Assisted Living and Memory Care communities. Reach out to us for more information, or check out the website of your local community. You're more than welcome to stop by and join in on the fun!