We are always so proud of the incredible and meaningful work our Pacifica team provides each and every day. They go beyond the day to day to truly invoke a sense of family and care. That love and caring has never been more real than between resident Carol W. and Velma P. from Pacifica Senior Living Palm Springs.
Velma has been a caregiver for over 17 years, and has recently joined the Pacifica family. At our Palm Spring community, Velma was assisting in the dining hall one evening when she heard some commotion. She scanned around the room and spotted one of the residents, Carol, who had a look of fear and panic on her face.

Velma knew right away that something was very wrong, and Carol was in trouble.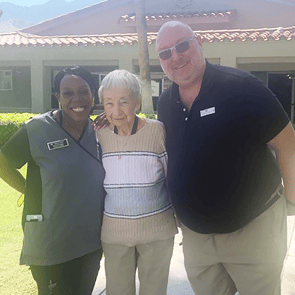 Without hesitation, Velma hurried over to Carol and sat her down in a chair. She began to pat her forcefully on the back, realizing Carol may have been choking. As other residents became aware of the worrisome situation, Velma knew she had to act fast- Carol was getting worse.
Velma then grasped Carol from behind and began perform
ing the Heimlich Maneuver in order to dislodge the food stuck in Carol's windpipe. It took a few tries, but soon Carol was able to gasp out for breath, and everyone took a huge sigh of relief. The tension began to melt around the room, and Carol and Velma sat in shock, as Carol let the tears of relief fall.
_____________________
Looking back on the incident, Carol's son reports

his mother
"believes without a doubt that (Velma) saved her life."
Velma, too, was shaken by the incident, but glad she could be there to help in Carol's time of need.
"I've taken plenty of CPR classes throughout my years, but I never thought one day I would actually have to do it,

"

she recalls.
Both Carol and her son Michael are so grateful for Velma and the team at Pacifica for their continued care:
"...it is heartening to realize that my mother is living in a place where her caregivers truly go above and beyond to keep her healthy and safe," Michael told us, reflecting on the incident.

"My mother and I would both like to express our most sincere appreciation for the actions of (Velma)."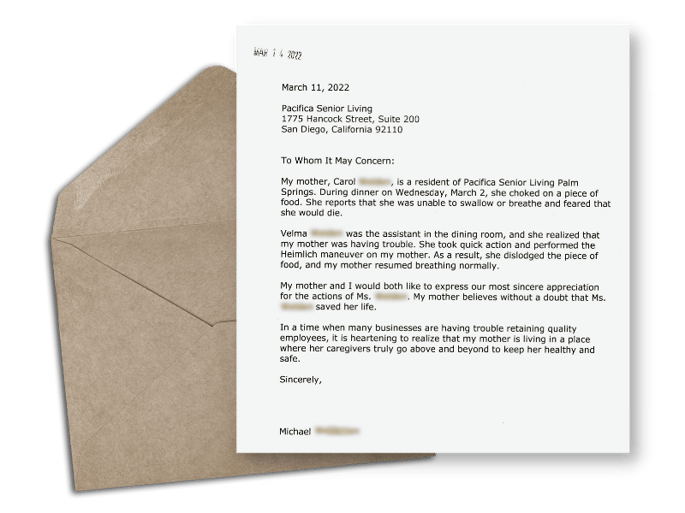 Since the harrowing incident, Velma says that Carol makes a point to mention the event every night, thanking Velma each time for saving her life.

We want to second that thanks, and add our appreciation for Velma and her team. Her caring spirit, compassionate heart, and keen eye helps improve the lives of everyone at Pacifica Senior Living Palm Springs each and every day, and her heroic act will be remembered by Michael and Carol forever.