In a quiet neighborhood in sunny Southern California sits Pacifica Senior Living Menifee. This warm and welcoming community offers Independent Living, Assisted Living and Memory Care options, creating living spaces and care levels that grow and adapt with each residents' needs.

Our lovely community is created with older adults in mind. We have a wide range of amenities and services, in a beautiful accessible home setting. From peaceful outdoor spaces, to an elegant swimming pool, on-site salon, and luxuries like an in house library, theater, and games room, there is always something to do here, no matter your preferences.

We also have a full calendar of activities, events, and outings for our residents to enjoy. Whether you love crafting, gardening, keeping fit, exploring the neighborhood, or testing your skills at a game or trivia night, we have something for everyone.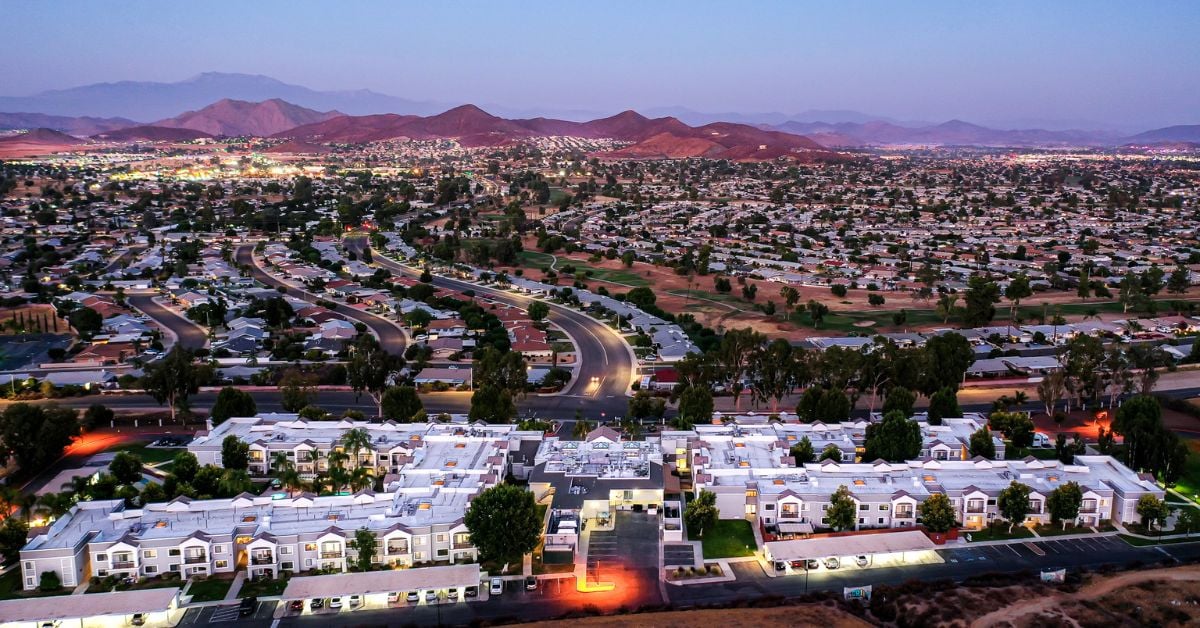 At Pacifica Senior Living Menifee, we are a true family. We are a close-knit team who understands the intricacies of moving from a personal home to a senior community. Though it can seem daunting, our entire team is here to help both residents and family members make a smooth transition.

So many of our residents are surprised by how much they enjoy living in a community setting. Living among peers and friends creates a unique opportunity to socialize, play games, learn new skills, and truly get the most out of life.

In the words of one of our Community Relations Directors, Leyla:

"My favorite part about working in the senior living industry is giving back hope to those who feel they've lost it. I have had several residents come to tour that were introverted and made it a point to say that they did not want to leave their home. Once they are here I see them participating in activities, sitting with their new friends at meals and really enjoying the community. Families are happy to see their loved one taken care of and enjoying life again. I am truly passionate about helping seniors."

Pacifica Senior Living Menifee has a vibrant atmosphere. We love seeing our residents come out of their shells and join in with activities, games and competitions. Our activities department is always hosting something fun, whether it's a chili cook-off, barbeque, happy hour event, grandparents day celebration, or educational lunch and learn.

"One thing that stands out to me is walking through our dining room during our happy hour and seeing my residents smiling, singing along and dancing. They are enjoying life and having a great time, that is why I love what I do." - Leyla

Creating an enriching environment brings the heart to our community. Coupled with exceptional care, our positive-minded team brings warmth, light, and laughter to our residents and peers. Together, we work to create an accepting atmosphere where everyone can be themself and enjoy every opportunity to live their best life.

We are here to help our residents thrive, no matter their abilities. Whether you or a loved one are seeking Independent Living, the support of Assisted Living, or need specialized Memory Care, Pacifica Senior Living Menifee offers a true home atmosphere with the support and care you need to live life to the fullest.

Community relations Director Leyla Summed up our community's mentality perfectly when she said:

"If I know that at the end of the day I made one person smile, or helped them in any way my job was done."

Come experience our amazing community for yourself. Join us for one of our events, or schedule a personalized tour. Our amazing team is ready and waiting to welcome you home.