Nestled among towering palm and oak trees, under the sunny Southern California sky, you will find the welcoming community of Pacifica Senior Living Hemet. With its intimate, neighborly atmosphere, classic craftsman charm, and outstanding team of staff and caregivers, you can tell this is a special place from the moment you arrive. Offering Assisted Living, Memory Care, and Respite Care for seniors in Hemet, Pacifica Senior Living Hemet has been serving the community for many years.

We are proud to announce that this year, Pacifica Senior Living Hemet was shortlisted for the Best of Inland Empire Award in the Senior Living category. One of three winners, our Hemet community was singled out as one of the best in the region. One of our newest residents and their family shared this review of their experience:

"After reading Pacifica's reviews, we decided to schedule a visit to the facility. Annette Harris, Concierge, greeted us with her charisma and friendly welcoming smile. After giving us fresh-baked cookies, she walked us around the well-groomed park-like community and showed us a very nice and spacious 1 bedroom unit in the Cedar building. My dad was impressed and decided to put a deposit right then.

He liked the location of his room being right next to the dining room, and the back door to the yard is nearby to take his dog out. The friendly staff and exceptional resident services also made an impression. Executive Director Marc Pacia's professionalism was well-noted in that he was prompt in responding to questions and quick to address and resolve any concerns. He diligently returned our calls and was very sensitive and intuitive in responding to my father's move-in and caregiving needs. His exceptional customer service and accommodating staff have made my father's move-in a pleasurable experience.

Marc made every effort to ensure that my father was comfortable and at ease in his new place. He was attentive to my father's social nature and introduced him to several others to make him feel more comfortable. Marc and his outstanding staff are a leading standard of customer service that should be acclaimed in the senior living communities! We are very grateful for the first-class professional services demonstrated by the Pacifica staff and Executive Director, Marc Pacia. Thank you!" - Darlene Dilger Reyes



Pacifica Senior Living Hemet is an amazing community that offers a warm and friendly atmosphere to all. Our welcoming concierge sets the tone for all who visit us, and she is an integral part of our community day in and day out. Our team members are what make this community so wonderful. So many of our caregivers and staff members have been with us for many years, dedicating themselves to making Pacifica Senior Living Hemet truly special.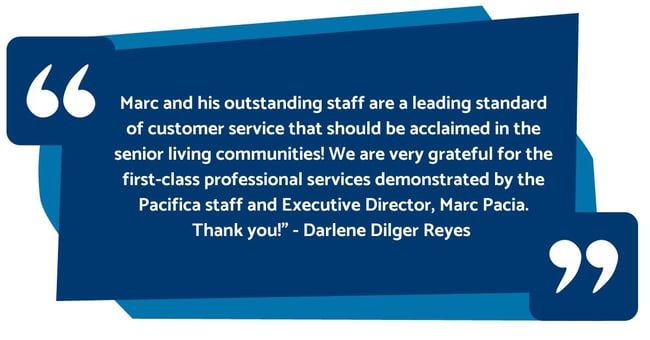 Each compassionate caregiver and hardworking employee knows that our community is more than just a place to live or work, but it is a true family where we care for one another above and beyond the ordinary.

Pacifica Senior Living Hemet consists of six unique cottages with 15 studio and one bedroom apartments in each. Our cottage-style community makes for a cozy and inviting space where our residents can feel at home. Each cottage includes a shared kitchen, dining room and a communal living area, fostering opportunities to build meaningful relationships among our residents.

Our amenities and activities make this community special, from a robust calendar of activities, to unique details like our much-loved resident-run garden. Our residents and team members love seeing the plants and flowers bloom, and cultivating the garden brings a sense of purpose and community to everyone.

We also host monthly events including live bands and singers, as well candlelit dinners and community outings. Our community also partners with local animal and pet therapy partners to bring therapy animals to visit our residents so they can enjoy the many benefits of these furry and feathered friends.

Movie nights in our theater room include cinema treats like hot dogs, nachos, and popcorn so our residents can get the full theater experience right in the comfort of their own home.

Special touches like this are what make our award-winning community stand out from others. We also have a dedicated dog park on site, and pet friendly accommodations so our residents can enjoy the company of their favorite furry friends. All of these little details come together to offer a full and enriching lifestyle and is always dynamic and fun.

You can hear more from the president of our resident ambassador program, Stan. He sat down with one of our team members to reflect on what he loves best about Pacifica Senior Living Hemet and what makes this community so wonderful:



From our amazing team of long term staff members, to a wonderful community of residents, Pacifica Senior Living Hemet is full of fun, laughter, and love. Whether you enjoy getting involved in some of our many activities, relaxing in the gorgeous outdoor space, or spending time with friends and loved ones, there is something for everyone here. It won't take long for you to be part of the family.

Want to learn more about Pacifica Senior Living Hemet? Our lovely staff is on hand to answer any questions. Reach out to us, schedule a tour, or visit us during one of our many events! We can't wait to welcome you home to our very special, award winning community.