What can be better than the unbreakable bond of friendship? Throughout our lives, our friends and peers are there to share with us, lend a hand, offer an ear or advice, or simply spend time together enjoying our favorite activities. June 8th is National Best Friends Day and we want to share some of the stories of best friends in our Pacifica communities.

It can sometimes be difficult to make new friends as we age, but Senior Living communities offer a place where older adults can bond and enjoy activities together. We love seeing the many friendships and life long bonds that form between our residents.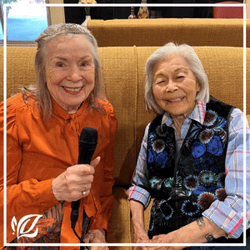 Martha and Marilyn have been friends for 2 years now. They met in their community, Pacifica Senior Living Burlingame, and love that they now have a best friend to enjoy all the fun activities and events with.
Both Martha and Marilyn love to sing together during karaoke and sing along events, where they can let loose and have fun laughing and performing their favorite tunes.

They are also both avid gardeners, and have been planting seeds and tending to new plants this spring. They can't wait to see all the blooms and growth throughout the summer.

Friendship has been especially important to Marilyn and Martha. For them, 'best friends' means being partners for life who are there for each other, take care of each other, and have one another's back through thick and thin.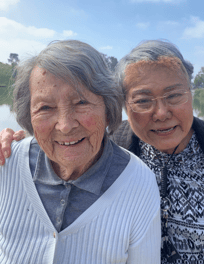 Betty is one of our newer residents at Pacifica Senior Living Oceanside, but she has quickly made close friends with Eva. Both Betty and Eva love the outdoors and enjoy spending time in nature together. They are also both members of the Oceanside Walking Club, which meets and walks together on a weekly basis. They love enjoying one another's company while getting fresh air and exercise, and taking in the beautiful scenery around Oceanside. They are the perfect pair and cherish each other.
Norma and Mary met about 2 years ago when Norma moved into Alta Vista Senior Living, right across the hall from Mary. Right away, the two of them clicked and soon became best friends!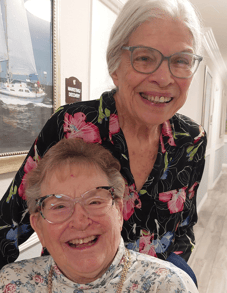 Now they love going for walks together, enjoying the fresh air and exercise as they soak up some San Diego sun. They can also be found regularly laughing, joking, and having funny conversations with one another, attending bingo nights, going for scenic drives, or keeping each other company during meal times.
To Norma, a best friend is someone that you truly enjoy spending time with and laughing with. And to Mary, a best friend is someone who can make tough times easier. They are both so happy that Pacifica has brought them together, and they have formed such a wonderful friendship with one another.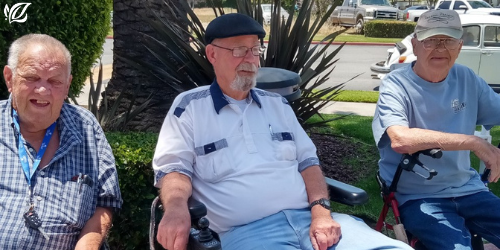 Ed, James and Peter have been friends for over a year now, and all met at Pacifica Senior Living Hillsborough. They first met during lunch in the community Dining Room, and hit it off right away. They can often be found outside, sitting together and chatting about their families, sports, or cars - the three favorite topics. Since meeting, the trio is almost always seen together, and have come to be known as the Three Amigos, around the community. They truly enjoy one another's company and play cards together often.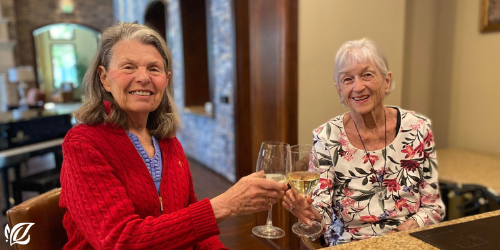 Roberta and Martha both live at The Meridian at Lake San Marcos. Martha (Marty) and Roberta (Robbi) have been friends for about 6 months now. The ladies met in the dining room on the very first day that Robbi moved into the Meridian. The ladies struck up conversation immediately and Marty began showing Robbi around the community, making sure she felt at home.
Marty and Robbi have lunch and dinner together every single day, and they even still eat together when either of them have family visiting - they are truly inseparable.
Both ladies enjoy meeting new people at the Meridian and they enjoy their daily glass of wine where they chat with each other or socialize with other Meridian residents in a group. They also love to attend the music programs together, and look forward to new performers. Both are grateful that living at the Meridian has brought them together.
Norma is a resident of West Park Senior Living and has been part of our family for over 2 years. Norma has a close group of best friends that she has known for 20 years that meet together regularly to catch up, share stories, and play card games. We love having visitors and friends come to visit us, and Norma looks forward to this time together with her friends.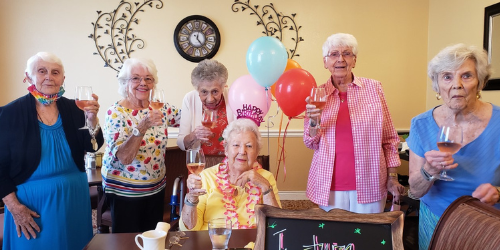 Norma also plays card games almost every night with friends she has made in her community, like Marilyn, Dot, and Beverly. Their favorite game to play is the Hand and Foot card game.

You, too, can come and meet some of our wonderful residents. Our communities are specifically designed to encourage residents to make new friends and participate in a wide variety of activities and events if and when they choose, so they can make connections with others who share their same interests.

This National Best Friends Day, we encourage you to reach out to some of your best friends, give them a call, skype, zoom, or spend time together. Interested in a community full of fun times and great friends? You can learn more about your local Pacifica Senior Living community here.