Chef Jasmine at Pacifica Senior Living South Coast has been working with Pacifica since July 2022. Her team, coworkers, and residents love tasting her delicious meals and dishes. She has been making homemade apricot jam for our team at South Coast to give as thank you gifts for visitors who come to tour our community. This personalized gift is just one of the ways she uses her culinary skills to show how much she cares for the residents in her community.

We sat down with her to discuss her journey and what makes working at Pacifica Senior Living so special to her: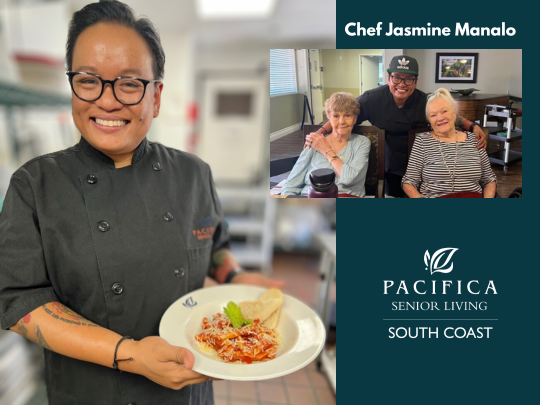 When did your culinary career begin and what brought you to Pacifica?

I started my training at California Culinary Academy - The Cordon Bleu San Francisco in 2007. I got my first job at Big John's Market in Sonoma, CA as an assistant chef, then moved on to be a personal chef for interior designer Myra Hoefer. I then moved to Virginia to pursue a career in the hotel industry for 6 years as a lead cook at The Westin in Arlington. I later switched careers into senior living as a sous chef and was promoted to head chef. Then I became a director at Pacifica Senior Living Sterling in July of 2022. From there I moved back to California to become the Food Services Director of Pacifica Senior Living South Coast.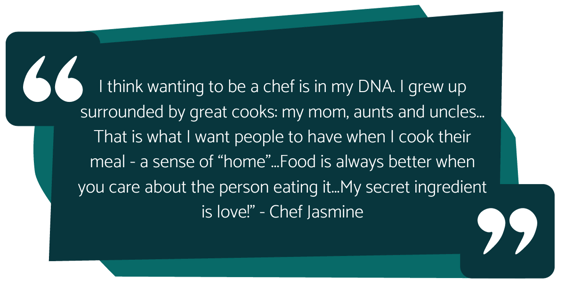 What made you want to work in senior living? What do you enjoy most about working with seniors?

I want to promote the best dining experience that they can have in their home. Not a lot of our senior population can enjoy a full dining experience outside, so why not bring the outside experience to them. I enjoy seeing them so happy and satisfied with the meal I create.



What is your favorite part about being a chef?

My favorite part of being a chef is collaborating with everyone in the kitchen. I may have ideas and recipes, but I still have a lot to learn for my coworkers.


What is your favorite memory or moment from your time at Pacifica?

I can't think of one particular memory because I try to make every day special. but if I had to pick, it would be the time when I made simple tomato bisque soup and everybody appreciated the soup and made a point of letting me know that it was the best soup they ever tasted.

Chef Jasmine has shared her delicious Apricot Jam Recipe with us. Try it at home for yourself, or come out and visit Pacifica Senior living South Coast and get a complimentary jar to take home with you! We love being able to share our chefs' amazing cooking, and it is special treats like this that truly make our communities feel like home.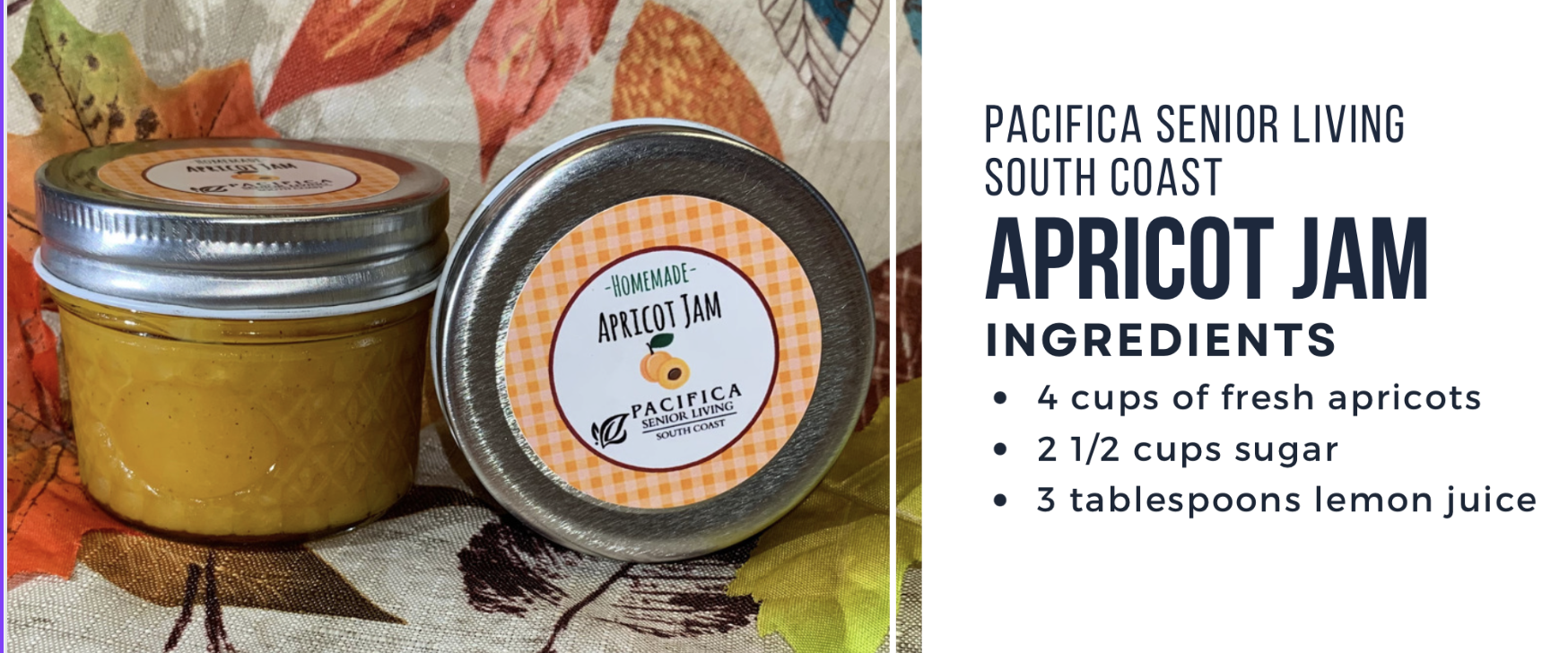 Instructions


Prepare the apricots by peeling, removing pits and crushing them. You can crush them by hand with a potato masher or throw them in a food processor and pulse a couple of times.


In a pot over medium high heat, mix together crushed apricots, sugar and lemon juice. Bring to a boil and continue stirring until sugar completely dissolves.


Continue cooking, stirring frequently, until the mixture thickens and turns into a jam. This takes about 20-25 minutes. Once it's thick and jam-like, remove any foam from the top and proceed to the next step.


For refrigerator jam: Remove pot from heat and allow to cool before pouring it into mason jars and placing in the refrigerator for immediate serving.



For canning jam: Prepare (3) 1/2 pint jars by cleaning and sterilizing jars, lids and rings in hot water (dishwasher or water bath). Pour hot jam into sterilized jars, leaving about 1/4 inch of space on top. Use a thin knife and run around the inside of the jar once the jam is inside to make sure to remove any air bubbles. Wipe rims of jars clean and place lids and rings on them. Bring a pot of water to a boil, lower the jars into the pot and process for 15 minutes (water boiling, pot covered). During this process, you want to make sure the water level never gets lower than 1 inch from the tops of the jars. Carefully remove the jars from the pot and let sit until cool. Once cooled down, press the top of each lid down to make sure the jar is sealed. Store in the cabinet.

Planning to give this recipe a try? Let us know how it goes in the comments below!