Indulge with this Butternut Squash Risotto recipe from Chef Jasmine of Pacifica Senior Living Sterling. Hearty, filling, and prefect for fall, it is a delicious take on comfort food. With rich, creamy butternut squash, and a punch of sage, this savory dish will be a new fall favorite.

Risotto is a dish made with love. Slow cooked and constantly tended to, it is a special treat that is perfect for a fall occasion, family gathering, or dinner party. You can bring home a taste of pacifica Senior Living sterling for yourself, and try this recipe at home! Chef Jasmine makes it easy to replicate this signature dish in your own kitchen.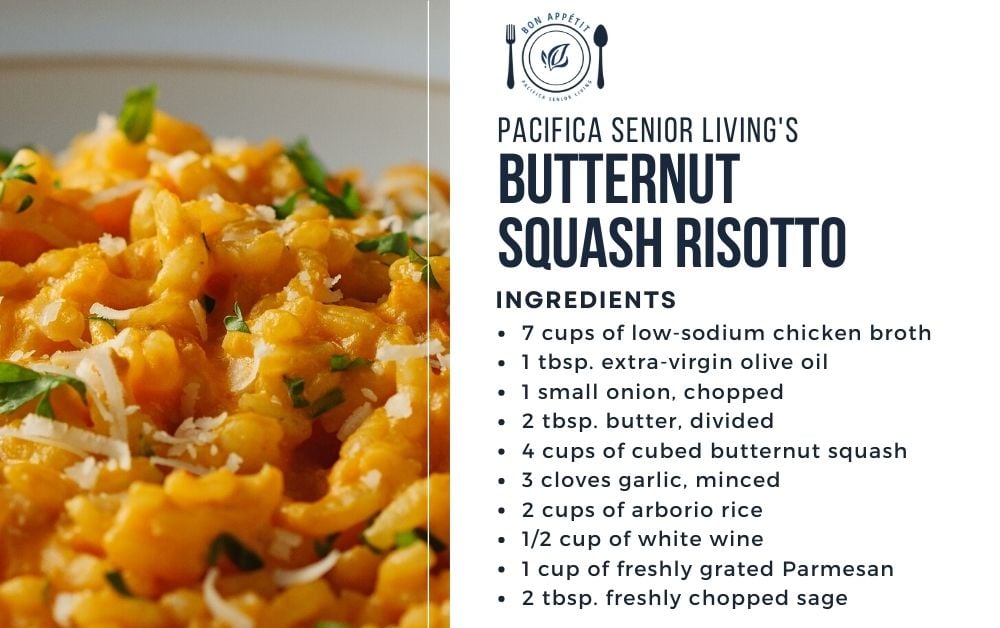 Chef Jasmine is the Culinary Service Director at Pacifica Senior Living Sterling. Jasmine has always had a love for food and cooking, and her passion drove her to seek cooking as a career. She graduated
from the California Culinary Academy The Cordon Bleu San Francisco in 2007 with a degree in Culinary Arts.

From there, she became an assistant at Big Johns Market in Healdsburg Sonoma in Sonoma County California. She was also an established private, personal chef for renowned interior designer, Myra Hoefer. After a time in California, Jasmine made the move to Virginia where she worked at The Westin in Arlington for 6 years. It was there that she was recruited into the Senior Living Industry where she has been ever since.

"I think wanting to be a chef is in my DNA. I grew up surrounded by great cooks: my mom, aunts and uncles. Whenever I smell garlic, it gives me nostalgia. Our house would smell like garlic everyday. That is what I want people to have when I cook their meal - a sense of "home". . .Food is always better when you care about the person eating it. . .My secret ingredient is love!" - Chef Jasmine



Jasmine's favorite thing about being a chef is "seeing the joy or surprise on people's faces when they try something new that they like, or when you exceed their expectations." In her opinion, the best part about food is the memory it imprints on people. food is powerful, and is connected to so many senses - the smell, the taste, the experience and how it looks, it all stays with people, and creates strong bonds and memories.

Jasmine joined the Pacifica team less than three months ago, but she has quickly won over the hearts and tastebuds of the residents at Pacifica Senior Living Sterling. Her interactions with her dining team make it seem like their friendships have developed for years. She brings a sense of fun and heart to the kitchen each and every day, and her love for food and for the residents is clear to see in all she does.

Her butternut squash risotto is just one of the many delicious recipes she has cooked up for fall. From savory soups, to sweet treats, and hearty meals like this one, there is always something wonderful cooking at Pacifica Senior Living Sterling.

We pride ourselves in having an exceptional culinary program full of passionate and skilled chefs like Jasmine. Come visit your local community and enjoy a complimentary lunch on us, or tour our Sterling community and say 'Hi' to Jasmine and the team.


---
Ingredients
7 cups of low-sodium chicken broth
1 tbsp. extra-virgin olive oil
1 small onion, chopped
2 tbsp. butter, divided
4 cups of cubed butternut squash (from a 2 1/2-lb. squash)
3 cloves garlic, minced
2 cups of arborio rice
1/2 cup of white wine
1 cup of freshly grated Parmesan
2 tbsp. freshly chopped sage


---
Preparation
Step 1.
In a medium saucepan over medium heat, bring chicken broth to a simmer. Reduce heat to low.
Step 2.
In a large pot or Dutch oven, heat oil. Add onion and cook, stirring often, until beginning to soften, about 5 minutes. Stir in squash, 1 tablespoon butter, and garlic. Cook until the squash is beginning to color around edges and is getting soft, about 6 minutes. Season with salt and pepper.
Step 3.
Stir in remaining tablespoon butter, and arborio rice, stirring quickly. Cook until the grains are well-coated and smell slightly toasty, about 2 minutes. Add the wine and cook until the wine has mostly absorbed.
Step 4.
With a ladle, add about 1 cup hot broth. Stirring often, cook until the rice has mostly absorbed liquid. Add remaining broth about 1 cup at a time, continuing to allow the rice to absorb each addition of broth before adding more.
*Pro Tip: If your Risotto isn't very "Risotto-ey" after all ingredients are combined AKA it is not soft enough - add more wine, a splash at a time, and stir. It will help to soften without emulsifying the grain.


Step 5.
Stir often and cook until squash is tender and risotto is al dente and creamy, not mushy, about 25 minutes. Stir in Parmesan and sage, then season with salt and pepper before serving.
This recipe makes 4 large servings and takes about 1.5 hours total to make.
---
CLICK HERE for a downloadable recipe card

Great food and nutritional meals are an important part of our Pacifica Senior Living communities. We pride ourselves on offering a menu of restaurant-quality food options for our residents to choose from. You can learn more about our Culinary Program and how we ensure delicious and healthy options here, or come visit us and enjoy a complimentary meal as part of your tour.
Subscribe to our email list on the right for more great recipes like this one.
or check out our recipes tag here for more recipe options.
BON APPETIT!