Get ready for the holidays with this festive Cornish Hen recipe from Pacifica Senior Living Ocala. Decadent, delicious and full of flavor, it is a meal that is sure to impress. Whether you're making a family meal, a holiday party, or simply want to try something new, Cornish Hen is a great dish for December. Gather loved ones and serve up something truly special, with this recipe from Pacifica Senior Living.

Pair it with a perfect side dish like Brussel sprouts, and stuffing for a meal that is sure to delight. Read more for the full recipes.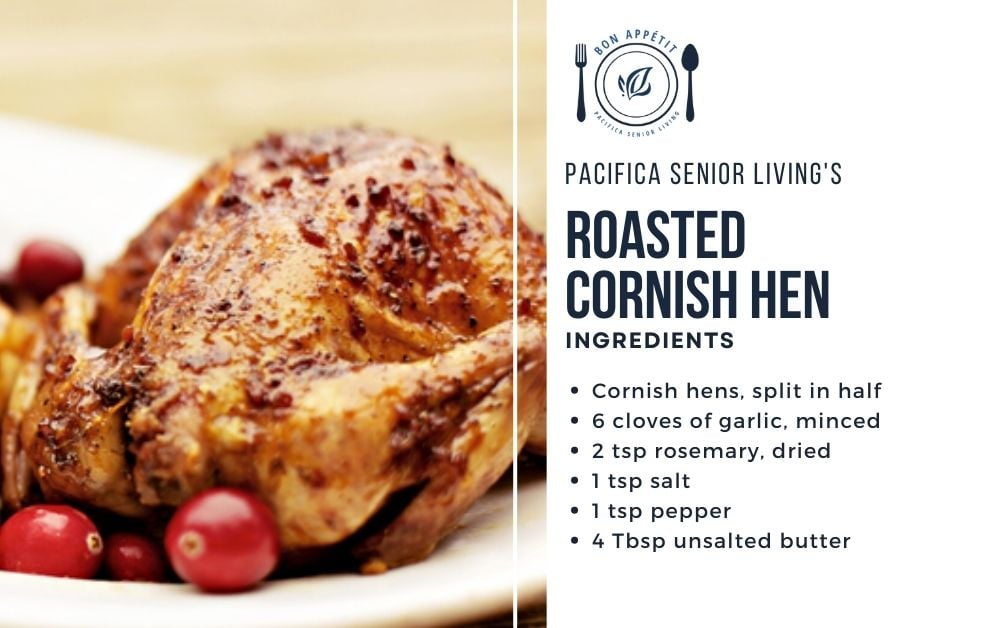 This recipe was created by Chef Garyd of Pacifica Senior Living Ocala. Originally from New York, Chef Garyd had an extensive career working in restaurants and Country Clubs before settling into Senior Living. Pacifica Senior Living Ocala prides itself on saving up only the best. From gourmet meals like this Cornish Hen recipe, to residents' favorites and classic dishes, we're always cooking up delicious meals.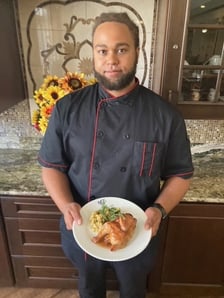 ---
Ingredients
Roasted Cornish Hen
1

Cornish Hen split in half
6 cloves of garlic, minced
2 tsp rosemary, dried
1 tsp salt
1 tsp pepper
4 Tbsp unsalted butter
Cornbread Stuffing
3 cups crumbled cornbread
2 tablespoons butter
1 small onion, diced
½ cup chopped celery
2 large eggs, beaten
2 cups chicken stock
1 tablespoon dried sage, or more to taste
salt and ground black pepper to taste
Brussel Sprouts:
1 1/2 pounds Brussels sprouts
3 tablespoons olive oil
1 teaspoon kosher salt
1/4 teaspoon black pepper
2 tablespoons pure maple syrup
2 tablespoons balsamic vinegar
1 teaspoon soy sauce
Preparation
Cornish Hen


1. Pre-heat oven to 450 degrees. Split Cornish Hens in half lengthwise. Rinse and pat dry with a paper towel and set aside.


2. In a small bowl, mix together the butter, minced garlic, rosemary, salt, and pepper into a smooth paste.


3. Loosen the skin of the hens and rub spice mixture under the skin. Arrange the Cornish Hens cut side down in the roasting pan.


4. Place the roasting pan in the oven at 450 degrees for 15 minutes. Then, reduce heat to 350 degrees and continue baking for 40 minutes, or until hens are no longer pink inside.
Stuffing:


1. Preheat the oven to 350 degrees F (175 degrees C). Grease a 7x11-inch baking dish and place crumbled cornbread in a large bowl.
2. Melt butter in a large skillet, over medium heat. Add onion and celery, and sauté until soft, about 5 to 7 minutes.
3. Add sautéed onion and celery to the crumbled cornbread. Stir in the chicken stock, eggs, sage, salt, and pepper until well combined. Pour dressing into the prepared baking dish.
4. Bake in the preheated oven until dressing just starts to turn golden brown around the edges, about 30 minutes.
Brussel Sprouts:


1. Preheat the oven to 450 degrees Fahrenheit.


2. Slice off any hard ends of the Brussels sprouts, as needed. Slice them in half lengthwise and place them in a large bowl.


3. Mix the sprouts with the olive oil, kosher salt, and lots of fresh ground black pepper.


4. Line a baking sheet with parchment paper*, then pour the spouts onto the sheet. Turn them all cut side down.


5. Roast for 25 minutes until browned and tender.

6. While the sprouts are roasting, place the maple syrup, balsamic vinegar, and soy sauce in a small saucepan. Simmer 3 to 5 minutes on medium low heat until thickened slightly and reduced (this should result in about 2 to 2 1/2 tablespoons glaze). Pour this over the Brussels sprouts.
---
Great food and nutritional meals are an important part of our Pacifica Senior Living communities. You can learn more about our Culinary Program and how we ensure delicious and healthy options here, or come visit us and enjoy a complimentary meal as part of your tour.
Subscribe to our email list on the right for more great recipes like this one.
or check out our recipes section for more recipe options.