Duchess Potatoes are a classic French dish made with piped mashed potatoes resembling a meringue. These tasty mounds of soft, buttery spuds with crisp golden crusts are extra delish with butter or gravy. They are the perfect side dish alongside anything from a delicious seared steak or roast beef to chicken, fish or veggies. Make them for dinner, or prepare ahead of time if you are having guests.
This recipe from Chef Roger Reinisch at Tampa Gardens Senior Living is the perfect addition to your next meal.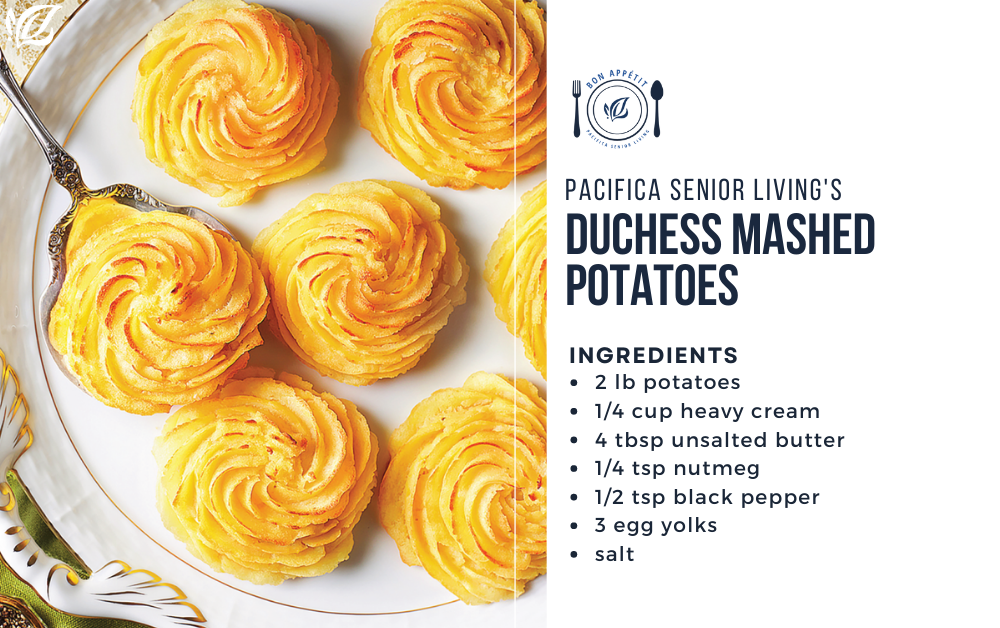 ---
INGREDIENTS
2 pounds potatoes (Yukon Golds work best), peeled and cut into chunks
4 tablespoons unsalted butter, divided
1/2 teaspoon black pepper
---
METHOD
Boil the potatoes:
Place potatoes in a medium to large (3 quart) pot and cover with a few inches of cold water. Add a couple teaspoons of salt to the water. Bring to a simmer and cook until the potatoes are fork tender, about 20 to 25 minutes.
Melt the butter, then preheat oven:
While the potatoes are boiling, melt 2 tablespoons of butter and set aside. You will use this butter to coat the potatoes right before they go in the oven.
Preheat the oven to 425°.
Drain the potatoes and let them release steam:
When the potatoes are cooked, drain in a colander. Put the potatoes back in the pot and set over low heat. Allow them to release steam for a minute or two.
Mash and season the potatoes:
Add 2 tablespoons of butter and mash the potatoes until the butter has been incorporated. Add the nutmeg, black pepper, and heavy cream and continue mashing the potatoes. Once everything is incorporated, add salt to taste. Then, add the egg yolks.
Continue to mash until the mixture is smooth. Do not over-mash or your potatoes will end up a gluey consistency.
Pipe the potatoes:
Using a piping bag with a large star point, pipe the potatoes onto a cookie sheet. Alternatively, you can just fill a casserole dish with the mashed potatoes and use a fork to create lots of peaks on the surface.
Whether you make piped portions or a casserole, brush the potatoes with the melted butter.


Bake:
Bake in the 425°F oven until the edges and peaks are nicely browned: about 20 minutes. Serve hot, fresh from the oven.


---
CLICK HERE for a downloadable recipe card

Great food and nutritional meals are an important part of our Pacifica Senior Living communities. We pride ourselves in offering a variety of restaurant quality food options for our residents to choose from. You can learn more about our Dining options and how we ensure delicious and healthy options here.
Or subscribe to our email list for more great recipes like this one.

BON APPETIT!