Try something new with these traditional Filipino sugar cookies, called Galletas, by Chef Allen of Pacifica Senior Living San Leandro. These sweet treats are sure to please, and pair perfectly with your favorite warm drink.

Serve some with coffee, a festive pumpkin spiced latte, or one of the traditional drinks, Filipino hot chocolate (Tsokolate De Batirul) or lemon pandan ginger tea (Salabat). Whatever your preference, these cookies are a great addition to a gathering with friends, family meal, or tea time visit. And the best part? You can cut them into any shape or pattern you want using your favorite cookie cutter!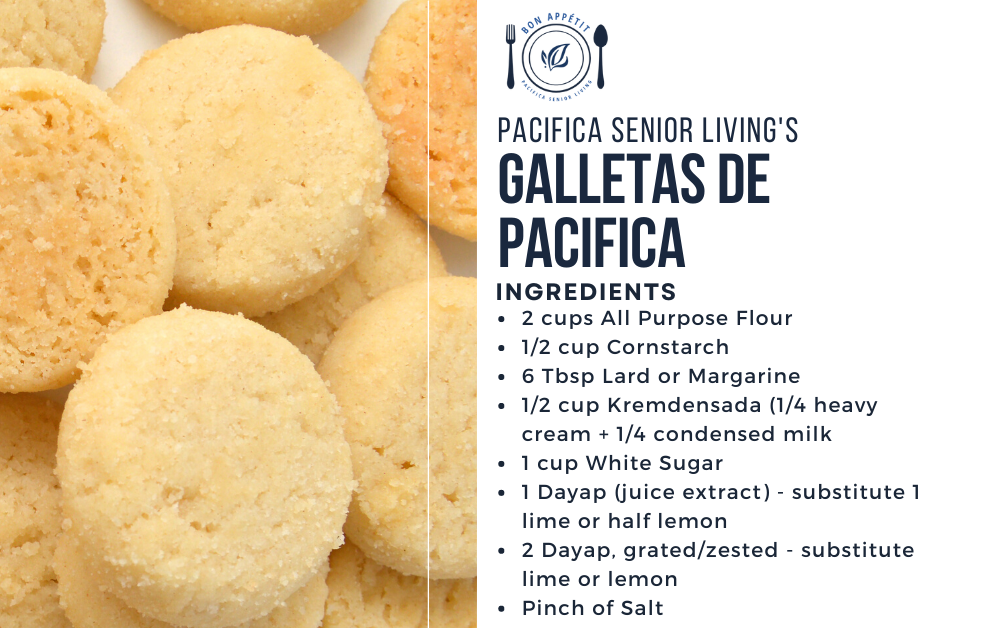 Chef Allen Luis G. Dizon Jr. is the Food Services Director at Pacifica Senior Living San Leandro. He is a passionate and enthusiastic chef whose love for food is generations old. He brings traditional tastes and comfort favorites the residents and staff at San Leandro rave about, and always goes the extra mile to bring something special to the table.

Whether he is doing a cooking demonstration, creating themed meals, or baking these delectable cookies, he always goes above and beyond to give his residents the very best food experiences.
Chef Allen was born and raised in Santa Ana Pampanga, Philippines, and his love for cooking began at an early age. Both his maternal and paternal families owned food businesses, so he practically grew up in the kitchen, learning recipes and Filipino traditions first hand.

He later moved to the United States, and has spent time in Virginia and Palm Beach Florida, as well as Bangkok Thailand, before settling in San Francisco, where he currently resides.

Chef Allen is a dynamic young professional who holds degrees in BS Hotel and Restaurant management, as well as a Masters in Tourism and Hospitality Management. He has experience in hotels, restaurants, the culinary arts, and tourism, which have all helped him to be an amazing food services director with us at Pacifica Senior Living San Leandro. He is currently finishing his final year in his PhD program to receive a doctorate of Education and Leadership Management.

"I love cooking. It's in my DNA already. I always celebrate being a Filipino Kapampangan Chef. " - Chef Allen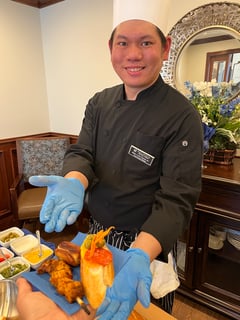 Chef Allen believes that for a family heirloom recipe to survive through time, it should be celebrated and shared. He loves celebrating his Filipino roots, including this special family Galletas recipe. He is also a strong advocate for using fresh, natural, and local ingredients wherever possible, to bring the very best to the table every time. His cooking is an homage to the vibrant flavors of his childhood, and a tribute to his family and late ancestors. He loves promoting and sharing his favorite Filipino recipes, and offering delicious and much loved meals to the residents at Pacifica Senior Living San Leandro.

This Galletas recipe is just one of the delicious recipes he has shared with the community. Chef Allen is a staple in his community and a much loved part of the Pacifica family.

We pride ourselves in having an exceptional culinary program full of passionate and skilled chefs like Chef Allen. Come visit your local community and enjoy a complimentary lunch on us, or tour Pacifica Senior Living San Leandro to see Chef Allen in action.
Ingredients
2 cups All Purpose Flour
1/2 cup Cornstarch
6 Tbsp Lard or Margarine
1/2 cup Kremdensada (1/4 heavy cream + 1/4 condensed milk
1 cup White Sugar
1 Dayap (juice exttract) - substitute 1 lime or half lemon or 1 Tbsp vinegar
2 Dayap, grated/zested - substitute lime or lemon
Pinch of Salt


---
Preparation
Step 1.
Pre-heat your oven to 320F or 160C

Step 2.
In a mixing bowl, sift all-purpose flour, cornstarch, sugar and salt all together.
Add zest or grated Dayap into the sifted flour mixture. Mix all together.

Step 3.
Add the soften lard or margarine into the dry mixture. Mix all together it becomes a soft, crumbly texture.

Step 4.
Combine Dayap juice and a half portion of the Kremdensada into the crumbly mixture.
Mix and knead together, then add the remaining half portion Kremdensada,

Step 5.
Knead all the ingredients until combined. It should be a ball like dough. Set aside and let rest for 20 - 30 minutes at room temperature.

Step 6.
After 30 minutes, place the dough in between cling wrap or wax paper. Roll thinly using a rolling pin or a bottle. When dough is rolled thinly, press, and add markings using your cookie mold/cutter
(NOTE: Dip or Coat the cutter with oil or flour before cutting)

Step 7.
Place the cut cookies on a baking sheet. Bake in the preheated oven for 18 - 20 min or until edges are slightly brown. Cool the Galletas on a rack before wrapping or serving.


---

Great food and nutritional meals are an important part of our Pacifica Senior Living communities. We pride ourselves on offering a menu of restaurant-quality food options for our residents to choose from. You can learn more about our Culinary Program and how we ensure delicious and healthy options here, or come visit us and enjoy a complimentary meal as part of your tour.
Subscribe to our email list on the right for more great recipes like this one.
or check out our recipes tag here for more recipe options.
BON APPETIT!