Unwind and enjoy with this light and delicious Lemon Flan recipe from Pacifica Senior Living Forest Trace. Sweet and zesty, it is a great addition to any meal. Make for friends, family, or guests and serve up something special. With a caramel coating and a creamy decadent texture, this simple dessert is sure to impress.

A decadent dessert is a great way to add something special to any meal. This Lemon flan recipe is simple but delicious, and will amen a big impact without a lot of effort. Read more for the full recipe.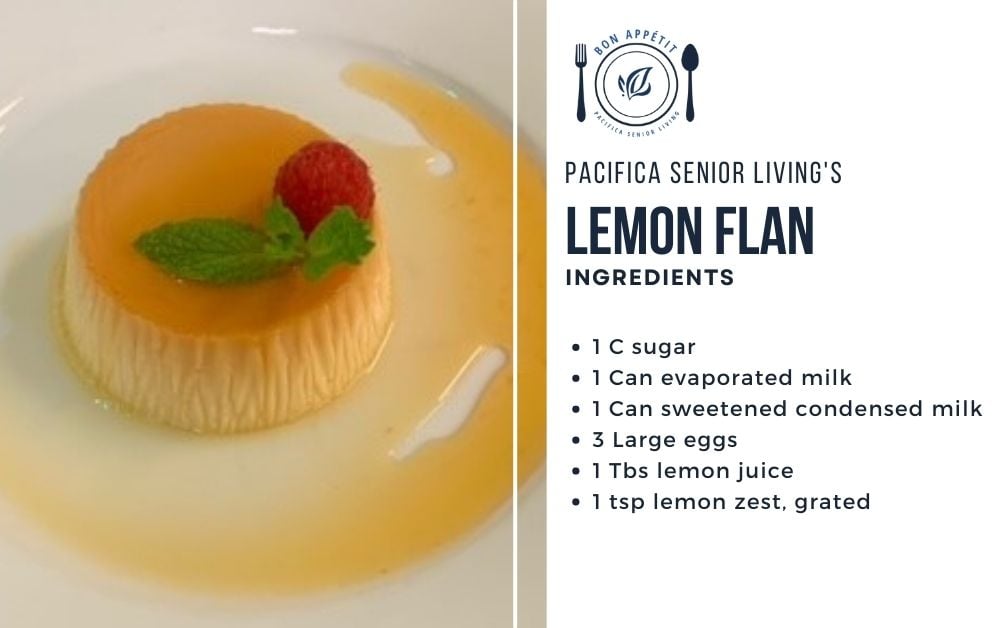 This recipe was created by Chef Daniel of Pacifica Senior Living Forest Trace. Daniel's interest in professional cooking started when he was working in an accounting office in a hotel in Massachusetts. He recalls how he would go for a coffee break to the kitchen in the hotel and would observe the operation and speak with the chef's. After doing this a few times, he says he started thinking to himself, that this was something he wanted to do.

From there, Daniel enrolled in the Connecticut Culinary Institute as a full time student while continuing to work in the accounting office. He graduated in 1992 and the owners of the hotel gave him a celebration party and promoted him to Sous Chef and Purchasing Agent for the hotel.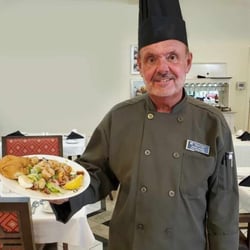 Daniel later decided to pursue a part time sous chef position at a retirement facility in Connecticut at a facility for 125 retired nuns. After a few months at the retirement facility, he was promoted to Food Service Director and was there for a few years before the facility had to close its doors due to financial difficulties.

He then pursued and received a position at a major hospital in New Haven Connecticut as the Executive Chef. After 2 years, he was again promoted to Assistant Director. This happened at a time in his life when the cold weather of Connecticut began to feel unbearable, so Daniel made the decision to move to the warm and sunny state of Florida. In Florida, he made his way through several Executive Chef positions, and was hired as a Dining Services Director at Pacifica Senior Living Forest Trace in December of 2021. At Forest Trace, Chef Daniel has had a rewarding experience giving the residents a true fine dining experience.
---
Ingredients
1

Cup of sugar
1 can of evaporated milk
1 can sweetened condensed milk
3 Large eggs
1 Tbsp lemon juice, fresh
1 tsp lemon zest, grated
Preparation
1. Preheat oven to 350 degrees. Spray a 4-inch cake pan with cooking spray. You will also need a pan larger than your cake pan to make a water bath.
2. In a medium sized saucepan over medium-low heat, add sugar. Continually stir until sugar liquifies and turns golden caramel. Pour the caramelized sugar into the 4-inch cake pan. Tilt pan to coat the bottom with caramel and set aside.
3. Whisk eggs in a large mixing bowl until completely incorporated. Make sure the white and yoke are combined. (This helps make the flan smooth and cook evenly.) Whisk in the milk, then add lemon zest and juice.
4. Pour the egg mixture on top of the caramel base. Set the cake pan inside of a larger pan and then fill the water bath (larger pan) half way up the flan pan.
5. Place both pans in the oven and bake for 1 hour. When done, let cool completely.

The flan can be served at room temperature, or refrigerated and served cold. When ready to serve, run a knife around the edge to loosen flan, then invert in carefully onto a serving plate.
---
Great food and nutritional meals are an important part of our Pacifica Senior Living communities. Ask us about how we ensure delicious and healthy options or come visit us and enjoy a complimentary meal as part of your tour.
Subscribe to our email list on the right for more great recipes like this one.
or check out our recipes section for more recipe options.
BON APPETIT!