Hearty, filling, and oh-so delicious!
A classic meatball and pasta dish is a great option for a mouth-watering, easy meal for any day of the week. These homemade meatballs are full of flavor and nutrients for a hearty, Italian inspired dish everyone will love.

A fan favorite, this Meatball Penne Pasta recipe from Pacifica Senior Living Paradise Valley is a great option for part of a healthy, balanced diet. All-beef meatballs provide protein and iron, while the pasta is a good source of energy-giving carbohydrates. Pair with that a flavorful tomato sauce, and you have a dish that is sure to win everyone over.
These homemade meatballs are filling, flavorful, and surprisingly easy to make. Once you try this recipe, you'll go back to the store-bought version again! Make and serve for a family meal, or freeze them to use for later. Whichever you choose, they make for a quick and easy meal that is sure to satisfy all ages.

Try it at home, or visit Pacifica Senior Living Paradise Valley to enjoy this chef-prepared meal.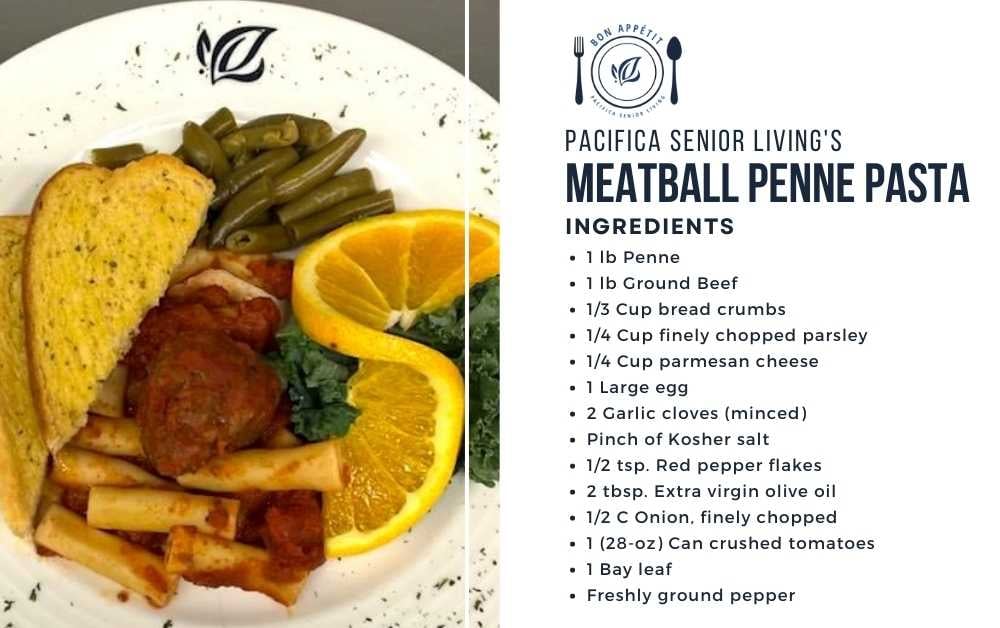 This recipe comes from Pacifica Senior Living Paradise Valley. It is a favorite choice among many of our residents. This classic comfort food is a great hearty option packed full of flavor. Come visit us and enjoy this, or one of our many other meals. We offer complimentary meals as part of our community tours, where you can enjoy one of our many menu options. Tours are a great way to enjoy our culinary experience, get a feel for the lifestyle at Pacifica, and spend time with our residents.

We encourage family, friends and loved ones to come share a meal with us. Whether you have a loved one living at a Pacifica community or you are checking out one of our homes for the first time, sharing a meal is a great way to take in the tastes of Pacifica Senior Living. We can't wait to share a meal with you!

---
Ingredients
1 pound of penne pasta
1 pound of ground beef
1/3 c. bread crumbs
1 large egg
1/4 cup of finely chopped parsley
1/4 cup of freshly grated parmesan cheese
2 cloves of garlic, minced
kosher salt
1/2 teaspoon of red pepper flakes
2 tablespoon of extra virgin olive oil
1/2 cup of onion, chopped
1 28oz can of tomatoes (crushed or diced)
1 bay leaf
freshly ground pepper

---
Preparation
Step 1.
In a large pot of salted boiling water, cook pasta until al dente ( 8-10 minutes)
Step 2.
In a large bowl, combine ground beef with breadcrumbs, parsley, parmesan cheese, egg, garlic, 1-teaspoon salt, and the red pepper flakes.
Step 3.
Mix until just combined then form into 16 balls.
Step 4.
In a large pot over medium heat, heat oil. Add meatballs and cook, turning occasionally, until browned on all sides (about 10 minutes). Transfer meatballs to plate.
Step 5.
Add onion to pot and cook until soft, 5 minutes. Add crushed tomatoes and bay leaf. Season with salt & pepper and bring to simmer.
Step 6. Return meatballs to pot and cover. Simmer until sauce has thickened (about 8 to 10 minutes).
Step 7. Serve pasta with a healthy scoop of meatballs and sauce. Top with additional parmesan cheese before serving.
---
CLICK HERE for a downloadable recipe card

Great food and nutritional meals are an important part of our Pacifica Senior Living communities. We pride ourselves on offering a menu of restaurant-quality food options for our residents to choose from. Ask us about our Culinary Program and how we ensure delicious and healthy options or come visit us and enjoy a complimentary meal as part of your tour.
Subscribe to our email list on the right for more great recipes like this one.
or check out our recipes tag here for more recipe options.
BON APPETIT!