Enjoy this juicy and flavorful marinated pork recipe from Meridian at Westwood. This delicious dish is a quick and easy meal you can make and pair with your favorite side dish or vegetable. Chef Rashard Gardner adds the flavor and flare to this dish with powdered mushrooms and cooking wine, and serves it with a side of pineapple rice. You can find both recipes below.

Try this at home for yourself, or come visit us at Meridian at Westwood to discover some of the amazing meals we are cooking up. Our culinary teams are always working to provide new and exciting meals for our residents that keep nutrition and flavor in mind. You can learn more about Chef Gardener below, and find the recipe to make this new community favorite dish.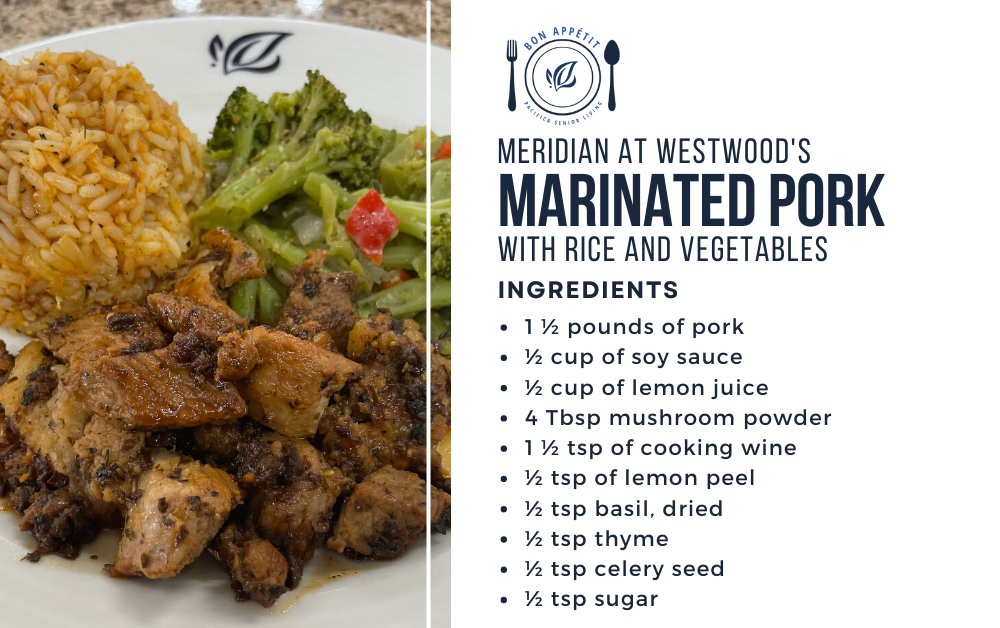 Rashard Xavier Gardner is a native of Tallahassee, Florida. His culinary journey started at the age of 16, when he took his first position as a dining room/sanitation worker in the quick service restaurant genre.
By the age of 18, he had worked his way up to the position of Supervisor in the same establishment, showing a sense of ambition and dedication to his work.

While in the position of supervisor, he attended Tallahassee Community College, Florida Agricultural & Mechanical University, and Kaiser University where he obtained degrees and certifications in Business Administration, Hospitality, Culinary Management, and Kitchen Management.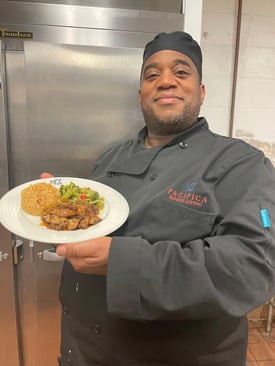 Chef Gardner continued to pursue his passion in the culinary world, and through his 26-year career has held positions as a Production Supervisor, Catering Director, Food Service Director, Regional Director, and National Operations Director and even opened a restaurant with his father.

Chef Gardener also worked for a number of large international food service companies where was afforded the opportunity to create menus, structure and implement new policies and procedures, audit and train directors and chefs, and also open and sell accounts. His vast experience and culinary journey eventually brought him to Meridian at Westwood where he holds the position of Dietary Services Director.

His passion for food has been not just a career but a creative outlet that allows him to grow and explore through food and flavor.
---
Pork Ingredients
1 ½ pounds of pork
½ cup of soy sauce
½ cup o lemon juice
4 Tbsp mushroom powder
1 ½ tsp of cooking wine
½ tsp of lemon peel
½ tsp basil, dried
½ tsp thyme
½ tsp celery seed
½ tsp onion powder
½ tsp garlic powder
½ tsp sugar
Preparation
1. Thaw and wash diced pork
2. Combine all ingredients and marinade for 8 to 24 hours
3. Drain the excess marinade and place pork in a frying pan on medium high heat.
4. Cook until browned on the outside, and lightly pink on the inside

* TIP: You can add honey to the drained marinade and heat over low heat until thickened to Crete a flavorful sauce


Rice Ingredients
1 ½ pounds of pork
1 cup of rice
2.5 Cups of vegetable stock
¼ cup of onion, diced
4 tsp of garlic, minced
2 Tbsp of pineapple, crushed
¼ tsp of salt
½ tsp onion powder
½ tsp garlic powder
½ tsp paprika
5 tsp of butter
Preparation
1. In a large pot, saute onions and garlic in butter for 2-4 minutes
2. Add stock and heat on high until a rolling boil
3. Add dry ingredients
4. Add rice and cover pot. Simmer on low heat for around 15 minutes until liquid is absorbed and rice is light and fluffy
5. Add crushed pineapple and stir until incorporated

---
Great food and nutritional meals are an important part of our Pacifica Senior Living communities. Come visit us and enjoy a complimentary meal as part of your tour.
Subscribe to our email list on the right for more great recipes like this one.
or check out our recipes section for more recipe options.
BON APPETIT!