Welcome fall with this sweet and spiced pumpkin cheesecake recipe. It is the perfect sweet treat for festive parties or family meals, and is sure to be a crowd pleaser.

This dessert dish from Chef Pablo Soria of Meridian at Laguna Hills is a great option for dinner parties, family events, or a special occasion. Pair it with a festive fall meal, enjoy a slice with a warm drink for an afternoon sweet snack, or have as an after-dinner treat. Follow the recipe below to try it at home for yourself.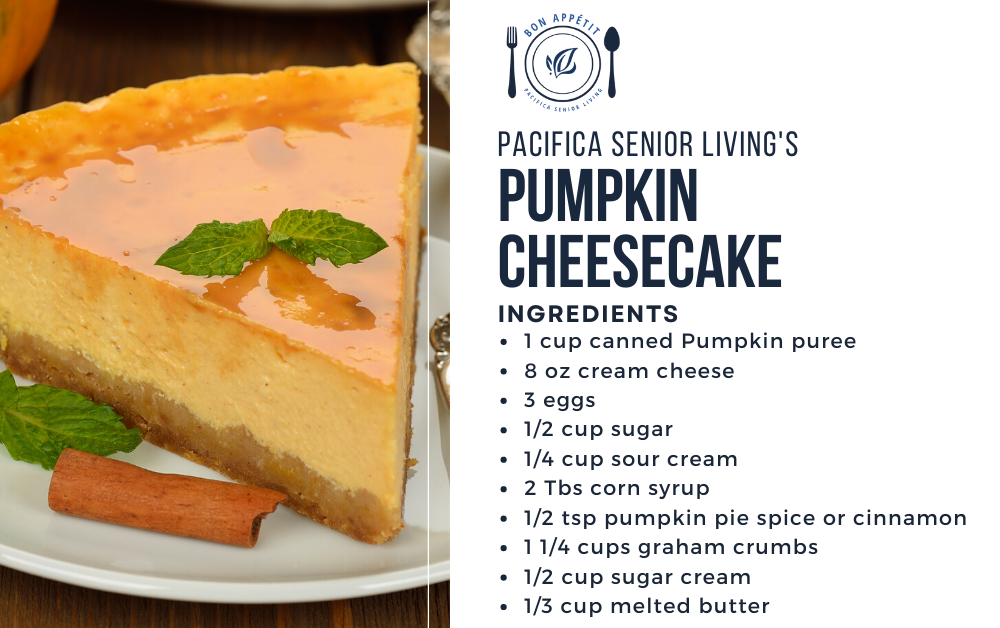 Chef Pablo Soria is a Food Service Director at Meridian at Laguna Hills. He has over 13 years of experience in the culinary industry, and is a much loved part of the Culinary Team. Chef Pablo is constantly creating new and exciting dishes for our residents, from classic comfort foods, to festive favorites, savory dishes, and delectable deserts like this one. Our residents love the delicious and extensive menu Chef Pablo and his team curate for them, and Chef Pablo loves sharing his joy of cooking with the community.

One of his favorite things about being a Food Service Director at Meridian at Laguna Hills is seeing the smiles and joy he can bring to residents and their families through his cooking and delicious dishes.


We offer complimentary meals as part of our community tours, where you can enjoy one of our many menu options. Tours are a great way to enjoy our culinary experience, get a feel for the lifestyle at Pacifica, and spend time with our residents.

We encourage family, friends and loved ones to come share a meal with us. Whether you have a loved one living at a Pacifica community or you are visiting for the first time, this is a great way to get to know our staff and residents and see if our community is right for you. We can't wait to share a meal with you!

---
Ingredients
1 cup canned pumpkin puree

8 ounces cream cheese

3 eggs

1/2 cup sugar

1/4 cup sour cream

2 tablespoons corn syrup

1/2 teaspoon pumpkin pie spices or cinnamon

whipped cream for serving optional

1 1/4 cups graham crumbs

1/2 cup sugar cream

1/3 cup melted butter




---
Preparation
Step 1.
Preheat oven to 350F

CRUST:
Step 1. Mix graham crumbs, sugar and butter until well combined.
Step 2. Place in a 9" pie pan and press along the sides and bottom.

FILLING:
Step 1. Place all ingredients (except whipped cream) in a blender and blend until smooth. Pour into prepared crust until about 1/4" from the top.
Step 2. Bake for 45 minutes.
Step 3. Cool for 4 hours in the fridge.
Step 4. Top with whipped cream (or whipped topping) and a pinch of nutmeg before serving.
---
CLICK HERE for a downloadable recipe card

Great food and nutritional meals are an important part of our Pacifica Senior Living communities. We pride ourselves on offering a menu of restaurant-quality food options for our residents to choose from. Come visit us and enjoy a complimentary meal as part of your tour.
Subscribe to our email list on the right for more great recipes like this one.
or check out our recipes tag here for more recipe options.
BON APPETIT!