Risotto is a classic Italian rice dish, originally from the Lombardy area of Italy. It is made of short grain rice that is cooked slowly with broth or stock in a way that creates a creamy, silky and decadent dish.
Risotto is a great example of an elevated simple dish. It uses simple ingredients (rice, butter and stock), a careful technique and lots of love to create something truly delicious. You can top your risotto with just about anything, from parmesan cheese, to fresh green peas, bacon, or -as in this case - delicious seafood.

This recipe takes risotto to the next level with fresh shrimp, scallops, calms and a pop of saffron. It is a luxurious dish that's sure to impress. It's perfect for a romantic date, a special meal, or a dinner party with friends.
Easy to make, healthy and naturally gluten free, this is what an authentic Italian Seafood Risotto is all about.
The recipe is adaptable as well, so you can
This recipe by Chef Pablo Soria at Meridian at Laguna Hills is a great option for a summer meal.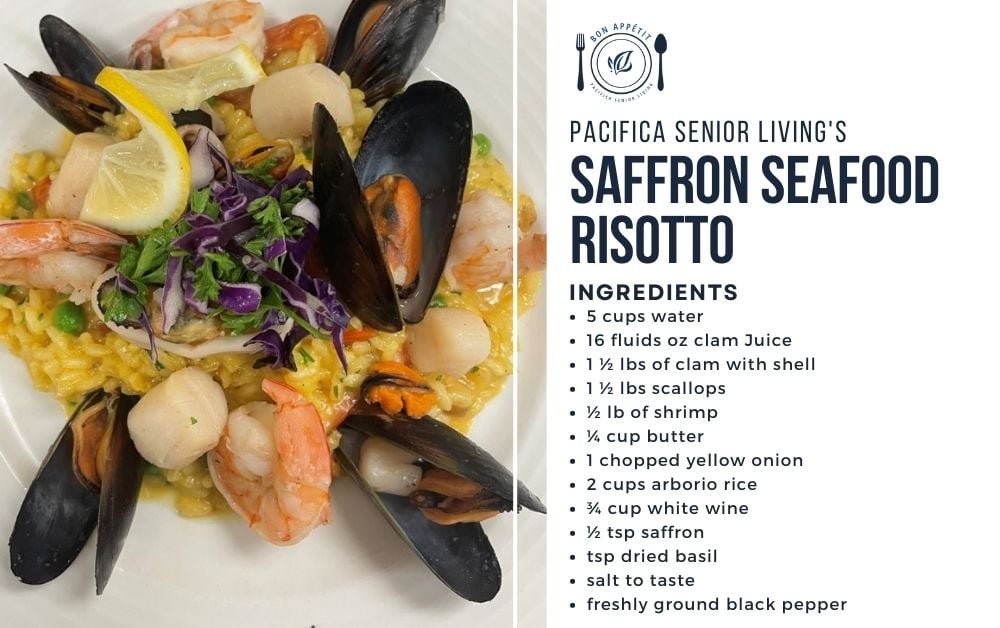 ---
Ingredients
5 cups water
16 fluids oz clam juice
1 ½ pounds of clams with shell
1 ½ pounds scallops
½ pound of shrimp
¼ cup butter
1 chopped yellow onion
2 cups Arborio rice
¾ cup white wine
½ tsp Rumi spice saffron threads
tsp dried basil
Kosher salt to taste
Freshly ground black pepper



---
Preparation
Risotto:
1. In a large pot or saucepan, combine water and clam juice and bring to a low simmer (over medium heat).

2. In a separate pan or large sauce pan, place 1/4 cup of butter and bring to a simmer (medium-high heat). Add onions and cook until soft and clear, about 3-5 minutes.
3. Add the rice, and saffron, and stir constantly until the rice becomes translucent or glossy - about 2 minutes.
4. Then add the wine and pinch of salt, and stir until absorbed, roughly 3 minutes.
5. On medium heat, begin stirring in the clam broth 1/2 cup, or one large spoonful at a time. Continue this process of slowly adding the broth, stirring the rice mixture constantly to prevent sticking and allow the liquid to be absorbed. Each 1/2 cup should take 2-3 minutes to absorb. If it is absorbing or evaporating quickly, reduce your heat to medium-low. This should take around 15 minutes or so total. You are looking for a wet, creamy texture - not gluey or sticky. You can test the rice for done-ness. It should be cooked but slightly firm, not mushy.

Add the Seafood:

6. Now that your risotto is nearly cooked, you can add the seafood. Stir in the shrimp, scallops, clams, and basil. Continue to stir and cook until the seafood is opaque, 3 to 5 minutes.
7. Season with salt and pepper.
Serve and enjoy!
---
CLICK HERE for a downloadable recipe card

Great food and nutritional meals are an important part of our Pacifica Senior Living communities. We pride ourselves in offering a variety of restaurant quality food options for our residents to choose from. You can learn more about our dining options and how we ensure delicious and healthy options by phone, or come visit us and enjoy a complimentary meal as part of your tour.
subscribe to our email list on the right for more great recipes like this one.

BON APPETIT!