Delicious, nutritious, and full of flavor!
Fruit smoothies are a great way to add some vitamins and fiber to your diet.
By blending up multiple fruits and vegetables, you can get your daily intake of fruit and veg all in one easy, delicious meal or snack! Add in some yogurt for protein and probiotics, and you have one yummy treat that's packed full of nutrients.
Smoothies are especially great options for older adults, who may lack fiber in their diet or find it harder to get enough fresh fruits. Blending can make it easy to get all the fruits in you need, and this delicious combo of veg and berries is so good, you'll want one every day!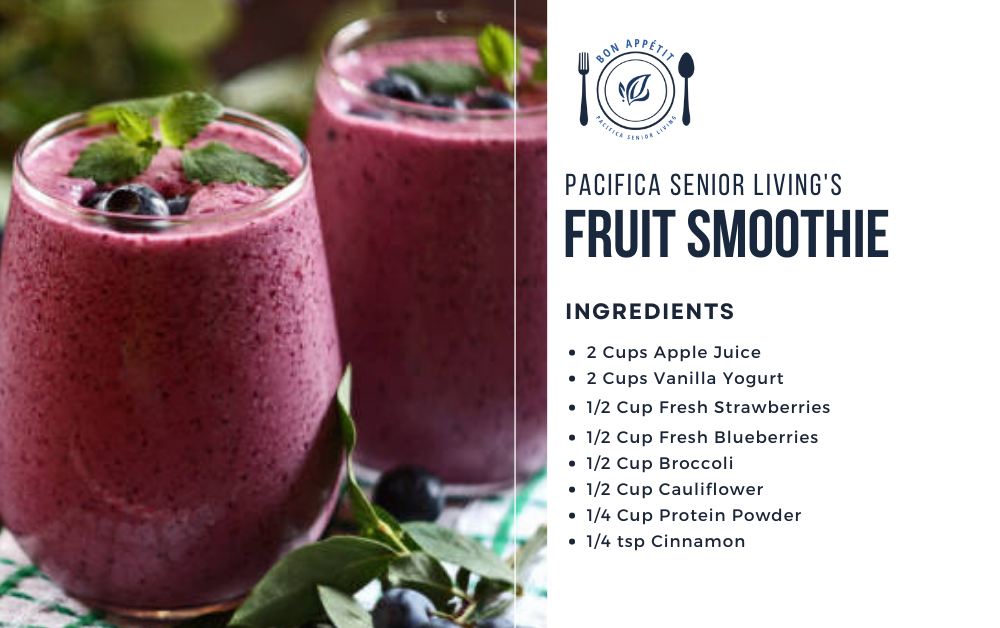 This recipe comes from Chef Karen Gasaway of Pacifica Senior Living Hemet. Chef Karen started at Pacifica Senior Living Hemet in January of 2022, and has quickly become a much loved part of the community. She comes from a family of bakers and chefs, and is an impressive chef in her own right. Chef Karen has been cooking since she could hold a spatula, and has put her skills to good use, raising over $7000 for Cancer research and creating delicious meals here at Pacifica.

The residents love seeing what new creation she comes up with in the kitchen, from delicious dinners to scrumptious baking. She recently introduced this fruit smoothie, and residents began requesting it every day!
She cleverly disguises the vegetables so that residents - and you at home - can get the benefits of vegetables while tasting only the sweet berries and creamy yogurt. This smoothie is so good, you'll be requesting it every day too. Try it at home, or come visit our Hemet community to visit Chef Karen, and try some of her other delicious creations.
---
Ingredients
2 Cups Apple Juice
2 Cups Vanilla Yogurt
1/2 cup Fresh Strawberries
1/2 cup Fresh Blueberries
1/2 cup Broccoli
1/2 cup Cauliflower
1/2 cup Carrots
1/4 Cup Protein Powder
1/4 tsp Cinnamon


---
Preparation
Step 1.
Place the apple juice into a blender, add the yogurt and fruit. Blend until smooth.
Step 2.
Add the vegetables and continue to blend until smooth. Then add the protein powder and cinnamon and blend once more to combine.
Step 3.
Serve into a glass with a straw and enjoy!
---
Great food and nutritional meals are an important part of our Pacifica Senior Living communities. We pride ourselves on offering a variety of restaurant-quality food options for our residents to choose from. You can learn more about our Culinary Experience and how we ensure delicious and healthy options by phone, or come visit us and enjoy a complimentary meal as part of your tour.
subscribe to our email list on the right for more great recipes like this one.
on check out our recipes tag here for more recipe options.
BON APPETIT!