Enjoy this flavorful Surf and Turf dish from Chef Matthew Walker of Pacifica Senior Living Menifee. Combining flat iron steak and shrimp, this impressive meal is paired with garlic and black pepper creamy mashed potatoes, and a side of vegetables for a balanced meal that is sure to wow.

You can find the full recipe for both the steak and mashed potatoes below, so you can try it at home for yourself. Or come visit your local community to try dishes like this one made by our amazing in-house culinary team. You can also learn more about Chef Matthew Walker and his journey into cooking below.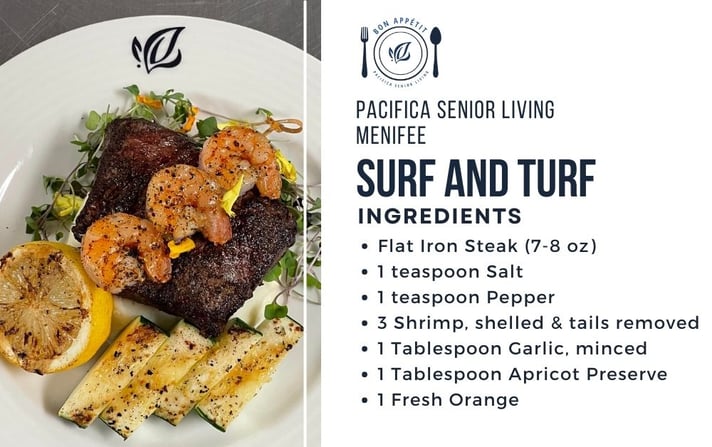 Chef Matt is an inspiring chef that is constantly coming up with amazing meals like this impressive surf and turf meal he created for Pacifica Senior Living Menifee.

Chef Matt was a home cook from the beginning, and learnt everything he could from his mother. He loved to cook as early as he can remember. Matthew first stepped into the professional side of the culinary field when he began work at a small Italian restaurant in 2011 in Murrieta, CA.

He then made the jump to Pacifica Senior Living Menifee in 2017 and has been an integral part of the community ever since. Here, he demonstrates his culinary knowledge in every dish, while continuing to grow within the field and grow within the company.

"I have always enjoyed trying new food and especially enjoy sharing new food with the residents here," he shared. "Any trip/vacation I take throughout the years, I find an entree to share with the community."

One of his recent trip inspired dishes was a brunch where he served a Hawaiian Loco Moco, inspired by a trip he took to Hawaii.

"I had a few residents that lived in/visited Hawaii explain to me that the dish brought back so many memories and they loved every moment of it."

Chef Matthew also hosts a weekly culinary meeting that the residents attend, and he uses that time to discuss meals they reminisce about and potential new meals for them to try. He told us that he genuinely appreciates all of the residents' traditional recipes they pass down to him during these meetings.

"The residents greatly enjoy the large variety and diversity we have within our menu. There is always something on the menu for everyone."


---
Ingredients & Instructions
Steak Recipe
Flat iron steak (7-8 oz)

1 teaspoon salt

1 teaspoon pepper

1. Season the flat iron steak with salt and pepper.
2. Sear the steak on all sides, then finish in an oven at 325 F



Shrimp Recipe

3 Shrimps with tails removed

1 Tablespoon minced garlic

1 Tablespoon apricot preserve

1 Fresh orange, squeezed



1. Mix the apricot preserves with the garlic and fresh orange.
2. Allow shrimp to marinate for 2-6 hours.


3. Skewer the shrimp and bake at 325 F until shrimp temperature reaches 145 F
Mashed

Potatoes

Recipe
1 Large Yukon gold potato

1/2 Cup milk

1/2 Cup heavy cream

4 cloves of garlic, peeled

2 Tablespoons of butter

2 teaspoons black pepper



1. Peel and quarter potatoes.
2. Boil potatoes until tender, about 15 minutes
3. Combine the milk, cream, butter and garlic together and slowly heat in a separate pot.

4. When the potatoes are cooked, run them through a ricer or mash them, slowly adding in the hot milk mixture.
---

Great food and nutritional meals are an important part of our Pacifica Senior Living communities. Ask us more about our culinary program and how we ensure delicious and healthy options or come visit us and enjoy a complimentary meal as part of your tour.
Subscribe to our email list on the right for more great recipes like this one.
or check out our recipes section for more recipe options.
BON APPETIT!