Enjoy this spicy and zesty Thai chili pan seared salmon form Meridian at Lantana. This delicious dish is packed full of flavor, and is accompanied by nutritious spinach and pepper sauté, as well as scalloped potato tumble and sweet potato straws. Each aspect does together to make a spectacular dish that was voted the second place winner in our Annual Culinary Competition. Chef Michael Brown adds heat and personality to this fabulous dish for a meal you'll son remember.

Check out the recipe below to try it for yourself at home, or come visit Meridian at Lantana to try one of Chef Micheal's other amazing dishes. Our creative culinary teams love coming up with new and exciting dishes like this one, and our competition judges were blown away by the creativity. If you love salmon, or bold and spicy flavors, this chili fish dish is perfect for you.

You can learn more about Chef Micheal Brown below, or check out some of other winning dishes.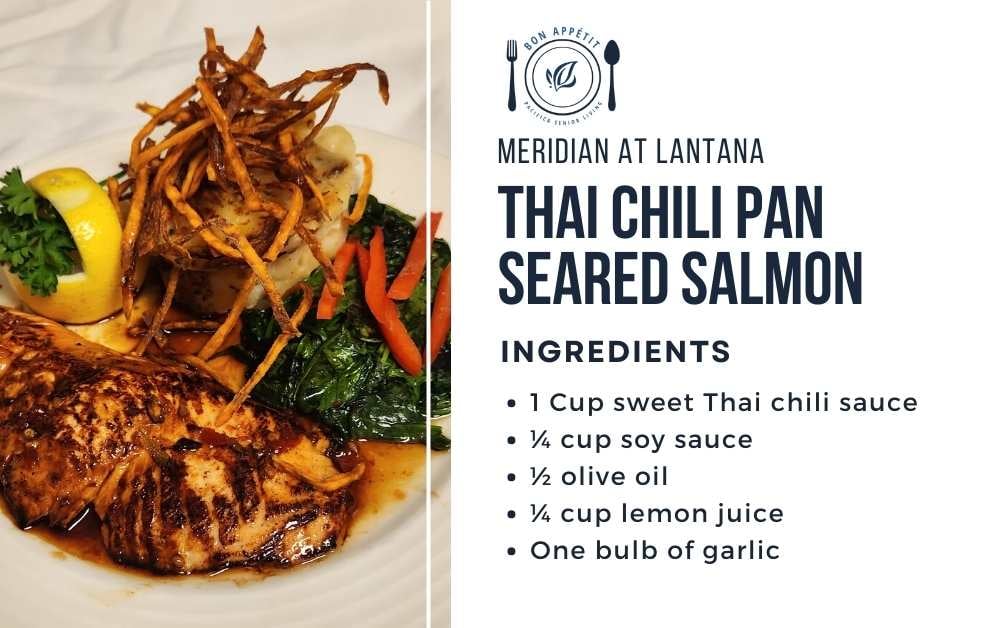 Chef Michael Brown has been at Meridian at Lantana for nearly 2 years now, and has made a big impact through his extraordinary dishes. He infuses the kitchen with flavor and creativity, all the while ensuring residents' nutritional needs and erosional preferences are met. He has worked in the culinary industry for 25 years, and his experience shows in every dish - not just this winning one.

For chef Michael flavor and creativity is key. When asked to describe what it was like to be a chef, he likened it to being an artist, but instead of hints of colors you get to work with flavor and fresh ingredients. He loves being able to learn new things, grow, and try new ideas. When it comes to this Thai Chili recipe, tasters were blown away by the way the chili enhanced the fish and the side dishes are also a big hit.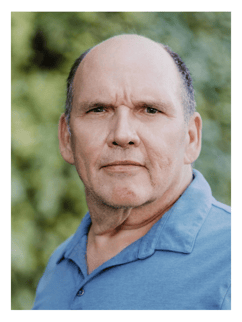 We love having Chef Michael at Meridian at Lantana, and can't wait to see what he will be cooking up next!

---
Pork Marinade
Ingredients
1 Cup sweet Thai chili sauce
¼ cup soy sauce
¼ cup lemon juice
One bulb of garlic
Preparation
1. Marinade salmon for approximately 1 hour
2. Pan sear salmon in olive oil, on high heat, roughly 2 minutes on each side
Finish in oven for 5 minutes or until medium
Spinach and Pepper Sauté
Ingredients
Olive oil
Salt and pepper
Spinach and Red pepper
Preparation
1. Slice peppers into thin strips
2. Add a couple spoonfuls of oil to a stove top pan on medium heat
3. Cook the peppers until tender and lightly charred, about 10 to 12 minutes for medium or about 15 minutes for tender
2. Add spinach and cook until spinach is wilted


Scalloped Potato Timble
Ingredients
6 Medium potatoes peeled and sliced
4 Tbsp butter
1 Small onion, diced
3 Tbsp flour
1 tsp salt
1/4 tsp pepper
2 Cups of milk
Preparation
1. Sauté onion in a pan with oil on medium-high heat
2. Add flour, salt and pepper, then add milk and cook until the sauce combines and thickens
3. Add onions sauce and potatoes to oven-proof dish and bake at 375 F for 1 hour.
4. Potatoes should be golden brown on top and tender on the inside when cooked.
---
Great food and nutritional meals are an important part of our Pacifica Senior Living communities. Come visit us and enjoy a complimentary meal as part of your tour.
Subscribe to our email list on the right for more great recipes like this one.
or check out our recipes section for more recipe options.
BON APPETIT!