Enjoy a yummy treat with a little heat.
Shrimp is a great healthy choice for dinner. This delicious seafood is low in calories and high in protein. It is also a great source of Omega-3 Fatty Acids and vitamin B12 which both help with brain health and have been known to be mood boosters. Omega-3 is also a great way to protect against heart disease, so this meal is not only delicious but nutritious as well!
You can enjoy this mouth-watering shrimp dish any time! Our detailed instructions and simple recipe make it easy to replicate in your own kitchen. Simply fire up a grill or cook over a stovetop. It's fast, easy, and full of flavor for a dish you can make any day of the week.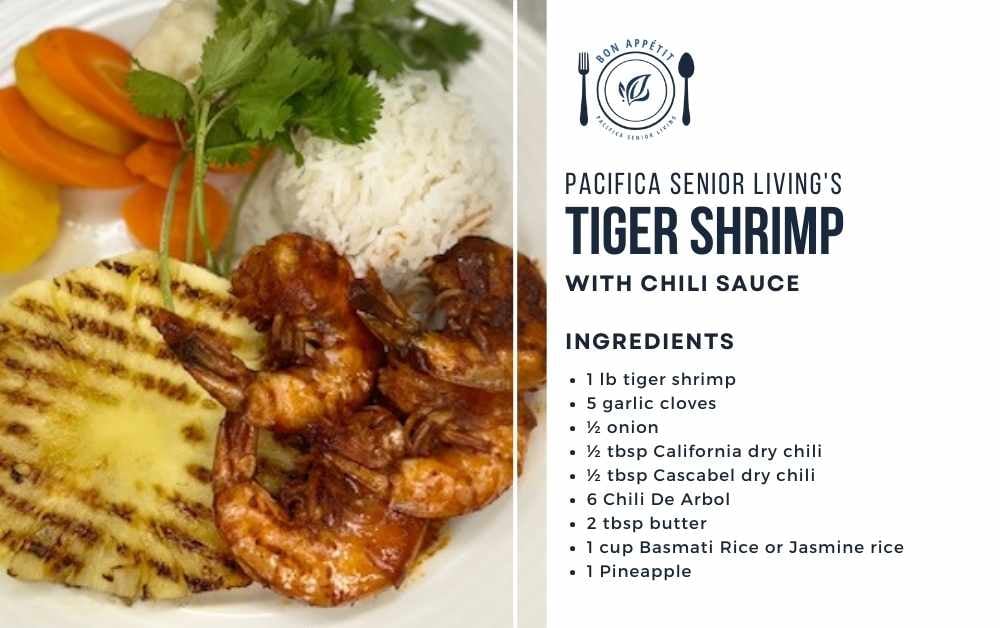 This recipe by Chef Priscilla Zuniga of Pacifica Senior Living Riverside is a great main dish that can be served over rice, with a side of your favorite vegetable. Priscilla is a dedicated and passionate chef who loves adding a kick of flavor to her dishes. Come visit Pacifica Senior Living Riverside to taste some the amazing dishes Chef Zuniga is cooking up - like this one!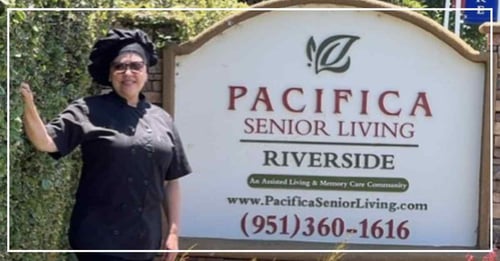 ---
Ingredients
1 lb Tiger shrimp
5 Garlic cloves
½ onion
½ Tbsp California dry chili
½ Tbsp Cascabel dry chili
6 Chili De Arbol
2 Tbsp butter
1 Cup Basmati Rice or Jasmine rice
1 Pineapple


---
Preparation
Step 1.
Over Medium heat on a stovetop, melt the butter in a pan. Add 5 chopped garlic cloves to the butter and fry until it's light brown. (2-3 minutes)
Step 2.
Meanwhile, in a blender, add chopped onion and all the dry chili and blend well.
Step 3.
Add the shrimp to the garlic and butter and sautee until the shrimp color turns to a nice pink. (roughly 3 minutes each side, flipping and cooking for an additional 3 minutes)
Step 4.
Add the blended salsa to the shrimp and cook for a couple more minutes until the shrimp are all coated with the salsa.
Step 5.
Cut the pineapple into one-inch rings. Grill the pineapple on both sides until you have a nice grill mark (roughly 2-3 minutes).
Step 6.
Add the shrimp and pineapple to a bed of rice. Serve alongside steamed vegetables and enjoy.
---
CLICK HERE for a downloadable recipe card

Great food and nutritional meals are an important part of our Pacifica Senior Living communities. We pride ourselves on offering a variety of restaurant-quality food options for our residents to choose from. You can learn more about our dining options and how we ensure delicious and healthy options by phone, or come visit us and enjoy a complimentary meal as part of your tour.
subscribe to our email list on the right for more great recipes like this one.

BON APPETIT!