At Pacifica Senior Living we are dedicated to offering a top-notch culinary experience for our residents. Our team of chefs, servers and culinary directors work together to create delicious and health-conscious menus for each of our communities. We focus on having dining experiences where residents can select from a menu of options depending on their preferences and likes.
We also cater our meals when needed to meet the dietary needs of each person that calls Pacifica home. Whether that means having sugar-free options, sodium-conscious recipes, gluten free, vegetarian or dairy free meals, we want each and every resident to love every meal.

Our chefs and culinary team are constantly working to develop new and exciting options, as well as bring classic comfort food favorites to our communities.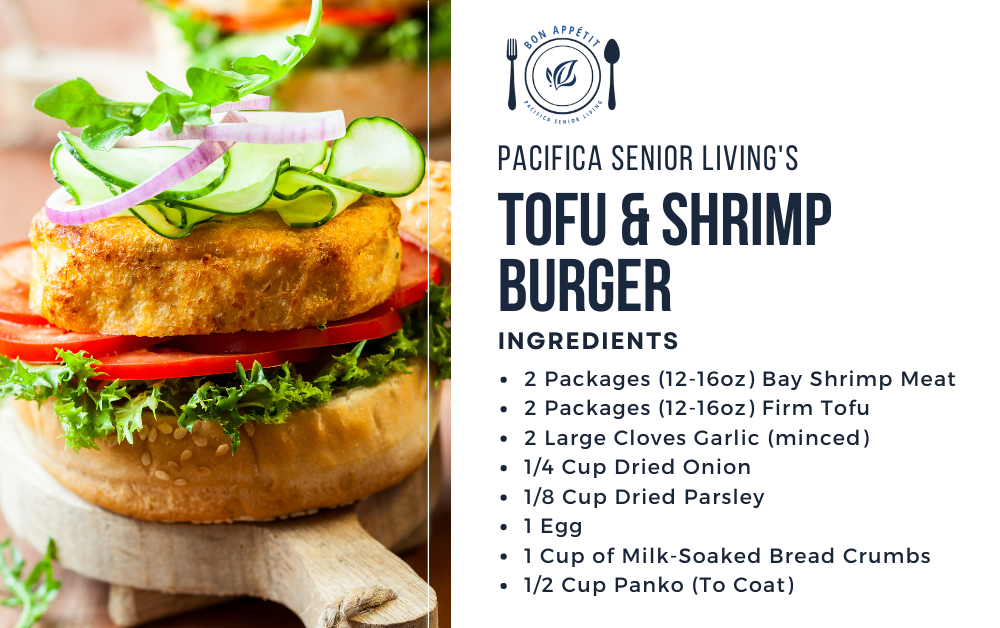 This recipe from our Regional Culinary Director is a healthier take on a classic burger. Rather than using red meat, the patty is made from a combination of tofu and shrimp, for a fantastic burger that is full of flavor without all the fat. Burgers are a great option because they can be customized with whatever toppings, fixings and sides you want. Whether you choose lettuce, pickles, tomatoes and other veggies, or you opt for flavorful sauces and spreads, you can make your burger just the way you like it, while still staying health conscious.

Try this recipe for yourself at home, or come visit us to experience the delicious culinary options available at your local Pacifica Senior Living Community.
---
Ingredients
2 packages (12-16 oz) Bay Shrimp Meat
2 packages (12-16 oz) Firm Tofu
2 large cloves of garlic, minced
1/4 cup of dried onion
1/8 cup of dried parsely
1 egg
1 cup of milk-soaked bread crumbs
1/2 cup of Panko (to coat)

---
Preparation
Step 1.
Thaw and drain shrimp meat, and drain excess liquid from the tofu.
Step 2.

Prepare milk-soaked bread (aka Panade) by combining 1/2 cup of bread crumbs (or any kind of bread, torn to small pieces) with two tablespoons of milk. Set aside and let the bread become soggy.
Step 3.
Combine shrimp, tofu, onion, garlic, parsley, egg and soaked bread in a food processor. Pulse to mix and combine.
Step 4.
Scoop out mixture into 3oz balls (roughly one large spoonful) and place on lined sheet pan, tray or plate. Refrigerate for 30 minutes.
Step 5.
Roll chilled meatballs in a layer of Panko-syle bread crumbs and flatten into patties.
Step 6.
Pan Fry Burger patties in a small amount of oil over medium heat, 2 minutes per side.
Step 7.
Serve on a bun as a burger, over salad, or with your favorite side dish.
---
CLICK HERE for a downloadable recipe card

Great food and nutritional meals are an important part of our Pacifica Senior Living communities. We pride ourselves on offering a menu of restaurant-quality food options for our residents to choose from. Come visit us and enjoy a complimentary meal as part of your tour.
Subscribe to our email list on the right for more great recipes like this one.
or check out our recipes tag here for more recipe options.
BON APPETIT!