For 5 years now, Donna M. has been an integral member of our Pacifica Senior Living Family. While her home community is Pacifica Senior Living Ocala in Florida, as one of our Senior Business Office managers she often travels other places to help train and support other Business Office Managers. She loves doing this and is thrilled when she can empower others to do their best and grow successfully in their roles.
At Ocala, she tries very hard to ensure all of the associates with whom she works feel valued and that they understand their importance to the overall function of the community. She isn't afraid to jump in to work right alongside them, and she has even been known to break into a dance with them when they are celebrating their success!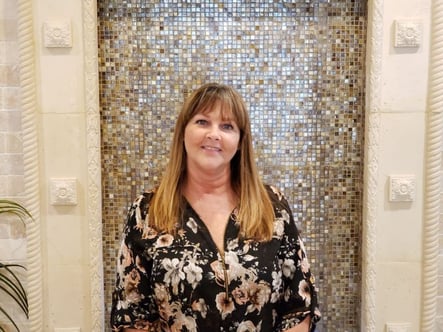 On a personal note, to know Donna is to know she is a die-hard Chicago sports fan. She loves the Bears and has even named her dog Wrigley after that famous ballpark! She occasionally brings him to work with her, and all of the residents and staff enjoy his company and even find him therapeutic. She loves the beach and grew up in Scotland and tries to travel back there as much as she is able to see family. However, most important to Donna are her three daughters and three grandsons, who she says, "Are her heart". She is immensely proud of them and loves to spend time with them whenever she can.

Thank you, Donna, for all you do each day to support our Pacifica employees, enrich the lives of our residents, and further our mission as a company. We hope to have the pleasure of working with you for many more years to come, and we are so proud of all the great work you've been doing in our community for years!