At Pacifica Senior Living we strive to build a culture that is accepting, loving and supportive of everyone. Inclusivity and equality are at the heart of what we do, and part of our core values of care. Through the month of June, many of our communities have been celebrating Pride, a time in which we celebrate love in all its forms.

Pride Month, and events like gay pride parades have been held since 1970, which marked the first pride event. This first demonstration was held as a memorial to the one year anniversary of the Stonewall uprising. Pride is a celebration of the LGBTQ+ community. It is a time to look back on all the hard-fought progress that has been made for LGBTQIA rights and freedoms, as well as reflect on what changes may still be needed.
Across our communities, residents, staff members and loved ones celebrated pride in a variety of ways, telling their stories, pledging support, and sharing love with one another. It is a beautiful time of acceptance and joy, while remembering the battles fought to celebrate love.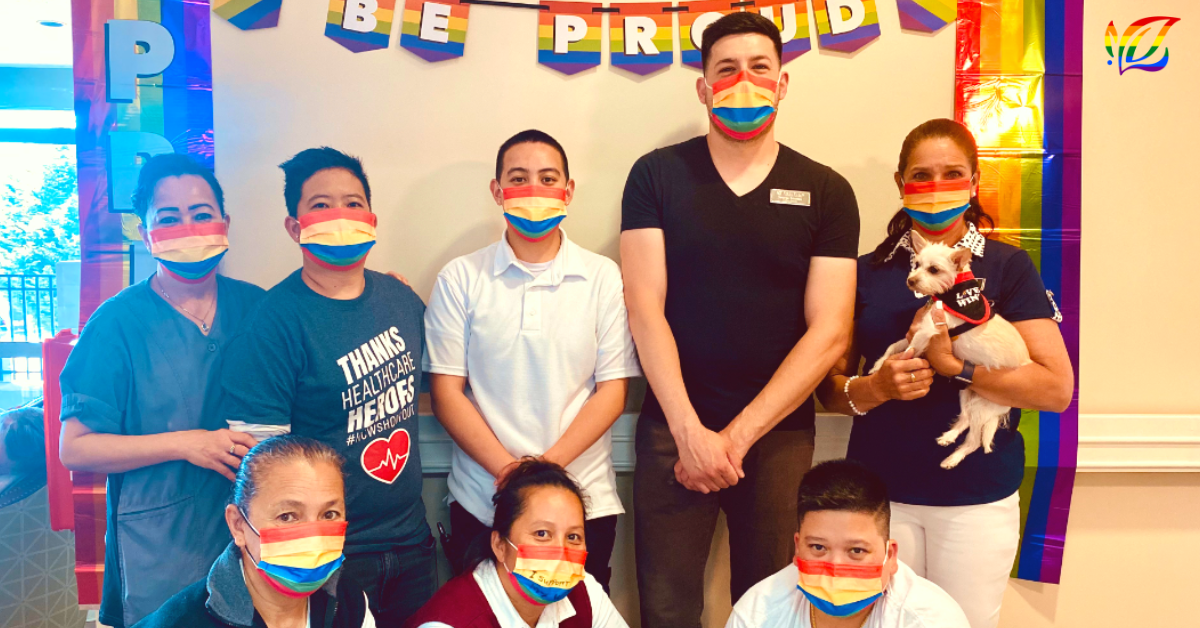 At Pacifica Senior Living Mission Villa, the Pacifica team celebrated with residents, donning rainbow colored face masks, and setting up a pride themed photo booth. Everyone had a great time taking pictures and spreading joy, proudly standing alongside the LGBTQ+ community. Building a community of trust, respect and acceptance is a founding part of every single one of our communities.
We want all of our residents to feel at home with us, and be able to express themselves however they like. No matter who you love, or how you live your life, you are welcomed into the Pacifica Family.

Lorraine is one such resident who found a caring and compassionate home at Pacifica Senior Living Union City. Lorraine is a retired teacher from Brockton, Massachusetts. Her greatest passion in life was teaching and supporting her students. She often went out of her way to hep her studies by offering free after class tutor hours or advocating for those seeking employment. Lorraine was very well loved within her community. Now at Union City, she enjoys receiving the help and support. She is grateful to live in a home where everyone is so caring, compassionate and supportive of one another.
Similarly, Mary and Chris found a home together at West Park Senior Living. After 18 years and many adventures together, their bond continues to grow each day, and they are a light within their community. They were grateful to find such a caring place to call home.

Our culture of care does not stop with our residents. We often call our community a 'Pacifica Family' and we truly mean it. Each community, and our company in general, strive to cultivate a culture of acceptance, equality and care for all.
Melanee, is the enthusiastic Activities Director from Pacifica Senior Living South Coast expressed her gratitude for the work family she has become a part of. Melanee worked at Newport Mesa for four years before transferring to South Coast. In both communities, she has felt accepted and loved for who she is.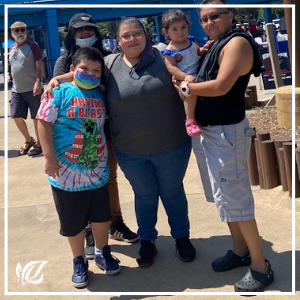 "Pacifica has made me feel safe. They are very accepting of whom I chose
to love. My coworkers and residents have been very welcoming and accepting with open arms. They have become part of my family."
Melanee loves spending time with her residents at game night and ha
ppy hour events, and she was proud to be able to share photos and videos of her time at pride events and parades in her community with the residents.