As Valentine's Day approaches, our minds turn to love and all that surrounds that mysterious word. Be it a decades-long marriage or a life-long friendship, love is something we all want to experience and carry with us throughout our lives. According to the Pew Research Center, finding someone to grow old with is a priority for 81% of Americans; we all want to love and be loved.
Through Thick and Thin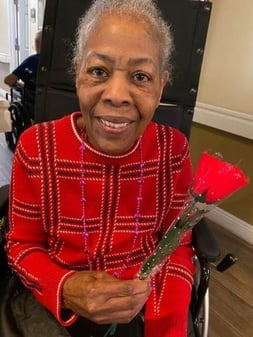 As we prepare to celebrate this holiday, it's always such a wonderful chance for us to delve into the lives our residents. We have couples married over 70 years, residents who have had friendships that span their lifetimes, and all with their own unique stories. We love to talk with them about their relationships, and hear any sage wisdom they may choose to share on the longevity of their unions. Often, it isn't a magical formula or magical incantation, instead it's a commitment to a life lived together, through thick and thin, rich and poor, and everything in-between. Over the years, we've interviewed some of our couples and they've all expressed their love manifested in practical ways; not going to bed angry, always supporting one another and accepting each other's differences. Most of all, we often hear that they simply believed in the covenant made when they recited their vows; confident that it is lifelong and enduring.
Lasting Love in Senior Living
Everyday chores aren't stressful for Carl and Annie any more. The couple moved into Pacifica Senior Living Country Crest just under two years ago, and love that cooking, cleaning, and linens are done for them.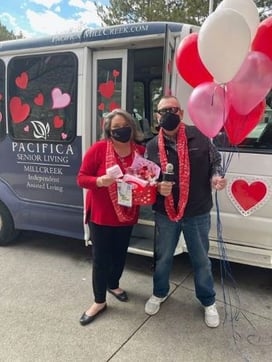 Virginia and Robert have found new activities to do together. They've called The Meridian at Lake San Marcos home for about four years now, and they're frequent participants in planned activities and exercise classes. They praised both resident and staff resilience, for showing creativity and staying engaged during the pandemic.

Enjoying a more simple life can also strengthen bonds. Megan and Jamar recently moved into an independent living apartment near their daughter. While downsizing was challenging, they've grown to love the simplicity and amenities of their new home.

Love In The Time of COVID-19
Valentine's Day in our communities in the midst of a pandemic may look a little different this year as we prepare our annual festivities. Despite that, it doesn't mean that there isn't romance to be had and love to be celebrated. We are carefully and thoughtfully looking at ways we can celebrate the love and happiness it brings, and look forward to making the day special for all of our residents. We've put together plans for special meals, flowers, and mementos to help each resident feel special. Each community adds their own unique stamp upon their celebrations, but the goal of all is the same: to express our appreciation and respect for our residents and the impact love has had upon their lives.

Though we may not be able to celebrate the way we want to this year, celebrate at all, and we are going to work to make sure that all of our residents have a happy Valentine's Day and have the chance to show the people they love how that love has endured, even in these unique and challenging times.

Happy Valentine's Day! We're so glad we get to share it with you.