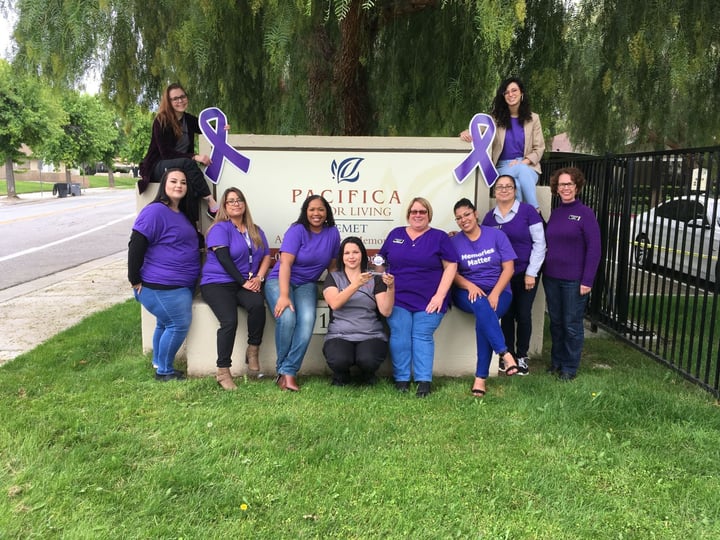 Pacifica Senior Living Hemet is an award-winning senior living community in Hemet, CA with a dedicated staff providing care to residents in our Assited Living and Memory Care programs. We work every day to ensure the comfort and care of our residents while always offering a sense of independence and fun built around life-enriching activities and the 24-hour service that is the foundation for our success.

And it is this atmosphere, lifestyle, and compassionate care that has made us the recipient of a Caring.com Top Rated of 2020 Award, to join the many other awards we've received, such as the SeniorAdvisor.com Best of 2020 Award and the Best in Senior Living 2020 award, among many others. And we are proud to showcase the effort we take in building more than a place for our residents to live—that we truly work to make Pacifica Senior Living Hemet a home for each and every one of our residents.

To top it off, our community contains homey and comfortable amenities for our residents to enjoy. From three chef-prepared meals served daily and our on-site beauty salon, to our putting green to pracice your short game, our walking paths to enjoy the gorgeous California weather, and our relaxing fireside living room, there is always something to do while living at Pacifica Hemet. We are here to do more than just care for your loved ones—we are here to fill their lives with happiness and fun, to build a community that they will love being a part of while they're our neighbor.

As a part of the Pacifica Senior Living family, we want to extend our sincere thanks and appreciation to the staff and residents at Pacifica Senior Living Hemet who have come together to make it an award-winning community for yet another year, and for setting a fantastic example that all parts of our family can draw inspiration from.

Congratulations Hemet family! You've more than earned it!