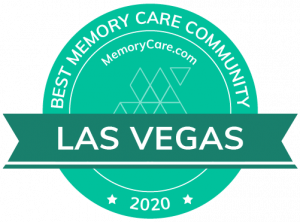 We are pleased to announce that two of our communities were included in the top 15 Memory Care locations in Las Vegas Nevada by MemoryCare.com. Based upon four main components, over 33 hours of research, interviews with representatives from each location, and over 120 online reviews, Pacifica Senior Living San Martin and Pacifica Senior Living Spring Valley both made this prestigious list!

While both communities offer Montessori based Memory care programs, the communities exemplify the diversity of our company with their different sizes and configurations. Pacifica Senior Living San Martin presents more of a campus feel with Independent and Assisted Living in their main building and a beautifully appointed, dedicated memory care residence just across the street. Newly renovated this year, the building immediately gives any visitor the feel of an elegant community coupled with an open design. This design is purposely crafted to promote freedom of movement and the ability to explore all areas of the community as independently as possible while still living in a secure environment.
Pacifica Senior Living Spring Valley welcomes you into their community with a simulated small town façade of storefronts, an ice cream parlor, and beauty salon. This initial entry lends itself to an intimate and cozy feel and is the perfect setting for those looking for a smaller memory care to meet their loved ones' needs. Set up in neighborhoods, the living space is divided into smaller areas that allows residents to feel secure and at home. Two dining rooms and plenty of variously themed rooms provide places for residents to walk, rest, and enjoy themselves.

We are very proud of the work we are able to do in each of these communities in caring for those with varying stages of memory impairment and it's an honor to see those efforts recognized by MemoryCare.com. We look forward to continued success and more well-won accolades for both Pacifica Senior Living San Martin and Pacifica Senior Living Spring Valley!