Chef Jamie has been an integral part of the Pacifica Senior Living community for decades, and has inspired countless other staff members, residents and family members during his time with us. His passion, dedication, and heart make him a true standout within our community, and a joy to be around. The Culinary team and staff at The Park Lane wanted to honor Chef Jaime for his continued work and leadership.
He continues to be a shining light in our community, and a wonderful mentor and friend to so many.
We asked the team at The Park Lane to share a little bit about Chef Jaime, and the impact he has had on them and their community. This is what they had to say:
---
How long has Chef Jaime worked in the culinary industry?
Jaime started at The Park Lane on May 10, 1985. He has been part of the culinary team in this community for 37 years now.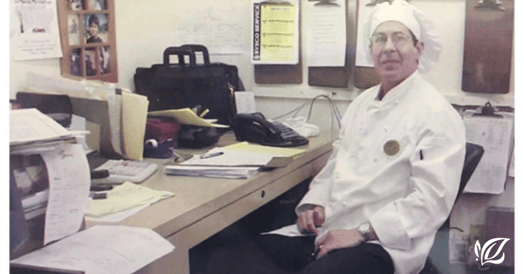 What are three words you would use to describe him?
Genuine – Chef Jaime is always genuine to our residents, staff, and visitors.
Dedicated – Nobody works as hard as Chef Jaime does. Whether it's being here for early breakfast all the way until dinner, being present at our miscellaneous events, or making sure that he is present during every holiday to ensure our residents and families have the best holiday dinner, he is always the first to put in the time and work.
Passionate – Chef Jamie's eyes light up when he speaks about his dishes, his team, and our residents. He is passionate about the culinary industry and passionate about taking care of the dietary needs of our seniors.
What does a typical day look like for Jaime, and what are his responsibilities?
What is there that he does not do? His days consists of ordering supplies and ingredients, overseeing kitchen daily routines, prepping meals, cooking, guiding his team, stepping in during any vacant positions to ensure all duties are completed, creating menus, and running pre-meal sessions with servers to ensure everyone knows each dish inside and out, in order to answer any questions regarding that day's meals.
What are some of the favorite meals and dishes created by Chef Jaime?
There are too many to name! But the consensus from our residents is that the top dishes include any kind of BBQ, his delicious chicken quesadillas, and his specialty lamb and beef tostadas.
How does Chef Jaime impact his community/residents/staff?
Chef Jaime has been with The Park Lane for 37 years and has had an immense impact on our community. He is a grand mentor to the younger generation – he always sees the best in his staff and is always helping them grow. He will hire a dishwasher and see the potential in training them as cooks.
He conducts "Chef Chats" with our residents to ensure their needs are being met and is always open to all input so that he can provide the best dining experience to our residents. He is always present for residents, whether it's responding to their phone calls or making his walks during dinner to ensure the quality of dining experience is met.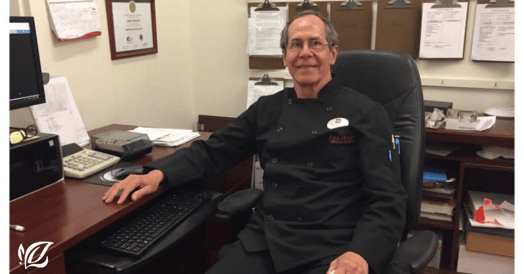 Can you share a favorite memory or moment you shared with him?
"I am new to the management team. I remember meeting Chef Jaime for the first time. I had my first meeting with all the managers, and the first person to greet me was the Chef. He had a big smile on his face and said to me 'Welcome to The Park Lane,' and extended his hand as he said, 'I have been here for 37 years. I am Chef Jaime.' I knew immediately I was in good hands. Since then, I have learned Chef Jaime is a man of his words and is loved by all that come in contact with him. He is a very special person and The Park Lane is honored to have his talents." -Tony M. Executive Director at The Park Lane
"I recall from 8 years ago; I started as a dining room server and Chef Jaime was very welcoming to me. He introduced me to the team and every dinner, he made sure that we knew every ingredient on every meal option. It was extremely important for the Chef that we knew exactly what his dish entailed…he wanted all of us to be knowledgeable. Also, Chef Jaime has presented his support to me on a personal level and shows genuine care for others." – Jessica S. Business Office Manager at The Park Lane


"As a team, The Park Lane would like to thank Chef Jaime for his many years of service to The Park Lane. We thank him for being a great leader, Chef, mentor, and exceptional person. We are happy to have him on our team and wouldn't want it any other way!"

---

Chef Jaime is a wonderful example of leadership, dedication, passion, and caring. In everything that he does, he gives his all, and adds warmth and compassion to our community. He is an inspiration and joy to both the team, and the residents.

Come meet Chef Jaime and try one of his dishes at The Park Lane. Our amazing staff go above and beyond to bring the best possible care and services to all our residents. You can learn more about our Culinary Program here, or read our other dining and recipe blogs here. We can't wait to meet you!