At Pacifica Senior Living, we strive to offer a vibrant and engaging lifestyle. Throughout each of our communities, we have built an active and welcoming community full of events, activities, enriching programs, and social gatherings.

Activities and events are a great way for our residents to connect with one another, form bonds within the community, and even try something new! There is always something to do at Pacifica, and we make a point to offer a wide range of activities to suit everyone's preferences. From concerts to crafts, happy hour events, fundraisers, educational seminars, movie nights, and food fairs, we're constantly gathering with one another and those in our community to spend quality time together.
Events and activities are especially important for older adults. We love being able to host events within our Senior Living communities so that our residents can enjoy a wide variety of activities right in the comfort of their home! Seeing them enjoy new experiences, try new things, or form lasting friendships with other residents and neighbors is a true highlight.
Tammi Rix, the Activities Director for Tampa Gardens Senior Living shared her thoughts on why she loves heading up events and activities in her community.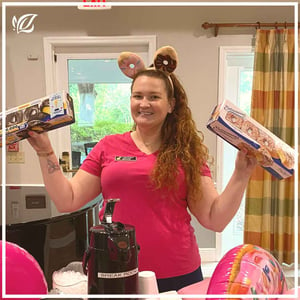 Q: What do you love most about being an Activities Director at Tampa Gardens Senior Living?
A: The question should be what don't I love? The best part of my job is planning. I plan events and activities many months in advance so residents and families have plenty of time to prepare for the holiday or event, such as for our monthly birthday bashes. I reach out to sponsors, entertainers, and party supply stores so everything is planned out and ready to go ahead of time. From decorating to food, I just love planning events. Especially ones that bring joy!
Q: What impact do these types of activities and events have on residents?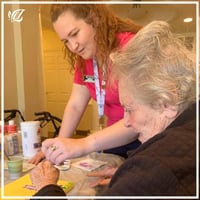 A: We celebrate some holidays here that residents may have never celebrated before. Curiosity brings them out of their rooms, the food from our amazing culinary team is always what gets them seated, and the entertainment is what makes them stay. The residents' smiling faces are all I need to know of how much of an impact I have made and that I was able to bring them joy!
---
Rosa Gracida, who is the Community Relations Director at Pacifica Senior Living Vacaville also shared her thoughts on the importance and impact of events and activities within a Memory Care focused community.
Q: What do you love about hosting events in your community?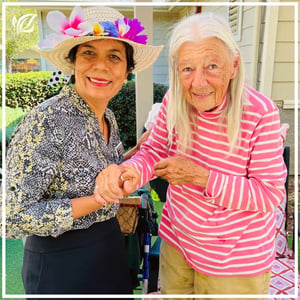 A: What I love the most about hosting events at our Pacifica Senior Living community is the open opportunity we offer to our residents, family members, neighbors and community at large to be able to visit and enjoy our beautiful, secure, and private courtyard. We have a wonderful outdoor space for events, and our residents get to be the proudest ambassador's of their home.

Because our Memory Care residents have memory loss, dementia, or Alzheimer's disease, being able to host events in a setting that is familiar to them helps them feel at ease while being able to engage and enjoy enriching activities.

Q: How do these events impact the residents?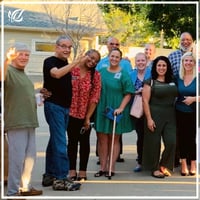 A: Events hosted at Pacifica Senior Living Vacaville are planned with our residents' safety and well-being first.There are many benefits brought upon by these events including meaningful and engaging conversations with our guests, dancing, laughing, and eating delicious foods. But most importantly, the events offer a chance to make new friends who come back and visit our residents. At the end of the event our residents are the happiest of all and we enjoy building memories with them.


---
This month, we have a wide range of activities and events for residents and visitors alike! We love being able to open our homes to others, and invite loved ones, neighbors and community members to join us and get to know our communities.

From family movie nights at Tampa Gardens Senior Living (January 19th), to a Winter Wonderland in Pacifica Senior Living Rancho Penasquitos (January 18th), Hawaiian Happy Hour at Avila Senior Living (January 13th), Merlot and Masterpieces paint night at the Meridian at Lantana (January 26th), a dance party that Pacifica Senior Living Newport Mesa (January 5th), or a Casino Night at the Gardens at Northridge (January 6th) there is always something to do!

If you want to learn more about the events, activities, and programs at your local community, reach out to us or come visit! You can also sign up to our email list to get notified of all upcoming events in your area. We welcome all to come out and experience one of our amazing events for yourself.