Exercise is important for older adults, as it can help ensure you are able to keep up with the activities of daily living. Keeping your mobility and flexibility helps you keep up with chores such as dressing, bathing, and even simply getting around with ease.

There are many benefits of exercise for older adults, from helping to maintain mobility and balance, to promoting good lung and heart health, boosting your immune system, and keeping joints and bones healthy as well.Establishing an exercise routine that works for your abilities will help you stay fit and active -no matter your age. We have compiled some examples and types of exercises well suited to older adults looking to stay active. Exercise for seniors promotes healthy aging while keeping limitations and safety in mind.


Aerobic exercises are some of the most common, and are great for overall health as they increase heart rate, get your blood pumping, and keep joints and limbs limber. Aerobic activity options are usually moderate intensity, but can be modified depending on your needs or abilities.



1. Walking
Brisk walking is one of the simplest ways to exercise, and is perfect for seniors. This cardio exercise is a good way to get your heart rate up, which leads to better heart health over time, as well as helps to lower blood pressure.

Walking together is great for heart health - both physically and mentally and is a great warm up or cool down to help you start or end your day on the right foot.

Many of our Pacifica communities have walking clubs that encourage residents to get outside and go for a stroll while enjoying the company and community of friends, which is great for mental health too.

2. Biking
Biking is another great option that can help you stay fit, build strength in your legs and muscles, and help with both cardio and balance. Cycling is also a great option for anyone looking for low-impact activities. it is gentler on the joints, and can help you maintain a comfortable range of motion in knees and legs.


3. Dancing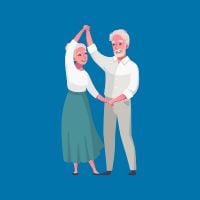 Dancing is a workout that is also a lot of fun to work into your exercise program. For many of us, dancing is something we do anyway for recreation, but it can also be a good form of exercise. Like other cardio activities, it can raise our heart rates, which can help fight against heart disease. It is also a good balance exercise for older adults, can improve muscle strength in your legs, and is a great exercise for your hips to keep your joints and lower back strong and flexible.

Many senior living communities like Pacifica Senior Living have dance classes or events which can include anything from aerobic style Zumba to ballroom dancing or line dancing.
4. Swimming
Another great activity to add to your fitness program is swimming or water aerobics. Swimming combines strength training for a variety of muscle groups with health benefits associated with other cardio activities. It is also a no-impact sport, meaning it is easy on joints and bones.

Water aerobics are a great alternative for seniors who may have stiff joints or more limited range of motion. Working out in a pool can build muscle mass, strengthen your heart, enhance balance and coordination, and can help with weight loss. Exercising in water means you are pushing your body weight (especially your lower body) against the resistance of the water, giving you a more effective workout. You can also use weight weights or dumbbells for an even greater workout.

Swimming and water aerobics also help reduce the risk of falls while exercising, as you may topple in a pool, but will not wall on any hard surfaces.

Physical activities that focus on balance, strength and mobility are also important for seniors, and it is important to work in other types of exercise alongside aerobic or cardio activities.

5. Tai Chi and Yoga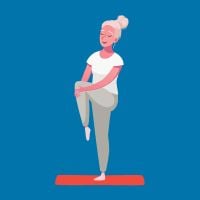 Tai chi is a wonderful activity for older adults, and involves slow repetitions of flowing movements and poses. Tai chi works to improve balance, poise and strength, as well as a calm mindset and thoughtful breathing patterns.

Yoga can be modified in many ways to best suit your abilities.Alternatives to classic yoga poses that may be hard on wrists or knees often involve chair exercises where you sit while performing poses and stretches. It is a great way to maintain flexibility. You can even add in resistance bands to get the most out of your workout.

Low-impact activities are a great way for seniors to increase flexibility and balance, and keep joints moving. They can help to both decrease the risk of arthritis and are easy on joints for those with chronic conditions like Osteoporosis.

Both yoga and tai chi are also great calming and meditative activities that can promote positive mindsets, good mental health and well-being.


---
No matter what way you like to exercise, there are lots of options for seniors and older adults to stay fit and healthy as we age. If you are unsure which exercises are best for you, be sure to seek medical advice before trying something new.


At Pacifica Senior Living, health and happiness is at the forefront of everything we do. We have a robust calendar of activities - including a variety of exercise options to pick and choose from. From walking clubs to aerobics classes, chair yoga to ballroom dancing, there is always something to do, and some way to get out there and get moving.


If you're thinking about choosing a Senior Living community for yourself or a loved one, come meet us by scheduling a tour at your local community and getting to know all we have to offer.