June 6th is the anniversary of D-Day, which marks the day - in 1944 - in which Allied troops stormed the beaches of Normandy during the World War II Operation Overlord. This effort was the largest seaborne invasion in history, and was a momentous effort which eventually led to the liberation of France.

This is a poignant day for those that fought and served in the war, or who lost loved ones during that time. For many, it is a solemn day of remembrance and a time to pay respect to those who fought for our freedoms.
There are a number of veterans across our communities who call Pacifica Senior Living home. Though it can be hard to imagine such a time of war, some of these veterans fought and served during WWII, bravely standing for our freedom. Today we want to celebrate these incredible veterans, thank them for their service, and share their stories.

Zee: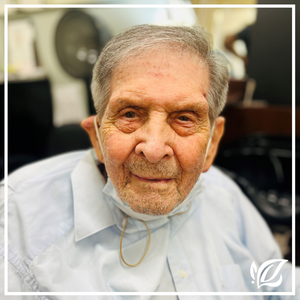 Zee O. was born in Chicago, IL in 1922. He served as a fighter pilot in the United States Army Air Force during World War II. During this time he flew an incredible 62 combat missions throughout Europe.


After his many years of service, Zee retired from the Air Force, and worked alongside engineers and construction workers creating building blueprints. These structural maps were used to determine window installation costs and labor efforts.

Zee is also a gifted storyteller. He wrote a short book titled "Achieving Sayings". The book includes a number of motivational sayings, practical advice, and tips to improve your life and lead you to success.

Zee has lived in a number of states, including Illinois, Texas and Florida, and he now resides at Pacifica Senior Living Sunrise.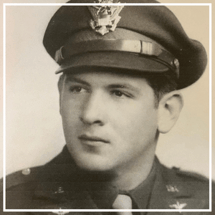 Zee continues to love telling stories to anyone lucky enough to meet him or cross his path. He can often be found sharing stories of his past and his time in the military - and he has some incredible stories to tell! He is also a bright and optimistic person, and, like his
book, he enjoys offering wise words or uplifting sayings he believes in. His friendly, sunny personality brightens everything around him. We are honored to have Zee reside in our community, and thank him for his many years of service.
To learn more about Pacifica Senior Living Sunrise, click here.

Salvador: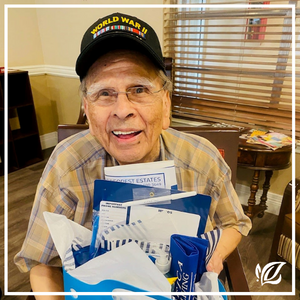 Salvador is a relatively new resident at NewForest Estates. This is his first experience in a Senior Living community, and we are honored to welcome him home.
Salvador was a veteran of World War II, and he fought bravely alongside so many soldiers to ensure we can enjoy the freedoms and rights we have today.
His bright smile lights up a room, and he has settled in nicely, winning over staff and fellow residents. We enjoy his sense of humor and witty disposition.
On this day and every day, we thank you, Salvador, for your service and hope you continue to enjoy your time with us at NewForest Estates.
Learn more about the Newforest Estates community on their Facebook page here.
Vernon: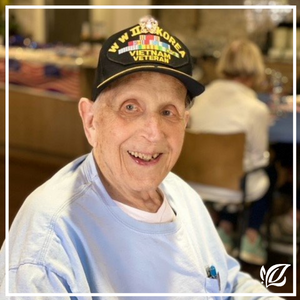 Vernon was born in Michigan and was drafted into the military in March 1943 with the Army Air Core. He spent 3 years in the Pacific as part of the B-24 bombardment group as a cryptographer, studying and deciphering codes and ciphers.
When asked where he was on the infamous "D-Day" Vern remained fairly tight-lipped and simply stated he was in Okinawa waiting to invade Japan.
Following the first World War, he spent 29 years in the Navy, including 12 in the naval reserve. Throughout his many years of service he earned several distinguished positions including: yeoman – 1st class, Chief Warrant officer - which he held for 4 years, had the title of Lieutenant Junior Grade in the Navy with Limited Duty ,and led the Naval Advisory Group in Vietnam and was part of the personal plans and policies division for the US European Command.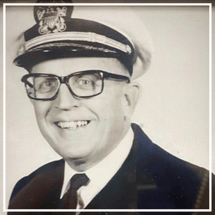 He retired from military service in March, 1975 with the position of Commander after notably serving in WWII, the Korean War, and Vietnam War. At 97 years old, he has seen and done so much in his life, and he continues to learn and grow in his retirement.
These days, Vern is an active part of his community at Pacifica Senior Living Rancho Penasquitos where he can be found eating meals at our Veterans dining table, cracking jokes, and bringing a smile to the faces of anyone who he meets. Being a "people person" comes extremely easy to Vern, and he treats everyone with the utmost respect and is completely down to earth and humble.
Vern was married to his loving wife for 69 years until she passed 12 years ago. He takes pride in being the patriarch of 5 generations in his family, a living legacy he created with the love and support of his wife.
Not only is Vernon a man of honor and service, he is an all-around great human being. We thank Vern for his many years of service, and for being such a welcoming energetic light in our community.
-----
Many of our communities are home to veterans, and we honor them with Veteran's walls, and Veteran's day celebrations, as well as provide a loving home full of care and compassion.
Though we would love to share the stories of each and every veteran here but cannot, these are just a few who have served and call Pacifica Senior Living home. We want to thank all the veterans who have served. We will never forget the sacrifice and efforts they gave their country.
To learn more about our veteran celebrations, please see your local communities Facebook pages for tributes and praise. We celebrate them everyday and especially today.

You can hear some of the amazing stories from these and other residents in our communities across the country, check out our corporate Facebook page for more stories of our amazing veterans, or come visit us and meet them in person. We look forward to meeting you and welcoming you home.