At Pacifica Senior Living, building a community that is full of love, compassion, care, and warm hearts is at the heart of what we do, We want each and every community to feel like a true home where you or your loved one can build a life, enjoy retirement, or get the most out of your golden years.

Each of our communities have amazing residents, each with incredible stories and lives. Here are some of the stories of love from just a few of the amazing couples that call Pacifica communities home.
Pacifica Senior Living Merced - Carol and Don
Carol and Don are another couple with an amazing love story.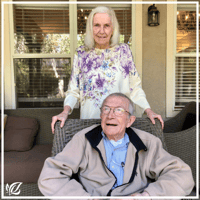 They first met in their junior year of high school, on December 28th, 1950. Don asked Carol to be his girlfriend right away and just like that, they were "going steady". After school finished, Don worked in the shipping department at an old shoe factory so he could save enough money to buy Carol an engagement ring. By the time graduation rolled around Don had saved just enough for a ring and proposed to Carol that night. Carol said yes, and still wears the ring to this day.
The pair went on to raise five kids together and have celebrated an impressive 67 years of marriage. Don and Carol now call Pacifica Senior Living Merced home, and we love hearing stories of their past and their wonderful love for one another through the years.
Healdsburg Senior Living - John and Nancy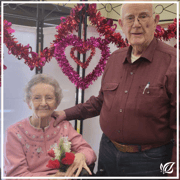 John and Nancy have enjoyed 63 wonderful years of marriage, and their love continues to grow each day.
The pair met at Oakland Community College, where Nancy was in the nursing program and John was taking classes while serving overseas in the Korean War. Immediately, John thought Nancy was cute, and they were married in 1959 in her family's beloved Methodist Church. Together, they have three children, six grandchildren, and six great-grandchildren.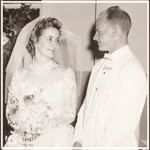 They have lived in Palo Alto, Reno, Sparks, Santa Rosa, and San Pedro. They then moved to Fortuna, CA to enjoy the redwood forests after John retired from his lifelong career with the Boy Scouts of America.

Last year, John and Nancy relocated to Healdsburg Senior Living to be closer to their family, and have enjoyed the wonderful community at Healdsburg.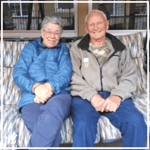 Pacifica Senior Living Pinehurst - Ron and Betty Jo
Ron and Betty Jo have an amazing bond. They have been a couple for almost 60 years, and their love for one another is clear to see. Betty Jo lives at Pacifica Senior Living Pinehurst, and Ron comes to see his wife almost everyday. The two can often be seen enjoying one another's company and sharing a smile together.
Kenmore Senior Living - Hans and Aileen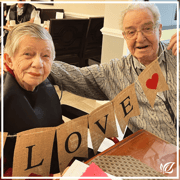 Hans and Aileen of Kenmore Senior Living celebrated their 65th wedding anniversary this year. They enjoyed a live piano performance and celebrations in the community lobby. Both Hans and Aileen enjoyed sharing their love story with their friends and family in the community. It was so great to see the support and love they had for one another, but also from all their peers and loved ones. Their love story has touched so many, both in Kenmore and beyond.
Pacifica Senior Living Merced - Jeff and Rayma
Jeff and Rayma are another beautiful couple that live at Pacifica Senior Living Merced. The two met in junior high school, back in 1939 and were friends for many years. After school, they went their separate ways, married different people, and had families of their own. It wasn't until 1992 that Jeff and Rayma reconnected and pursued a long distance relationship. Jeff flew from Utah to California a few times to visit Rayma before he proposed - she said yes!
Jeff and Rayma decided to give marriage another try and at 95 years old, they celebrated their 26th wedding anniversary this past July. They have a beautiful blended family that consists of 5 children, 4 grandchildren, and 6 great-grandchildren.
Jeff and Rayma have a love story for the ages, and Pacifica Senior Living Merced is honored to be part of their beautiful journey.
Meridian at Westwood - Arnie and Elsie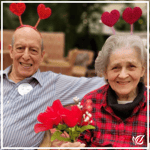 Love is in the air at the Meridian at Westwood!
Arnie and Elsie have been together for 66 years. They met in sixth grade and have been together ever since. They love spending time together, and have grown to be such a special part of the Meridian at Westwood family. Residents and staff alike love to hear their stories n=and fond memories from the past 66 years together.
Kenmore Senior Living - Denny and Corrine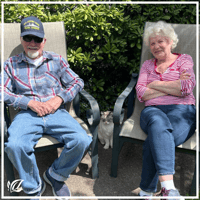 Love shines at Kenmore Senior Living as well. Residents Denny and Corrine are a lovely couple that enjoy spending time together and going for walks in the community grounds each day. They can often be seen taking their beloved cat, Molly, on a stroll with them through the courtyard.

The kindness they show for Molly and one another is heartwarming, and all three are a much loved part of the Kenmore community.
NewForest Estates - Luz and Walter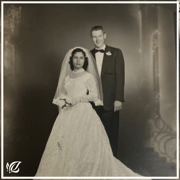 Luz & Walter have also celebrated their 67th Wedding Anniversary this year. The couple met when Luz was 24 and working at Kelly Air Force Base, and Walter 19, was returning home from serving in the military in Korea.

Their deep love for each other is still evident after all these years, and they are an amazing example of life-long love. Luz and Walter are also great ambassadors of the NewForest Estates community, and are always welcoming and warm to new residents. We love seeing their love shine every day, and hearing the many stories and memories they share.
---
There are so many wonderful stories of love in our communities. We are inspired and moved by these couples' amazing stories, and honored that they chose to call Pacifica communities home.

If you or your loved one is looking to make the move to a Senior Living community, reach out to us! Our friendly team is on hand to answer any questions. You can also schedule a tour of your local community, to see what makes our communities so special. We can't wait to welcome you home!