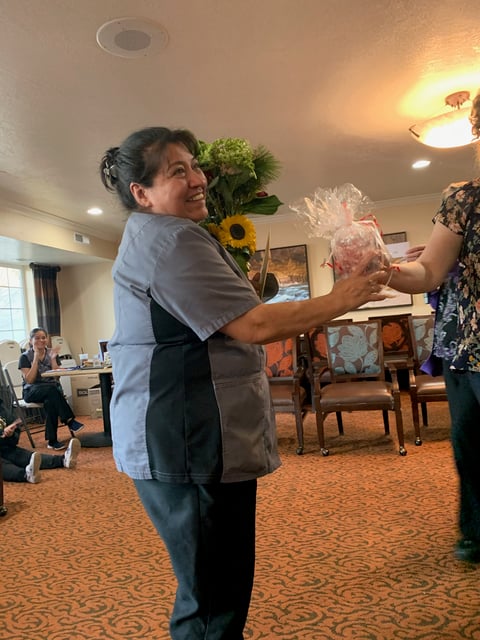 At Pacifica Senior Living, we are incredibly proud of the people we have as a part of our family—from employees to residents. As part of our mission to create the best senior living homes we can, we always want to take the time to appreciate the people that are so important in making this mission a reality. Today, we salute Yolanda from Pacifica Senior Living Millcreek in Salt Lake City, Utah.
Tell us a bit about who you are.
My name is Yolanda, I have been working here at Pacifica Senior Living Millcreek for over 20 years. I enjoy being with my family and playing with my beautiful grandchildren. I enjoy going to church with my family and socializing with everyone I meet. Life makes me happy, and I feel good every day.
When did you join the Pacifica Family, and what attracted you to Pacifica?
I started working at Millcreek Retirement before it was called Pacifica Senior Living Millcreek. I had just moved from Texas to Utah and I needed a job close by where I lived. I applied for a housekeep position in October 1999. A friend of mine gave me the referral and told me I should come work here, and I have been here ever since.

Tell us a little bit about what you do.
I am our Housekeeping Supervisor. I clean rooms and make sure they are perfect for when new residents arrive, along with laundry and light housekeeping. I strive to make the residents comfortable and happy that they choose to live in our community.

What do you love most about working with Pacifica?
Of course, the residents, but I also love working with the staff, making friends and getting to know everyone. Our Executive Director plays a big role here. She is amazing and makes our job enjoyable and easy. It is an absolute pleasure to come to work each day. Also, Jamison is a direct supervisor, and he very caring and attentive to his staff and I am proud to work with him.

How have you impacted your Pacifica community?
I feel all my years of dedication and loyalty to this community. I enjoy coming to work each day and especially getting to visit with the residents. When new residents move in I introduce myself and help them get acclimated to our community. This feeling is the reason I have worked here all these wonderful years.

Tell us about a couple of things that make your Pacifica community unique.
The residents are number one, and we strive to be the very best in the Valley. I make it a point to get to know everyone here, and I will always help where needed. I take pride in knowing the residents' rooms are clean and that the residents are excited to see me each day.

Tell us a few things about what you like to do outside of work.
I enjoying reading, playing with my grandkids, and visiting with them each day—these things give me so much pleasure. I also love to cook for family and friends. I like to have family over to my house and cooking big meals, and when I cook, I want to make sure no one goes home hungry.
Thank for all you do, Yolanda! We are so thrilled that you are a part of the Pacifica Senior Living family, our family.