To celebrate the holiday season, residents from across our communities have been reflecting on some of their favorite holiday memories from years passed. From childhood reminiscing to wedding anniversaries, community events, or family traditions, each of these stories sheds light on a fond memory of the holiday season.

Here are some favorite holiday memories from our residents to put you in the holiday spirit.
Monte Vista Village - Geri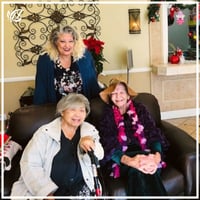 "When I was 7 years old, I told my mom I wanted a "Chatty Cathy" doll for Christmas. Of course, I believed in Santa at the time, so Santa brought it to me. So when Christmas came around, I got the doll. I played with that doll like you wouldn't believe, for years. I had her for 5 years until we moved. The doll was huge, it was practically the same size as me. My grandmother had a Chatty Cathy as well. I loved that beautiful doll. I felt really connected to the doll for some reason, but now that I think about it, I think it had to do with my grandmother because she had one too."
---
West Park Senior Living - Richard & Lorna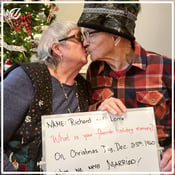 Mr. and Mrs. Richard M. were married on Christmas Day and have been going strong for 62 years and counting.
Pacifica Senior Living Ellensburg - Rich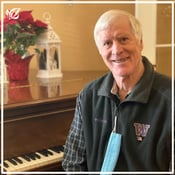 Rich loves Christmas. He remembers the happiness and joy that comes from family gatherings. Rich has always felt the most magical part of Christmas was Santa's sleigh. Rich said, "As a child, I always wanted to know what time and just where Santa was going to be when I was sleeping."


---
---
Pacifica Senior Living Ocala:

Pacifica Senior Living Ocala sent in a video of one of their residents, sharing some favorite Christmas memories and special moments of years past: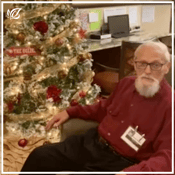 ---
---
The holidays offer a great time to look back on memories from our lives. Reminiscing and reflecting on core memories like those associated with holidays, family, or annual traditions can be especially meaningful to Memory Care residents who experience varying levels of memory loss. Taking time to reflect on holiday experiences - rather than searching for more short term, or specific details - can be a great way to spark fond memories and joyful feelings.
---
Pacifica Senior Living Sterling:

Edith, from Pacifica Senior Living Sterling shared here favorite Christmas moments in a videos well. She loves the holiday season and sharing fond memories: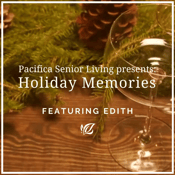 ---
Woodmark at Sun City - Angela and Beverly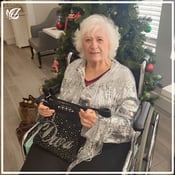 Angela, one of our residents at the Woodmark at Sun City, loved telling us her favorite holiday memory of her family gathering together for their big Italian Christmas. She said they had tables full of fabulous homemade pasta dishes and then would play card games with their children for the rest of the evening.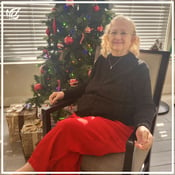 Beverly said she loves celebrating Christmas at the Woodmark at Sun City but one of her fondest memories is of being able to play the Hand Bells at her church services on Christmas Eve and then having her family over on Christmas Day when they would always enjoy having Oyster soup.


---

Pacifica Senior Living Encinitas -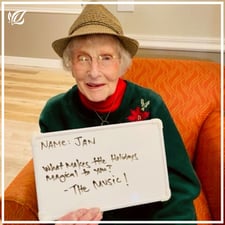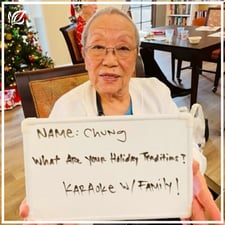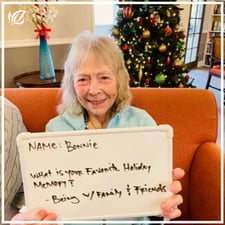 ---
We love hearing the stories of our residents, and learning about their pasts, traditions and holiday customs and how some of these experiences have stuck with them throughout the years and shaped them in various different ways.
---
Pacifica Senior Living Sterling:
Burt, also from Pacifica Senior Living Sterling, shares his Holiday memories, and talks about his favorite things about this time of year: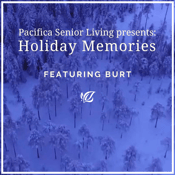 ---

Pacifica Senior Living Santa Fe - Marcia & Shirley

Marcia explains how special her memories of her mother decorating their home for the Holidays as a child remain her favorite Christmas memory. The message of love, peace and giving are what make the holidays feel so magical to her.
She told us she remembers her family tradition of picking a tree for the next year. Her father would take her to the woods to cut down a tree they had picked the year prior and then they would pick a tree they would be cutting down the next Christmas.
The most magical part of the holidays for Shirley is all the decorations and lights. She prides herself on how wonderfully she would decorate her house for the holidays. She had so many Decorations inside and outside. She also explained how her favorite gift she had received when she was young was a sled, and that she had so much fun as a child playing outside with her friends and family.
---
From our family to yours, we want to wish you happy holidays this season, and hope that you, too, can reflect on some of your favorite memories from this time of year. Many of our communities are also hosting holiday events this week where you can come out and get to know our residents and community.