At Pacifica Senior Living, we love our pets! Pets bring joy and love to our lives, and become like family to us. They can be especially important to seniors who enjoy the companionship and sense of purpose having a furry friend can bring.

Many of our Pacifica Senior Living communities are pet friendly so our residents can feel at home knowing their pets are welcome too. Transitioning to a senior living community can be a big step, and bringing a pet along can help ease the transition. Other communities offer pet therapy or have robotic pets to ensure everyone gets to enjoy the benefits of pets!
This National Pet Day, we want to celebrate the special bonds between our residents and their pets. From community pets to animal therapy, and the ties between owners and fur babies, there are so many wonderful stories to choose from. Here are fifteen of the most adorable pets from Pacifica Senior Living communities.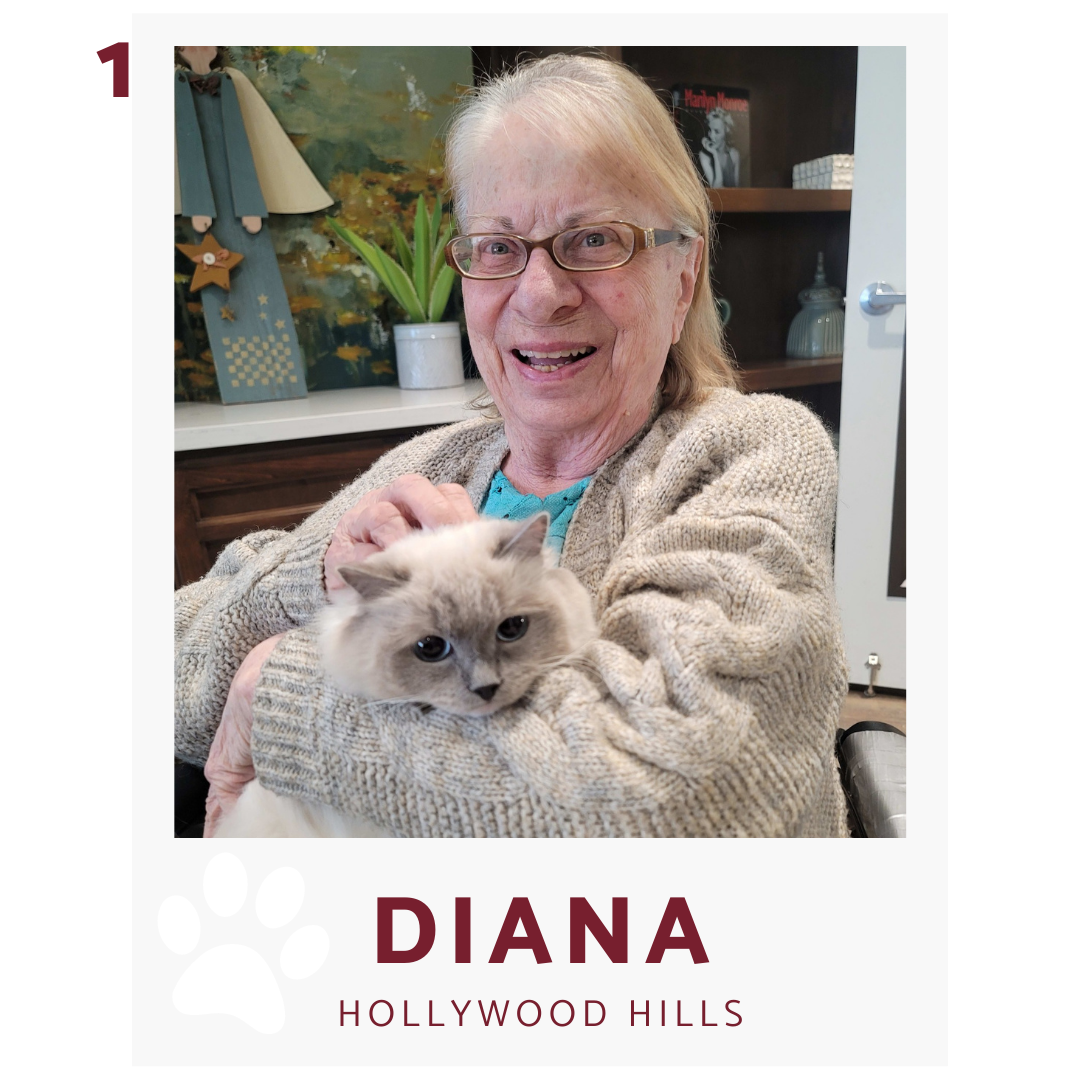 Diana from Hollywood Hills, a Pacifica Senior Living Community is a gorgeous and sweet cat who loves snuggling with everyone. She is owned by Nurse Keith, who brings her to work regularly to visit with the residents.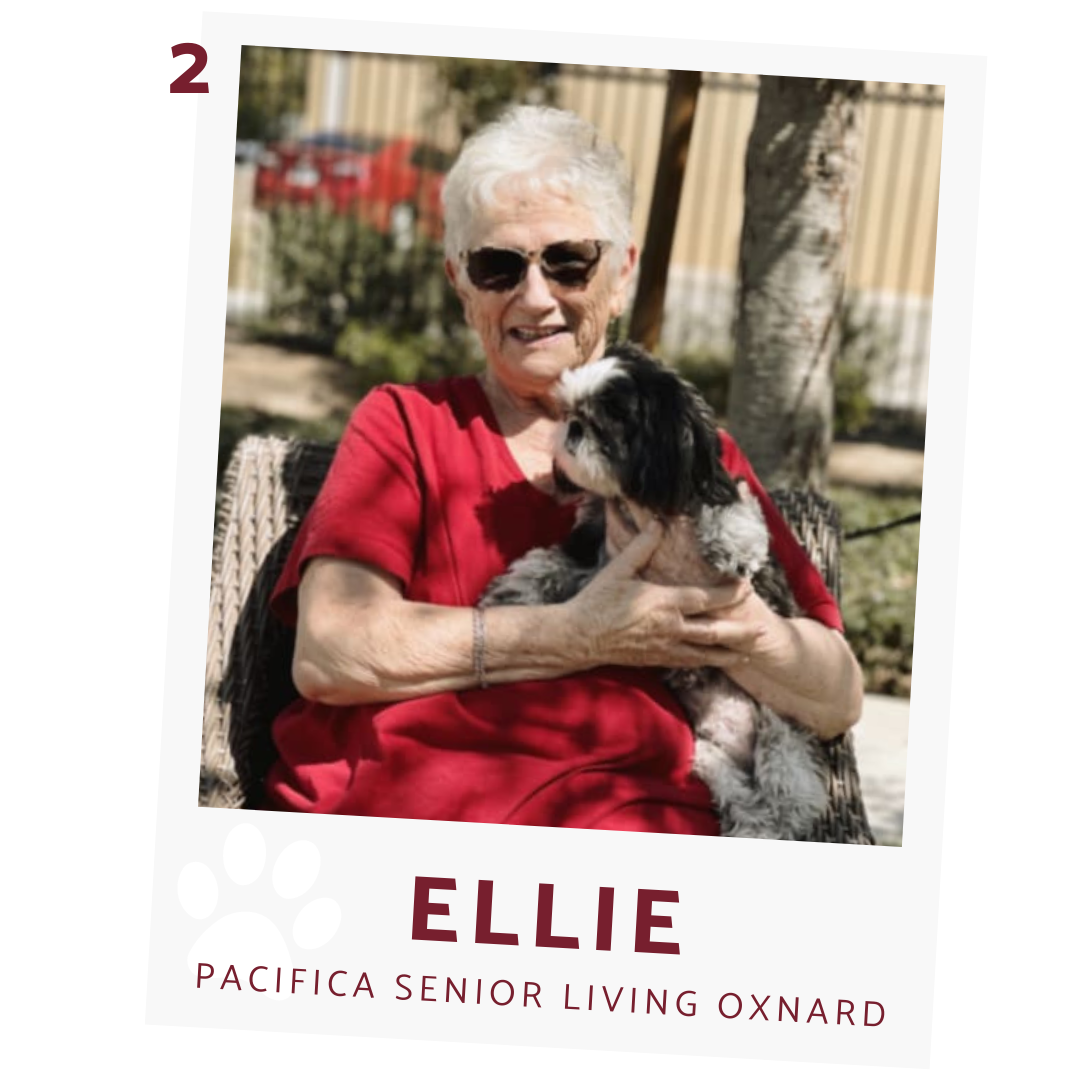 Pacifica Senior Living Oxnard is one of our many pet-friendly communities, and resident Joy loves that her pup Ellie is able to live with her. The companionship and bond they share is so special, and Joy loves being able to continue that bond while in her Pacifica community.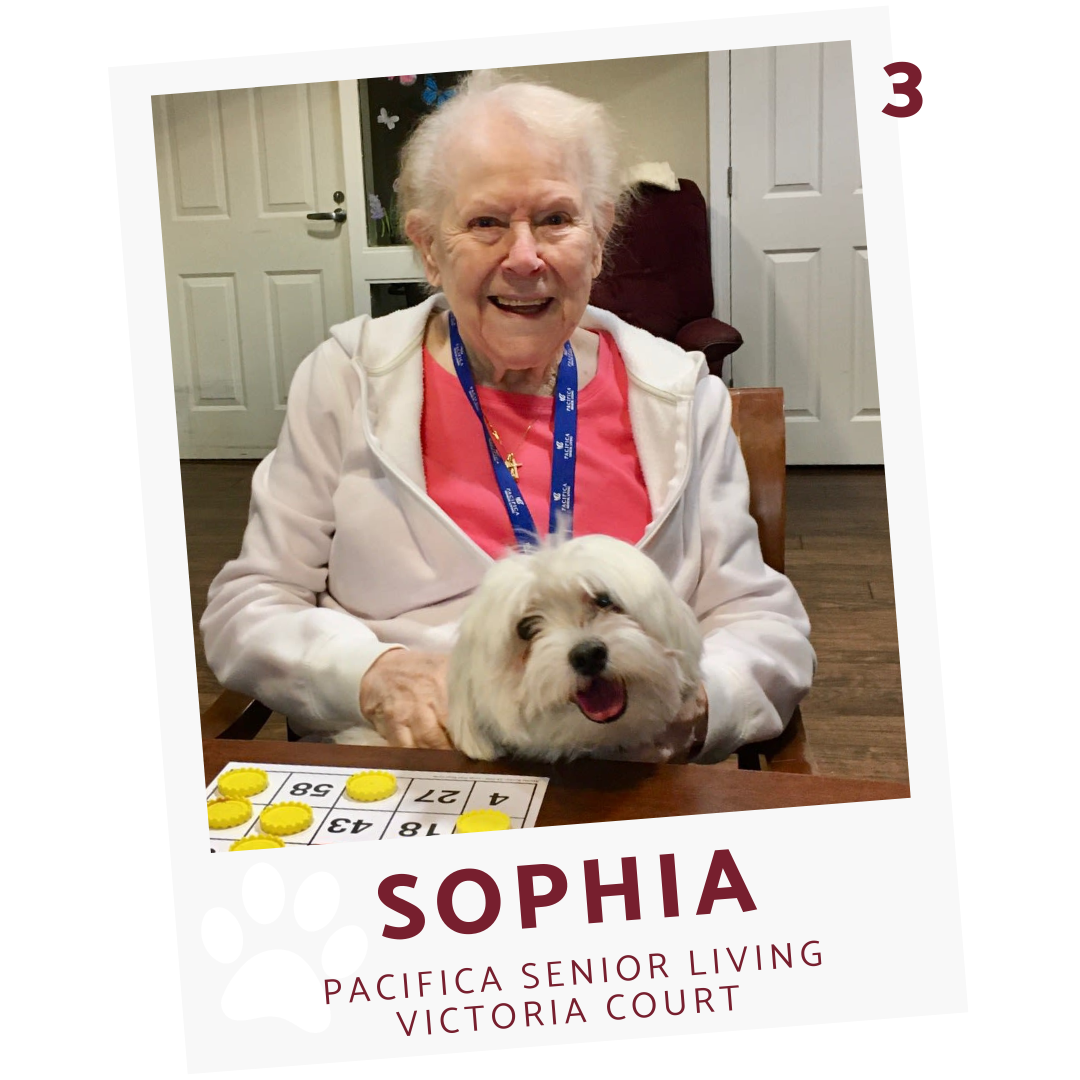 Sheila from Pacifica Senior Living Victoria Court brings her dog Sophia with her everywhere! Sophia is a perfect lap dog who enjoys accompanying her mom around the community - she's even a lucky charm at bingo!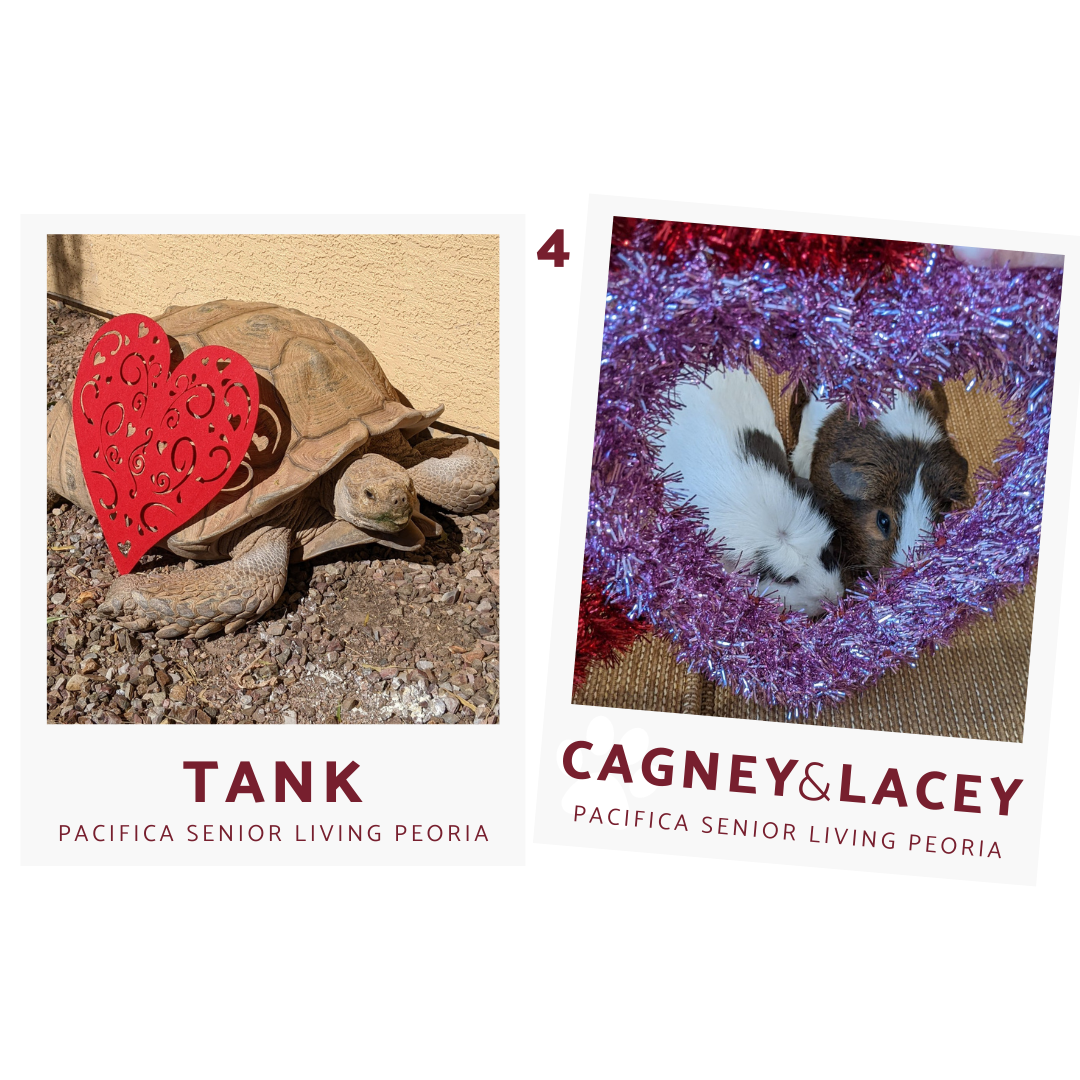 Pacifica Senior Living Peoria has some unique community pets that love interacting with people in their community. Handsome Tank the tortoise, and Phoenix the tortoise are honorary residents, who love walking around the courtyard, getting snacks from friends, and hanging out in the sun. Residents enjoy feeding them bananas and carrots, and generally keeping them the most loved and spoiled tortoises around.

Peoria also has two fluffy best friends, Cagney and Lacey, who are guinea pigs. These two are a little more cuddly than their tortoise buddies, and they enjoy getting pets from residents. Cagney even filled in on groundhog day to help predict the number of weeks until Spring!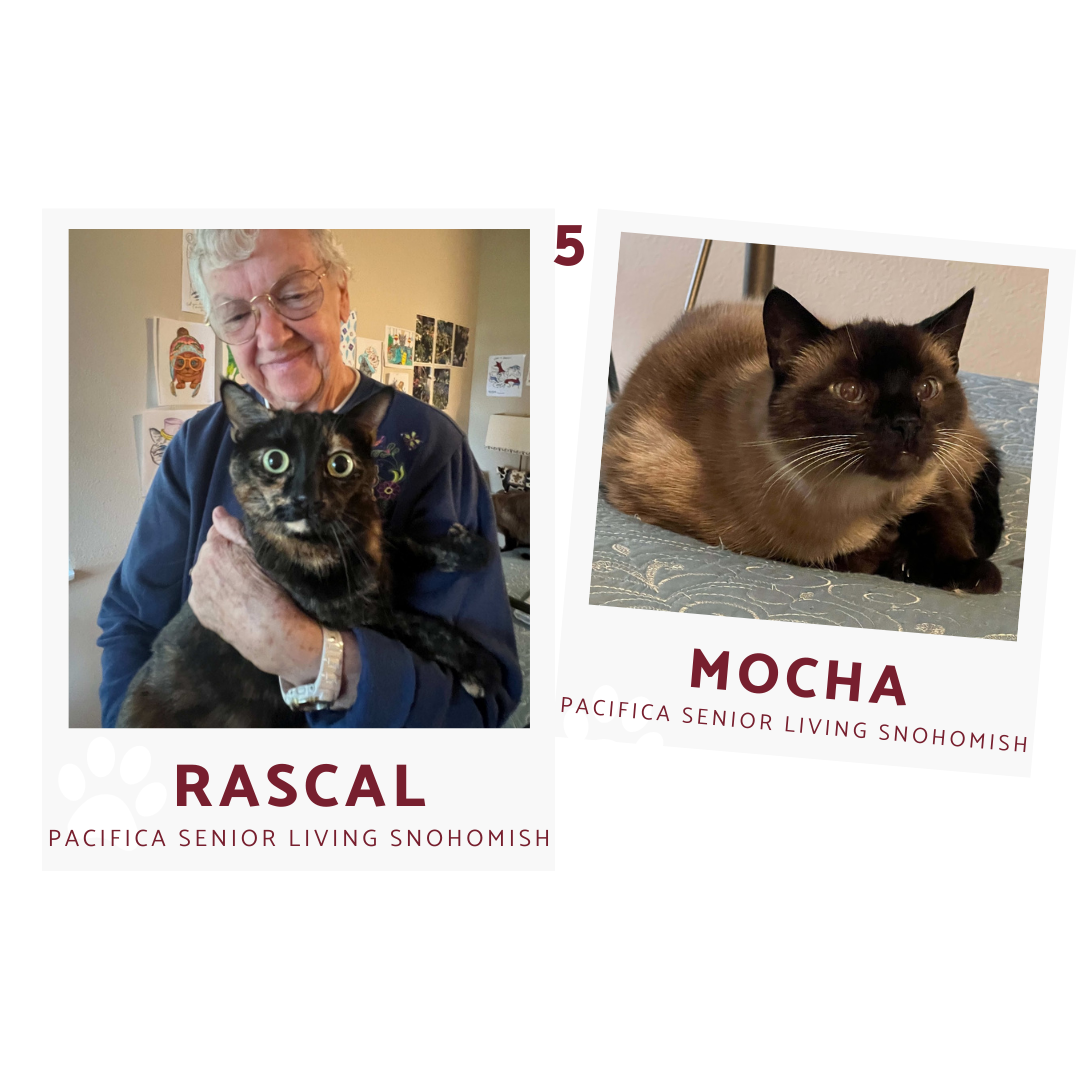 Pacifica Senior Living Snohomish's resident pets are two pretty kitties Rascal and Mocha. They are community cats who enjoy getting love from all the different residents. Many of the men and ladies at Snohomish enjoy having a furry friend around to pet or lounge with.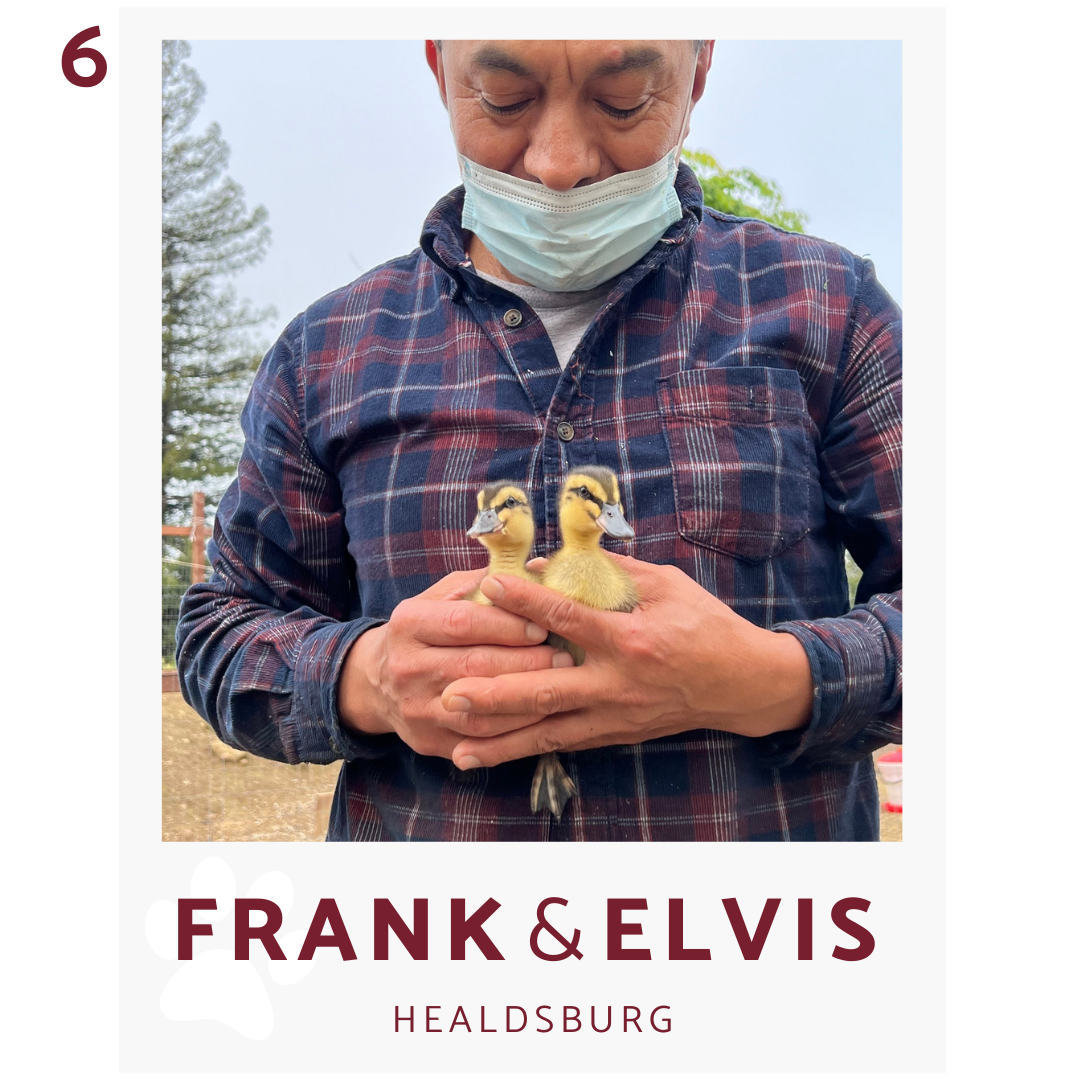 Healdsburg, A Pacifica Senior Living Community, has a whole farm of animals for the residents and visitors to enjoy! From goats, to chickens, there is no absence of animal friends. The community even welcomed two new feathery friends recently - baby ducks Frank and Elvis.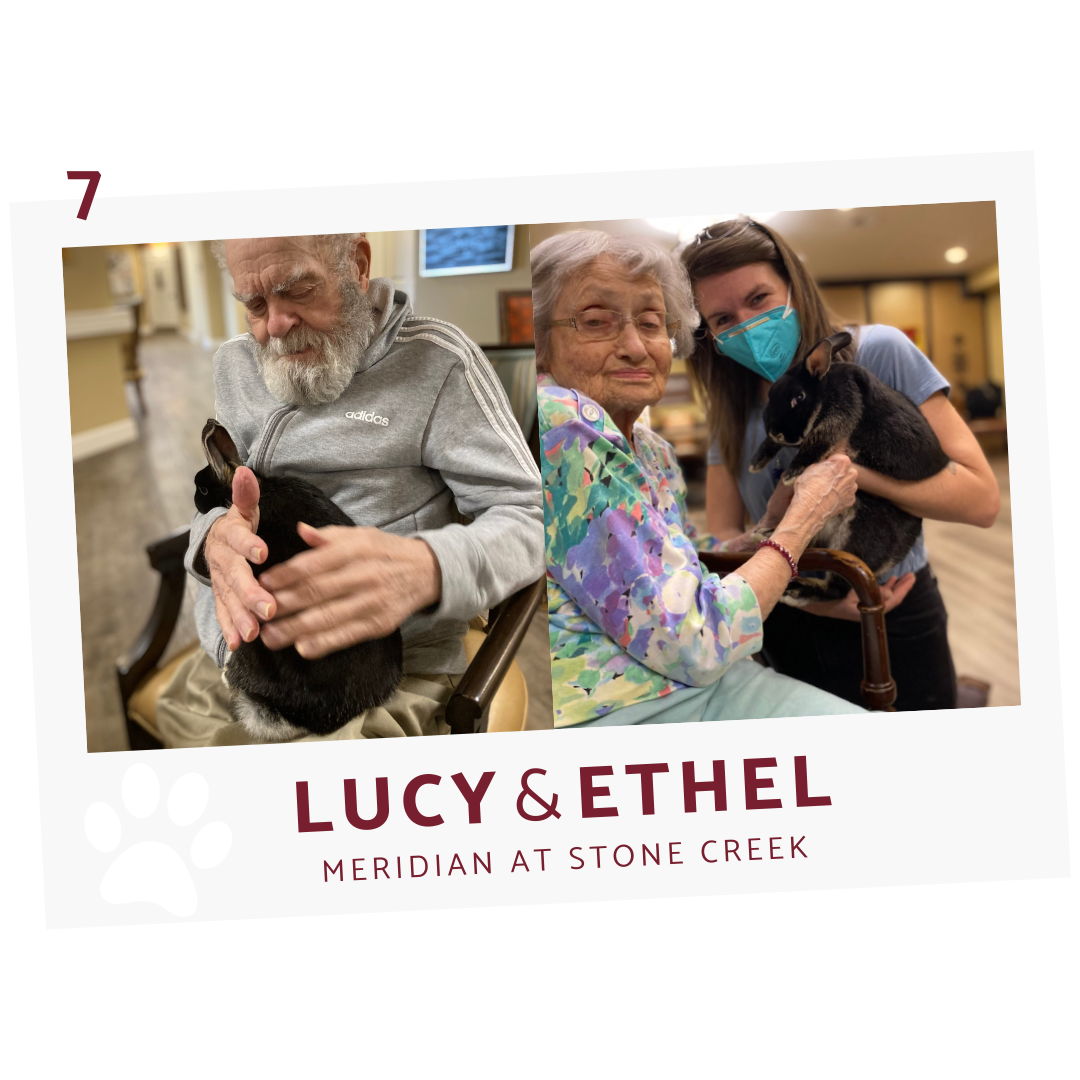 Meridian at Stone Creek are all about the bunnies. Lucy and Ethel are two rabbit sisters who help residents in the legacies memory care program by providing a soft, calm vibe. Staff bring the bunnies to visit with legacies residents every day as part of their pet therapy program.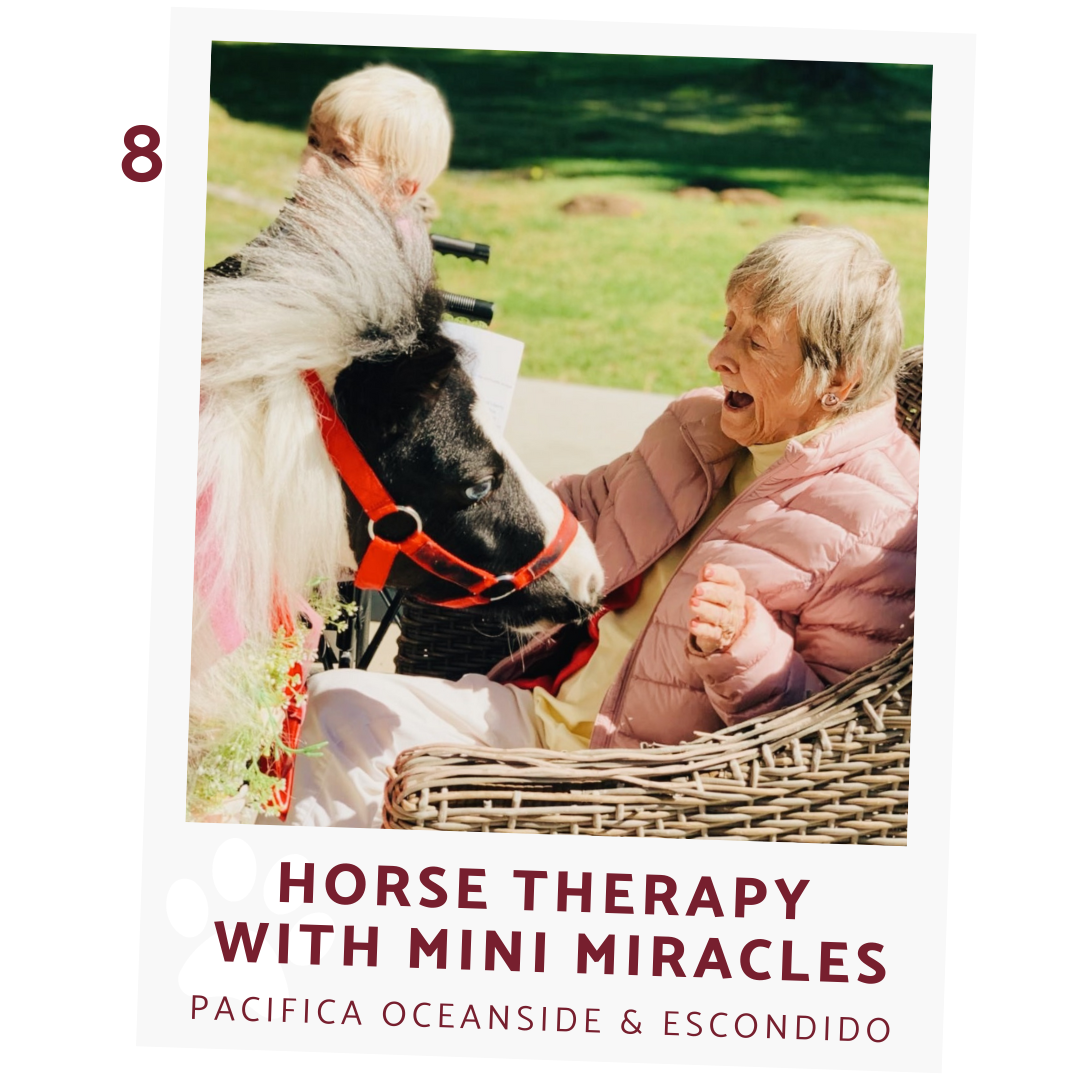 Another type of pet therapy that is used by several of our communities is Horse Therapy with Mini Miracles. These gorgeous miniature ponies visit communities like Pacifica Senior Living Oceanside or Escondido and bring smiles to staff and residents' faces. Everyone is able to come say Hi, pet the ponies, and interact with these sweet creatures during animal therapy sessions.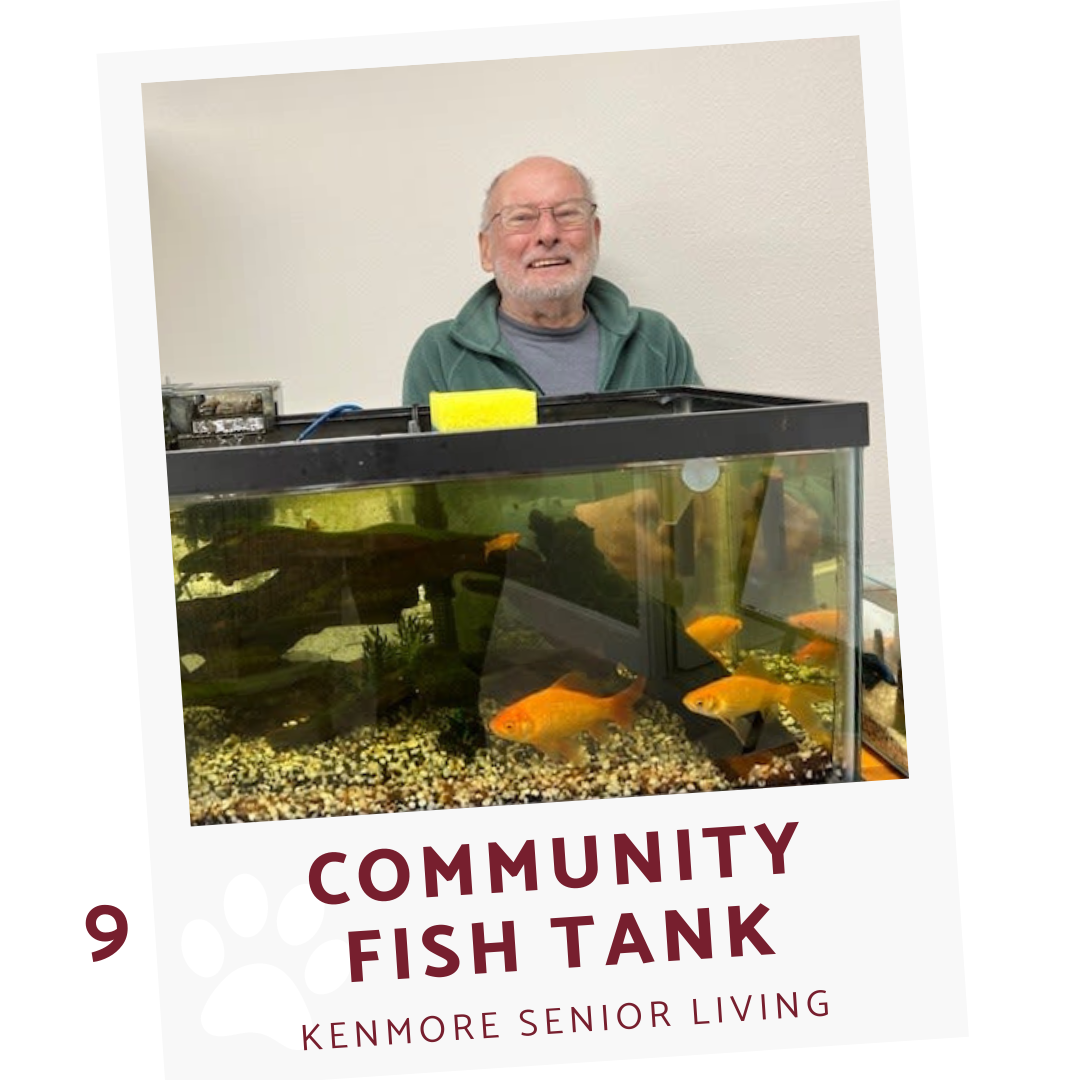 Not all our pets are fluffy! At Kenmore Senior Living, resident Mike loves taking care of the fish in the community fish tank. He enjoys feeding them, cleaning their tank, and watching them swim.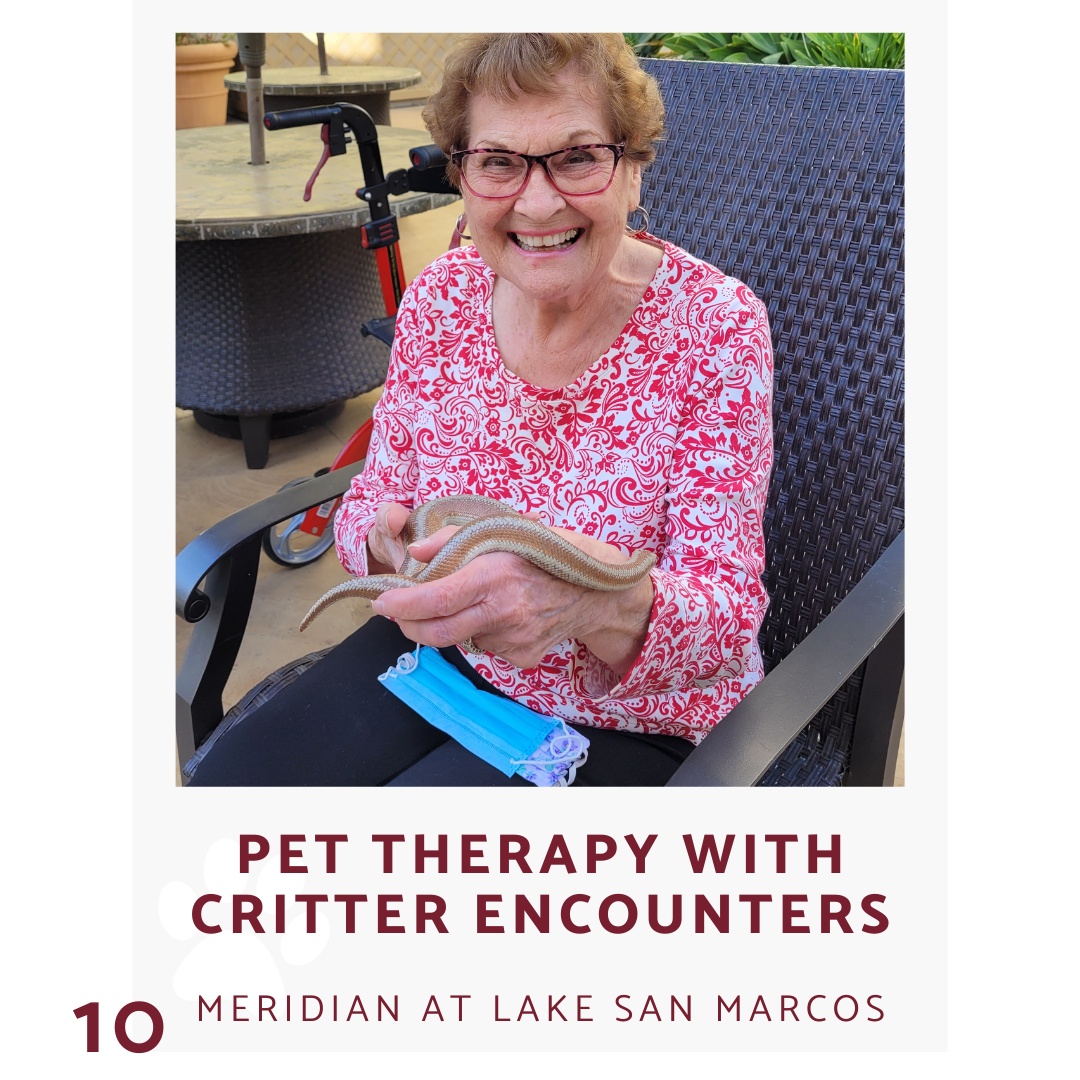 Critter Encounters is another pet therapy company who brings a variety of animals to our communities for pet therapy visits. From owls to snakes, to chinchillas, each animal is there to provide some snuggles and smiles to our residents.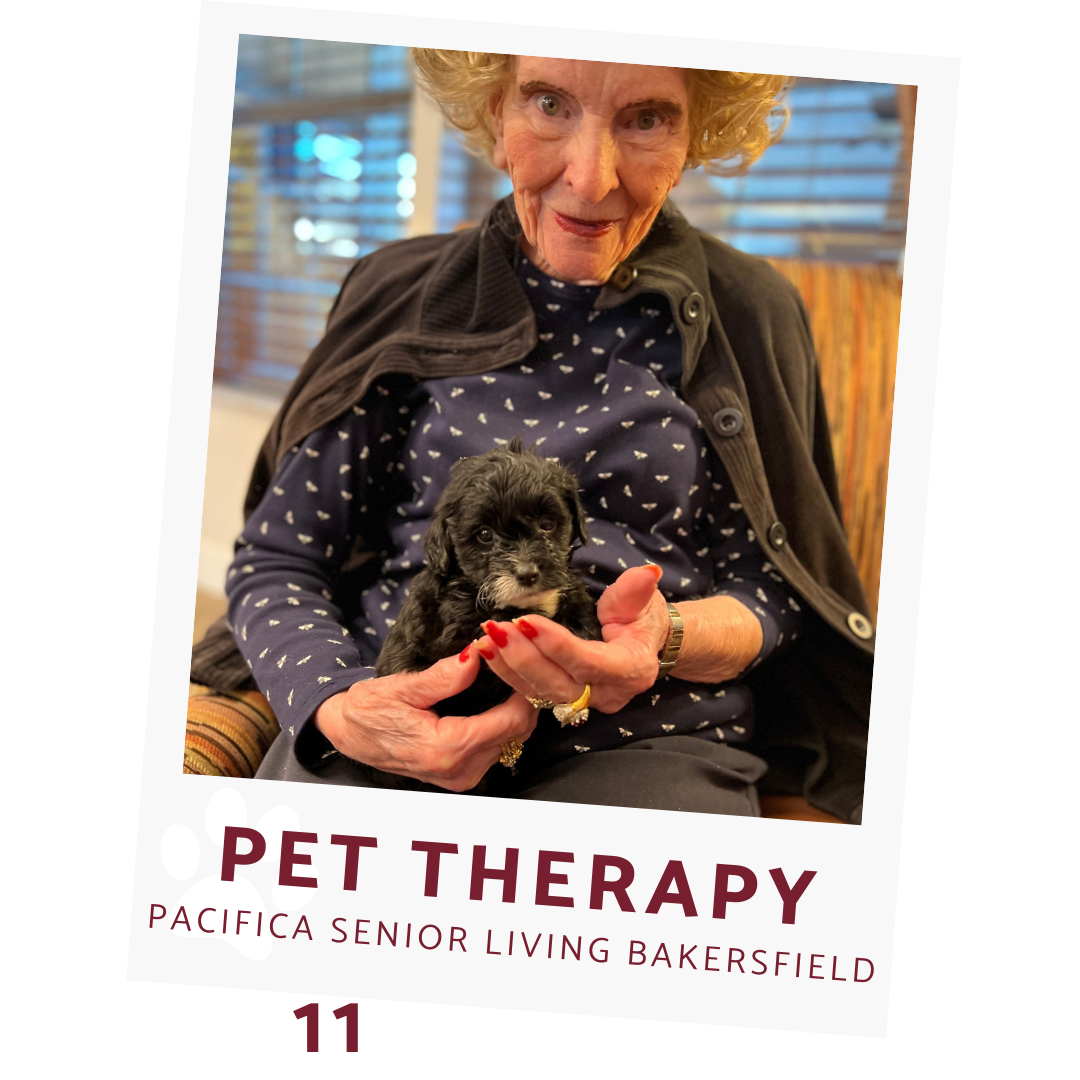 Pacifica Senior Living Bakersfield also enjoys pet therapy. These sessions are great for seniors in Assisted Living and Memory Care because pets offer such a warm, comforting and friendly attitude to all. Our residents enjoy having cuddles with pups of all shapes and sizes who often bring fond memories.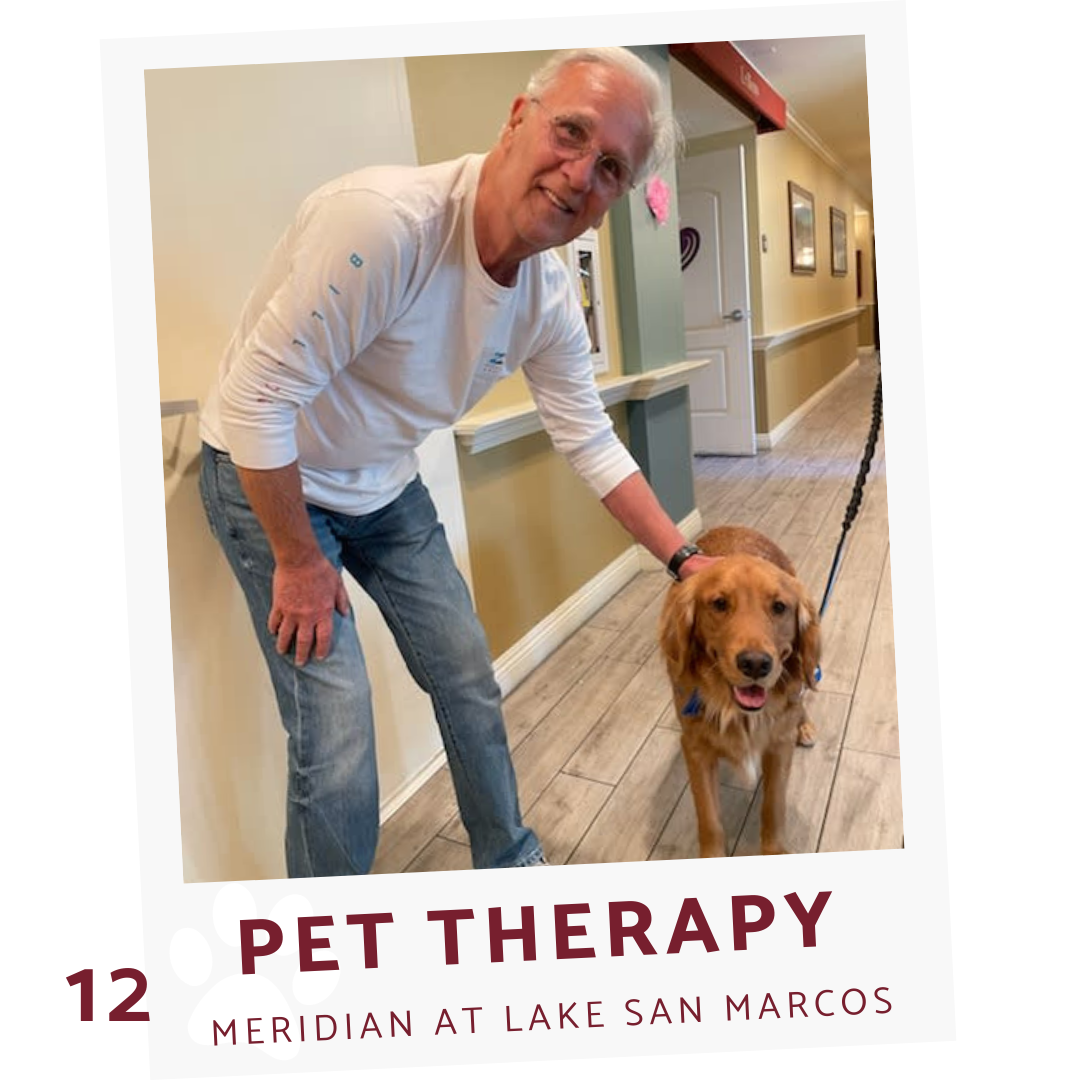 Pet therapy also visits The Meridian at Lake San Marcos. Good dogs love making the rounds to get all the pets and love from the residents - and maybe even a few treats!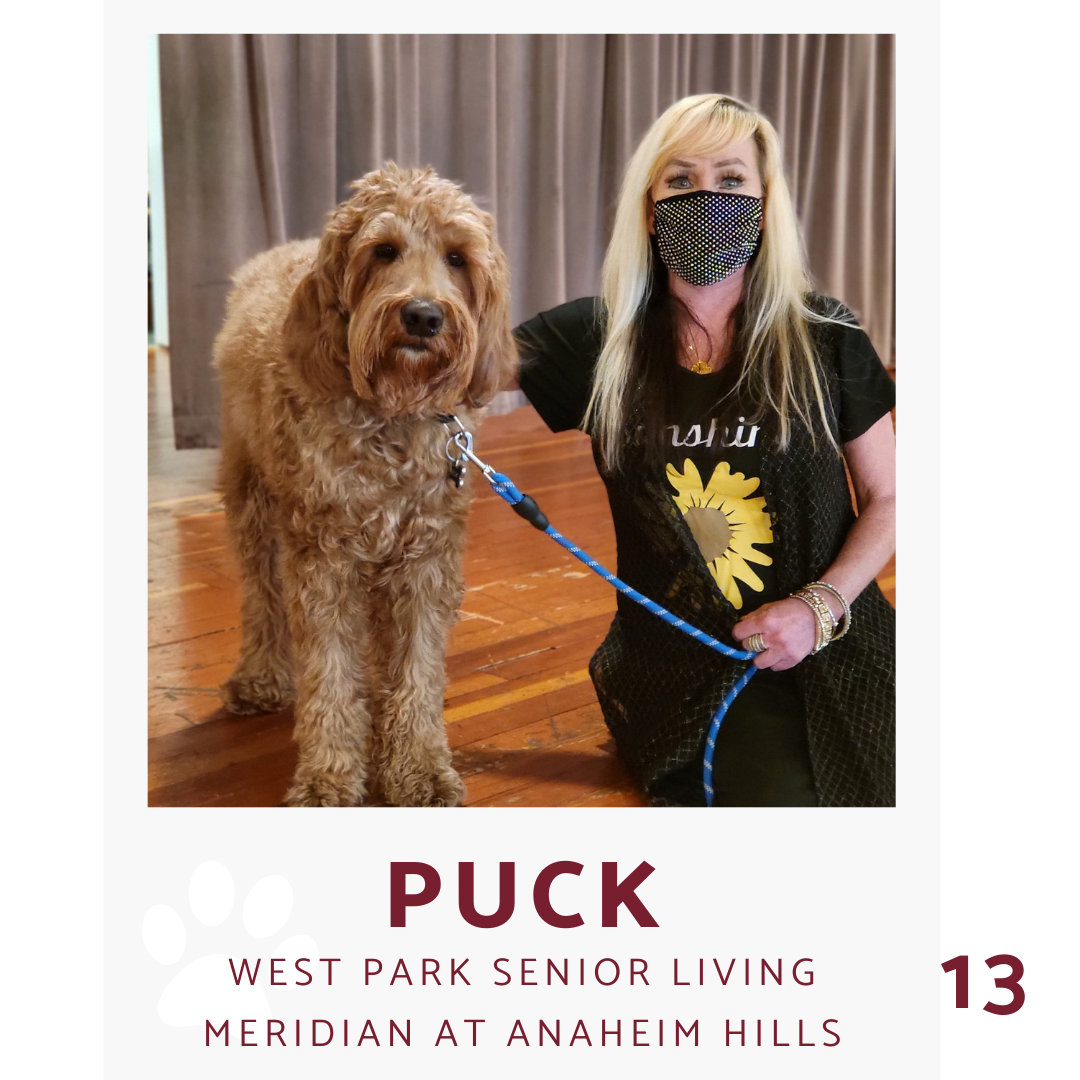 Puck is a friendly pup that likes to visit the residents at West Park Senior Living and the Meridian at Anaheim Hills. Pacifica Team member Cindy brings him in regularly to play with residents in the yard, have cuddles and pets, and provide company. Puck is a 100% good boy.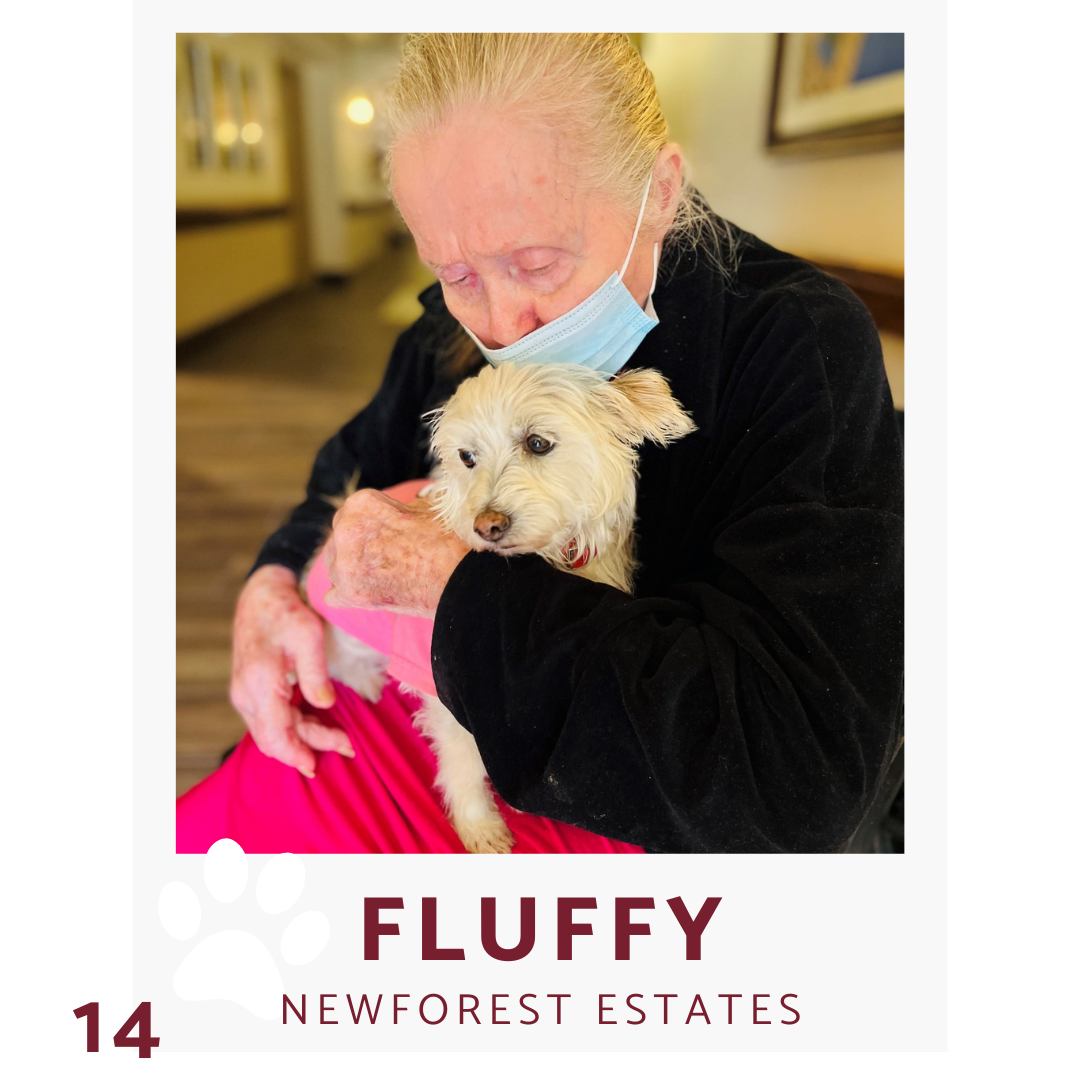 Fluffy is the community pet therapy dog that lives at NewForest Estates. Fluffy is onsite to provide comfort, hugs, and kisses any time a resident needs a little pet love.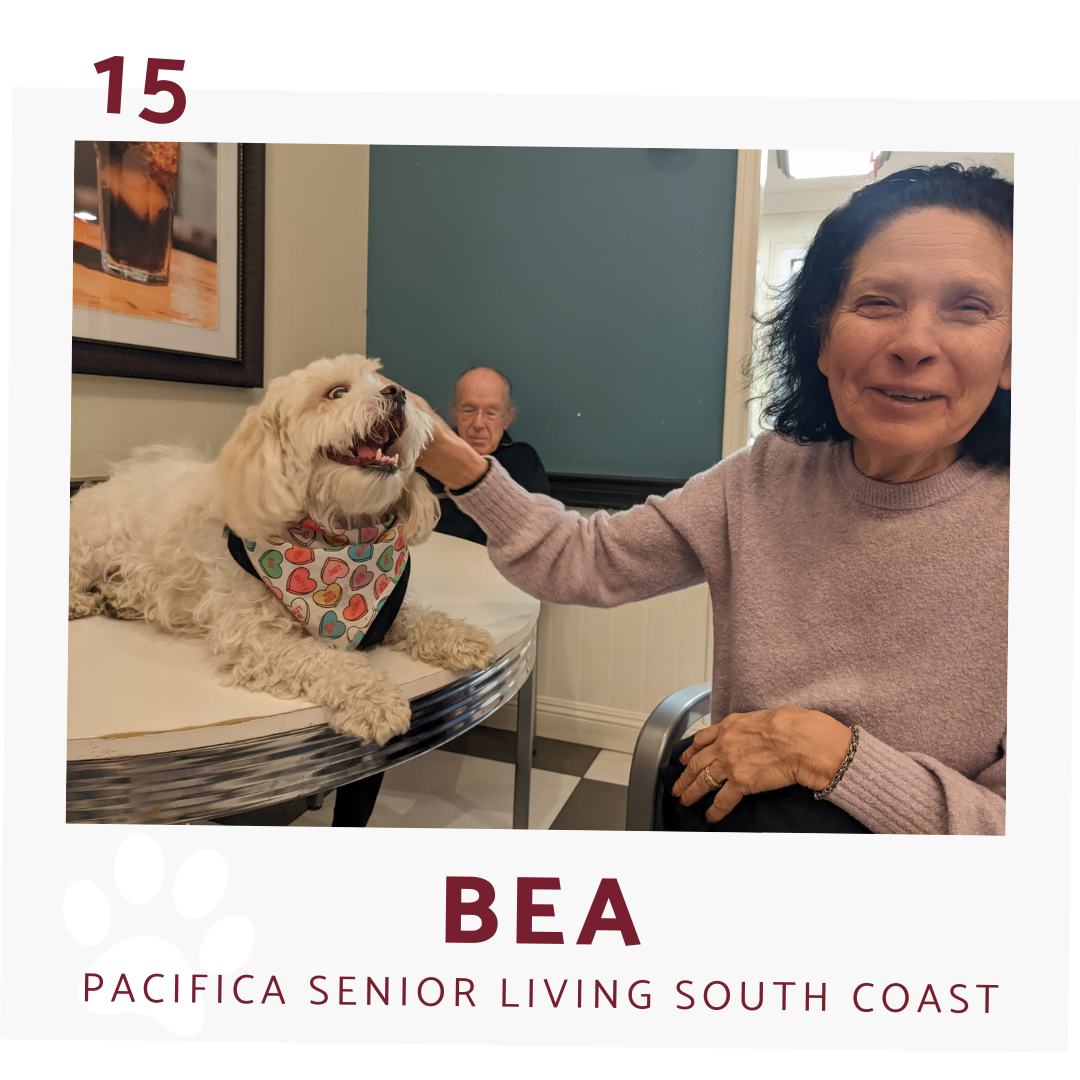 Bea is another community therapy dog that lives at Pacifica Senior Living South Coast. She is all smiles, and her happy-go-lucky nature warms the hearts of our residents who enjoy spending time with her.
Come visit your local Pacifica Senior Living community to see how pets can help enrich the lives of our residents. Whether it is pet therapy, resident animals, or a pet of their own, our residents love being able to spend time with these loving, adorable critters.

You can find more photos and stories about our pets on our Instagram and Facebook pages, or reach out to your local community for more information about our pet friendly homes. We can't wait to welcome you and your furry best friend home!