This July, we asked our chefs and culinary teams from our communities to show us their best burgers. Some communities had taste testing with residents, carefully choosing the most popular dish to submit, others went with classic favorites, while still other chefs went for creative and exciting choices. From pizza burgers to tiki burgers, blue cheese and tangy barbeque sauce, our chefs did not disappoint.

We love hosting culinary competitions as a way to showcase the amazing chefs in our communities. We host a lot of events and barbeques at our communities in the summer months, and barbeque food is one of the most popular types of cuisine.

Our residents loved trying the new recipes, and taste testing new creations. From gourmet meals to comfort foods like burgers and fries, our chefs can do it all.

We compiled all our top contending dishes and recipes, and winners were chosen by our culinary directors. There were so many great entries to choose from, it was difficult to find a winner - in fact, we had a tie for 3rd place!

The results are in, and here are our winners:

First Place is the BIRRIA BURGER
from Chef Tin Nguyen of Meridian at Lake San Marcos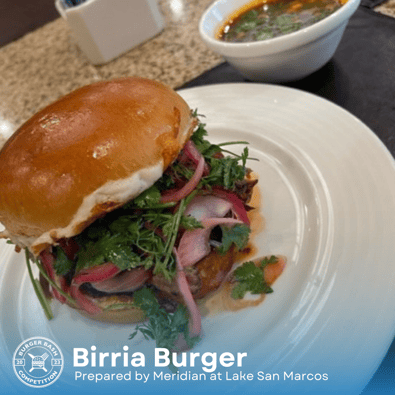 Second Place is the CLASSIC PIZZA BURGER
from Chef Alex Sedano of Pacifica Senior Living Bakersfield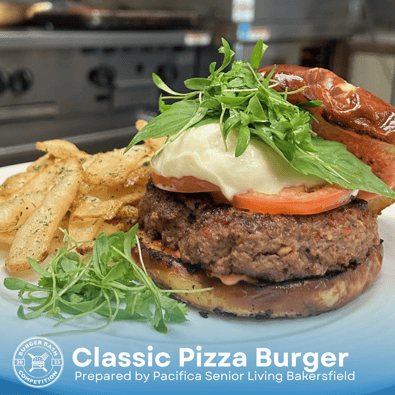 Tied for Third Place are the CRABBY GARDEN BURGER
from Chef Roger Reinisch of Tampa Gardens Senior Living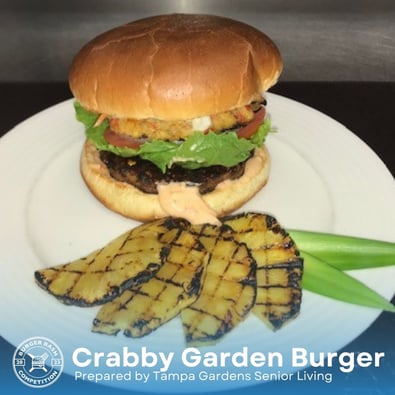 And the BIG KAHUNA BURGER
from Chef Andrew Donahue of Wyndham Lakes Senior Living.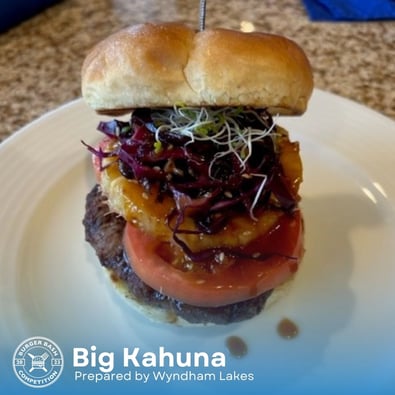 Our chefs and culinary team shared their recipes so everyone can try these delicious burgers at home for themselves. Our communities had so much fun with the summer burger bash, we can't wait until our next competition coming later this year.

Here is the recipe from our winning dish, the Birria Burger created by Tin Nguyen of the Meridian at Lake San Marcos: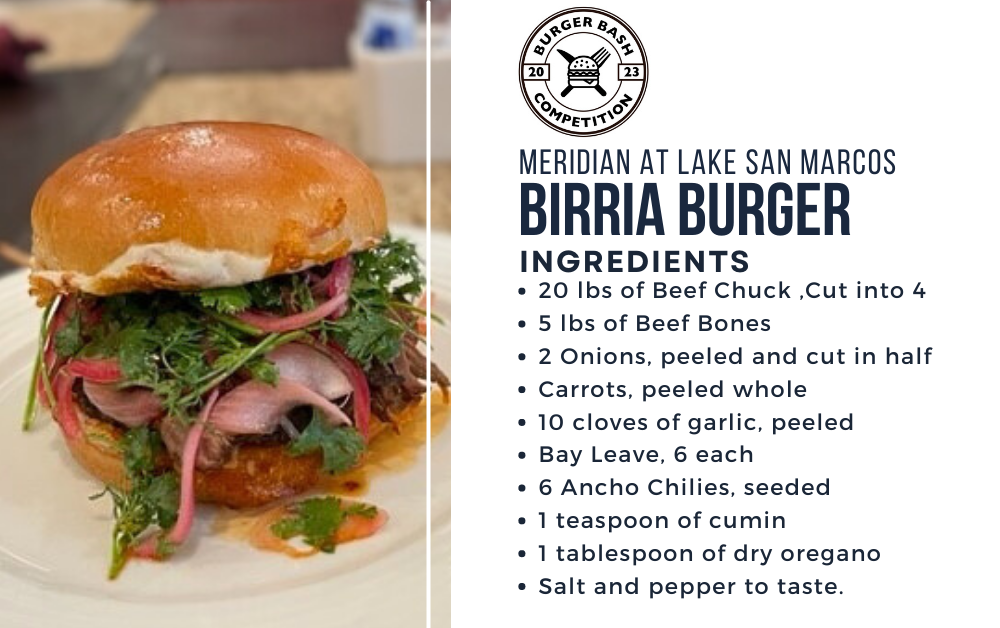 Birria Instructions:
Season the beef and brown it off. Put all ingredients in a large pan and add water. Cover the pan and braise the beef for 6 hours at 300 degree.
Remove the bay leaves and bones. Skim off excess fat. Pick out the carrots, chilies, onions, and blend them together. Put blended mixture back in the broth. Shred the beef and keep it in the broth.
Pickled Onions:
4 Red onions thinly sliced
1 Quart of vinegar
2 cups of sugar
Combine the sugar and vinegar. Mix till sugar is dissolved. Add in the onions. Press on the onions to make sure they are submerged. Wrap and put in the refrigerator overnight.
Construction of Birra Burger:
Sprinkle two mounds of shredded monterey jack cheese, the same size as the hamburger bun, on flat grill. Place the top and bottom bun over the fried cheese till it sticks to the bun and the cheese is browned. Place a grilled hamburger patty on the top of the bottom bun. Then place the shredded beef on top of the patty. Top the meat with pickled onions and cilantro. cover with top bun. Serve with a cup of the beef broth garnished with diced onions and cilantro. It is to be eaten like a French dip.


If you would like to try some of these amazing burgers or other Pacifica dishes for yourself, come visit us! Our culinary teams prepare some amazing meals, buffets a hors d'oeuvres for our many community events, or you can enjoy a complimentary meal when you come in to tour our community.

We love sharing a meal with residents and guests alike, so come out to your local community and get to know us.