Pacifica Senior Living is proud to announce it has been recognized by Caring.com among the highest ranking communities.

"Caring.com is a leading online destination for caregivers seeking information and support as they care for aging parents, spouses, and other loved ones." This informational site offers resources for those on the journey to finding a senior living community, including offering thousands of senior living listings, and a detailed review system that ranks those listings and communities.

This year, Pacifica Senior Living ranked 4th in the nationwide Caring Star Awards, with 12 communities earning the title of "Caring Star".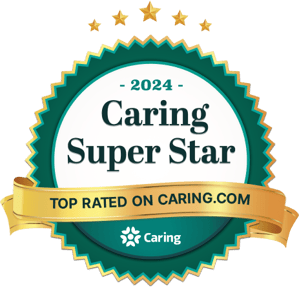 Pacifica Senior Living Menifee
Pacifica Senior Living Palm Springs
Pacifica Senior Living Riverside
Pacifica Senior Living Hillsborough
Pacifica Senior Living Vacaville
Pacifica Senior Living Union City
Pacifica Senior Living Palm Beach


"The nationally-recognized Caring Stars program was originally launched in 2012 as the first reviews-based service excellence award in the senior living industry. Caring Stars is one of many ways we summarize highly-relevant information and provide expert guidance to support the senior living search and selection process. Seniors and their families can rely on Caring's high-integrity auditing of reviews."

Additionally, 11 of these 12 communities gained the further recognition of being Caring Super Stars, meaning they have earned a Caring Star award in 3 or more years.

This recognition is especially important to us at Pacifica Senior Living, because the award is based on consumer ratings and reviews. Our residents and family members are at the heart of all we do at Pacifica Senior Living, so knowing that our residents have ranked us so highly is a marker of the amazing work our team members do day in and day out.


Communities like Pacifica Senior Living Hemet have won the award for 6 out of the last 10 years, showing the consistency and dedication they have for creating a compassionate, welcoming environment backed by exceptional care.

Each of our winning communities focus on offering the perfect balance between independence and support, so that each resident can enjoy the freedom they want, knowing care is on hand any time they need it. We are honored to be recognized by our residents and prospects, as well as by caring.com for our outstanding communities.