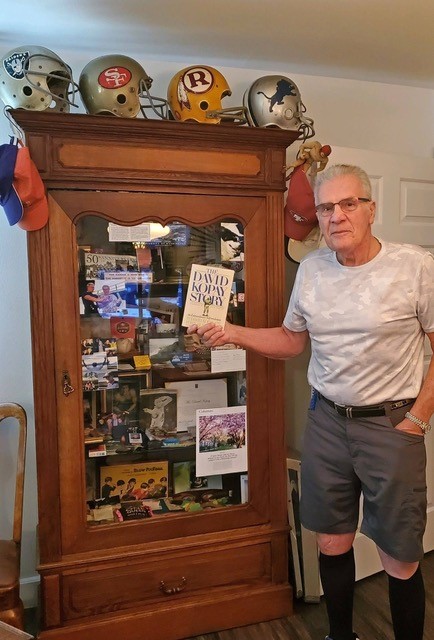 Pacifica Senior Living has the great honor of having Mr. David Kopay as a resident at our Palm Springs community! David moved into our community earlier this year, in February. We have absolutely loved having him, and he is one of the most well-known authors here at Pacifica Senior Living. David joining our community has given us the opportunity to learn about his story—from playing in the NFL to his road to becoming an author. This amazing resident remains a public figure for the sport and his alma mater.

He attended the University of Washington and he went on to become a Running Back for the following teams: the San Francisco 49ers (1964–1967), the Detroit Lions (1968), the Washington Redskins (1969–1970), the New Orleans Saints (1971), and the Green Bay Packers (1972).

After retiring from his football career, he became one of the first professional athletes to come out as gay in 1975. Following his athletic career, David wanted to be a coach after retiring from playing football, but believes he did not get the jobs because of his sexual orientation. He went to work as a salesman/purchaser in his uncle's business in Hollywood.

Since David K., only five additional former NFL Players have come out as gay: Roy Simmons in 1992, Esera Tuaolo in 2002, Wade Davis in 2012, Kwame Harris in 2013, and Ryan O'Callaghan in 2017. David has been credited with inspiring these athletes to be more open about their sexual orientation.

In 1977 he co-wrote his autobiography, The David Kopay Story, which made him a popular public speaker and an activist for gay rights. He has since written numerous books about his journey of being one of the first openly homosexual NFL players. David also went on to do film for a short while, and appears as himself in a small but pivotal role in the film Tru Loved (2008).

He announced back in September 2007 that he will leave $1 million as an endowment to the University of Washington Q Center—a resource and support center for gay, lesbian, bisexual, and transgender students and faculty—so he can to ensure that UW students do not have to live the contradiction he lived. David is also currently a board member of the Gay and Lesbian Athletics Foundation.