When you participate in the Alzheimer's Association Walk to End Alzheimer's you are part of a mission and team that spreads across the country. Just like everything else in the world at this time, The Walk to End Alzheimer's may look a little different, but it will go on with the same commitment to ending Alzheimer's that we've always had and always will have. But, with the changes to the world in mind, The Walk to End Alzheimer's this year will be a mobile walk where participants will join via computer or tablet. The event will still consist of the opening ceremony, speakers, sponsor spotlights, promise garden ceremony, countdown to step off, and of course, the walk itself.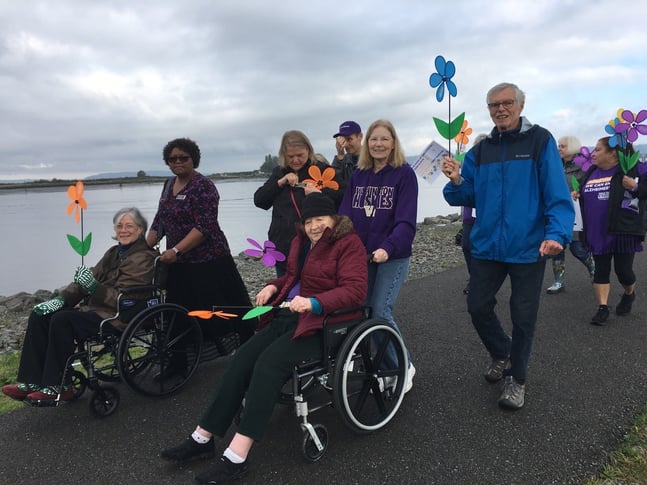 In the last two years, the Pacifica family has raised over $83,000 for this, and we are looking to beat our high water mark of $45,500 raised in 2019, so, we encourage you to walk wherever you are—home, work, neighborhood, park—wherever your favorite venue may be. Walk with your team. There is even a walk app so you can experience all the mission moments as you walk.

Each Pacifica Senior Living community will be participating in their own unique way that works for that individual community. To start a walk team, join a walk team, donate, find out date of your local walk, or even just find out location of the promise garden, visit the Walk to End Alzheimer's offical page. If you would like to donate to your local Pacifica Senior Living Walk to End Alzheimer's team, please reach out to your closest Pacifica Senior Living community and join us in raising money for this worthy cause.

Though we don't have pictures from this year's walk, see the good our Pacifica family has helped to do in 2019 with our participation in the Walk to End Alzheimer's. We're so proud of every resident, staff member, caregiver, family member, friend, even dogs, who walked with us to help find an end to this horrible disease.