At 96 years young, Rose is a treasure to all who know her. She has sought to use her life to enrich others we have been blessed to have her as a resident at our Forest Trace community in Fort Lauderdale, Florida for over 5 years. Life was not always easy for Rose though. As a child, she grew up in Germany and faced firsthand the terrors of World War II and survived the Holocaust. After the war ended, she spent the next three years as a refugee before landing in New York in 1948.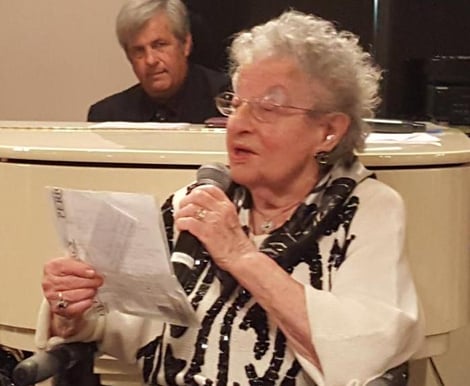 After coming to the United States, she found herself drawn to helping some her fellow Jewish immigrants by recording news of older immigrants and refugees and sending it back to Europe to family members who were left behind during the war. She also served as a liaison for Jewish matchmakers at the time. They would need to have their love letters translated from English or German, and then written in Yiddish (the colloquial Jewish language) from the hopeful grooms to their possible brides—and Rose did much of the writing and translating herself!
Life in America was difficult, but as she got older, Rose went to night school while working menial and difficult jobs in order to take care of herself, including becoming a Yiddish writer for Jewish newspapers, including The Algemeiner.
After moving to Forest Trace, Rose quickly integrated herself into community life. During the various Jewish and American holidays celebrated at the community, Rose often recites poems of strength and hope both for the lost and for the living. These poems are beautiful and moving, and we feel so humbled to have such an incredible person as our neighbor. Though she endured many hard things in her life, the beauty that emerged from that hardship has been instrumental in bringing joy to many others and for that we are thankful.