Kenmore Senior Living is getting together to celebrate Sarah B, one of our amazing residents who turned 105 this week. Our residents, team members, friends and family love getting together to host birthday parties and spoil our wonderful residents. We also take the time to reflect on Sarah's incredible story over her more than 100 years, and share in some of her favorite stories and memories.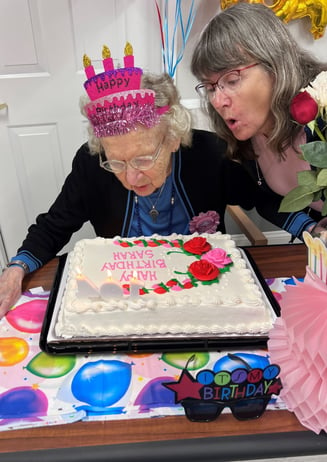 Sarah has lived a full and interesting life and was born September 14th, 1918 on a wheat farm just south of Pendleton, Oregon.

Sarah had two older sisters, Lou and Mary, who were 12 and 6 years older than her, respectively, and one older brother named Richard. She also had two younger siblings, but they unfortunately passed away in infancy, leaving Sarah as the youngest of the 4 surviving children.

When Sarah herself was six months old, she faced a number of tough battles, including overcoming smallpox, diphtheria, and the onset of the great depression. She recalls hard times when the family did not have money for bills, so her mother would trade eggs, milk, and homemade goods from the farm for essentials, supplies, and even music lessons for Sarah and her sisters.

Sarah has fond memories of her early years, playing in the fields and climbing the back hill of the farm to the Blue Mountains off in the distance. She also loved reading, and once she learned to read, would have her nose in just about anything she could find, soaking up information and stories alike.

Sarah greatly enjoyed going to school, and rode her Shetland pony from the family farm to the school house every day. At school, the pony would patiently wait in a barn her father helped build, which was created to house all the horses and ponies various students rode to school.

In town, she and her sisters were able to enjoy Saturday night dances. Sarah recalled her brother, Richard, teaching her to dance when she was only 14 years old. She even won an essay contest on patriotism, which awarded her $5 that she spent on a special dress to wear at one of the dances. Dancing is still one of her favorite activities, and brings up fond memories of her early years.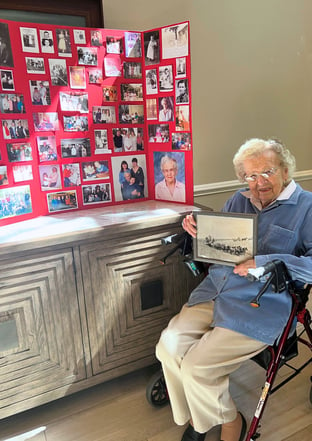 Sarah met her first husband, Philip Miller, at Pendelton's Methodist church in 1936, while Philip was working for Orgeon's Highway department. They attended Oregon Agricultural College (now Oregon State University) together. One of the best gifts he gave her during their courtship, was a tiny kitten he'd found out in the dunes, and brought home for her in his pocket. Cats continue to hold a special place in her heart.

Sarah and Philip were married on Christmas day, 1937, and Philip later enlisted in 1943. He was attending flight school when the two welcomed their son, David. She recalls bringing her son to the training base when he was only 6 weeks old, to visit his father.

First Lieutenant Philip E. Miller, became a pilot in the 718th Air Force Base Unit. Unfortunately, this was yet another trying time in Sarah's life as the war raged on, and on September 8th, 1945, (just a few days after the war officially ended) Phil was declared Missing In Action. It was reported that his plane had gone down, but no details could be found, nor was there ever any confirmation of Philip's death.


Though she held out hope that Philip may be found, she had to carry on. She finished college at Legrand teacher's college and completed her teaching degree. She went on to teach grades 1-3, starting at a small school in Fountain wreath and then moving to Hermiston.

Sarah married Jerry Casseday, who was also a former WWII pilot, on June 4th 1950. Together, they had 3 daughters: Roseanne, Mary Lue, and Catherine. They had many wonderful years together raising their children. In 1961, Jerry passed away after an oil can explosion injured himself and a fellow farm worker.

Sarah was now a single mother of 4, who decided to dedicate all her time to raising her children. Due to a settlement from the accident, and the help of a local insurance company, she was able to become a stay at home mother.

She later met Charles Burch, an insurance worker, in 1967. He too, was a former WWII Air Force pilot who flew 59 missions over Germany in a B-26. The two were married 3 months after they first met, and were married 15 years. Charles was a wonderful stepfather to Sarah's children, and was well loved by the family.

Sarah loves telling her story. She now lives in Kenmore, at Kenmore Senior Living, and one of her favorite activities is writing her memories in journals and sharing stories with others. She still has a strong fondness for cats, and a deep love for her family. Three of her children live nearby, and she is close with them, as well as with her 4 grandchildren and 5 great grandchildren.

Sarah has seen a lot in her 100+ years, and has lived through many ups and downs. More than anything she appreciates her family, and all the wonderful memories they have built together over the years.