If you ask any employee at The Meridian at Westwood about Jarome, I think they'd all agree that it's pretty hard to miss him. He is tall in stature, but that isn't what makes him stand out; it's his personality. Even with a mask on you can see his megawatt smile, which he gladly shares with everyone he sees. He is always upbeat and positive and people are naturally drawn to him. Residents and staff alike all know Jarome and seem to brighten when he's around.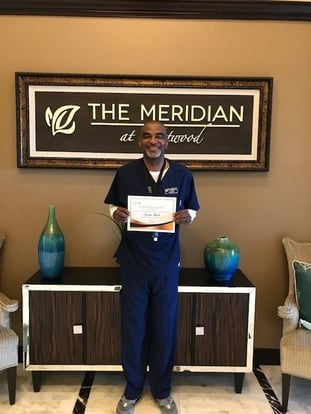 Additionally, when it comes to work ethic, he's also hard to miss. Even before COVID-19, which brought its own unique staffing challenges, Jarome was always one of the first people to volunteer if a shift needed to be filled, even when it meant he may work a double or stay through the night. As an Army veteran, he knows what it means to work as part of a team, and to have responsibilities in protecting and caring for others who may not be able to do that themselves, and it is a charge he takes seriously.

Recently, when one of our valued partner vendors wanted to honor some of our front line staff, Jarome's team nominated him and he can be seen proudly displaying the certificate he was awarded as part of that recognition package. It was easy for the team to nominate him because he truly exemplifies our company Mission and Values and every resident he serves and each employees he works alongside is better for knowing him.

All of us at the Meridian at Westwood want to send out thanks to Jerome for everything he does each and every day. Keep smiling and spreading your joy!