This spring, it's time to clean out what you aren't using and hit refresh. Spring is a great time for renewal, new beginnings, and making changes, and that includes finding a new place to call home. This spring we invite you to choose Pacifica Senior Living and make the move to one of our award-winning Independent or Assisted Living Communities.

Many people participate in spring cleaning every year, and use it as a time to clear out outdated or unneeded clothes, or things that have cluttered up over time. Oftentimes this is when people - especially seniors - may realize they have more belongings or more space than they really need. Maintaining a house, and keeping up with the cleaning, maintenance and bills can be exhausting, and now is the right time to consider your other options.

At Pacifica Senior Living, we take care of these worries for you. There are no more chores, cleaning routines, household maintenance calls, or upkeep bills to pay. We take care of everything for you, ensuring your day to day needs are met, and all the grounds keeping, housekeeping, cleaning and meal planning are done for you!

What could be easier than making the switch to comfortable, carefree living at Pacifica? Knowing how to move into a senior living community can seem tricky, but there are a few simple guidelines to follow

1. First, once you have chosen a community, review the floorplans to see what room style works best for you, and to give you an idea of the space you will have once you move in. This can help you more easily plan what types of personal items you wish to bring, or see how much storage you have for clothing etc.

2. Next, take a tour. There is no better way to get the feel of a space than by taking a tour. We offer regular complimentary tours of our communities where you can ask questions, view apartments and common areas, and get to know your potential new home. We also offer a complimentary lunch for you to enjoy after you participate in one of our life enriching activities.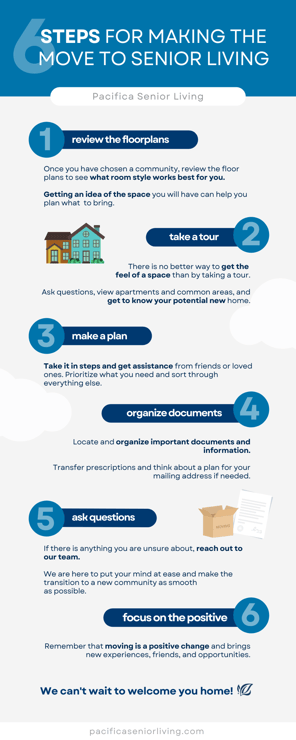 3.
Next, make a plan.
It can be overwhelming to sort and pack everything you have all at once. Take it in steps and get assistance from friends or loved ones who can help prioritize what you need, and sort through everything else. A great way to sort can be using the 'pack' 'donate' and 'store' options to help you decide what you want to take with you, what you no longer need, and what you may want to keep or store elsewhere.
4.
Organizing important documents and transferring prescriptions and your mailing address
is a great way to stay organized. It can feel overwhelming to move, but knowing all your important papers and information are in one place can help put you at ease.
5.
Ask questions
. If there is anything you are unsure about, our team is here to help! Reach out to us, and make sure you are completely comfortable with your decision. We are here to put your mind at ease and make the transition to a new community as smooth as possible, so don't be afraid to ask us for help.
6.
Lastly, it is important to remember that moving is a positive change!
Though changing homes can be daunting, transitioning to an independent or assisted living community doesn't have to be scary. We have an amazing team of caregivers and dedicated staff who are here to help you every step of the way. You can also meet with one of our resident ambassadors who will introduce you to new friends, and help you feel welcome after your move in. We can't wait to welcome you home!