One of our residents from Tampa Gardens Senior Living recently got the chance of a lifetime - an opportunity to take to the skies again in a 1940s Blue Stearman airplane. How was this opportunity possible? With an amazing program known as Dream Flights.

Dream Flights is a veteran-based nonprofit that was started in 2011 by founder Darryl Fisher. There are four 1940's Boeing Stearman airplanes used by the Dream Flights team, across the United States. Flights are provided -free of charge - to military veterans and seniors living within Senior living communities.

The organization was created in order to "honor military veterans and seniors with the adventure of a lifetime: a flight in a Boeing Stearman biplane," (Dream Flights). Their aim is not only to provide there veterans with an opportunity to fly in the planes they once piloted in wartimes, but Dream Flights also seeks to learn and share the stories of each of their participants, further honoring them and highlighting the amazing tales and acts of service they provided to our country in their youth.

"We collect, preserve and share those stories of how they survived through times of great strife to remind us of our shared humanity, our connection to each other and the value of listening."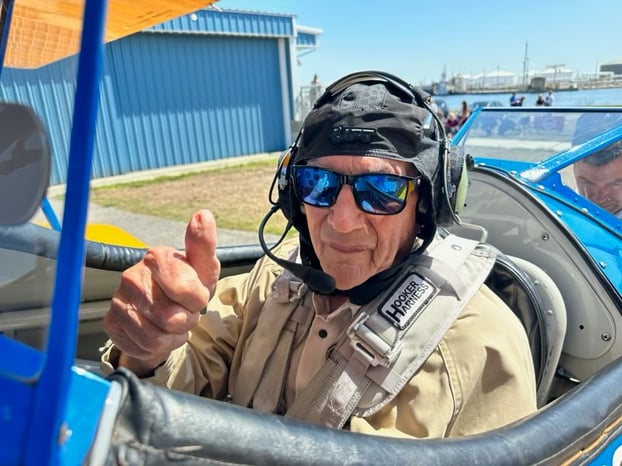 One of our very own residents, Fred of Tampa Gardens Senior Living, applied for a Dream Flight and was overjoyed at the opportunity to fly again. Fred is a former Naval pilot who flew during the Korean War. When he learned about the opportunity to fly with Dream Flights, he knew it was something he would love to do.

Speaking with his daughter Caroline, she expressed: "The experience was amazing for my father. He doesn't get excited about a lot of things but this one he was absolutely on board for."
You can read more from his family in an article on Patch.

It wasn't just Fred who got excited, either. Throughout the Tampa Gardens Senior Living community, residents and staff members were buzzing with anticipation. Both Tammi, our resident Activity Director, and receptionist Valerie, got to work inviting and organizing residents who wanted to accompany Fred on his big trip.

"[It] completely blew me and my dad away. They were our cheerleading squad. It was an all-around great experience," said Caroline.

Fred, his daughter, and eleven residents from Tampa Gardens Senior Living all traveled to nearby Peter O'Knight Airport for the experience.

Fred was able to spend 20 minutes in air, flying over Tampa Bay in a 1940 Boeing Blue Stearman. It was an incredible opportunity, and his fellow residents and family loved being able to cheer him on below. It was a memorable moment for everyone.

At Tampa Gardens Senior Living, we love helping our residents live their dreams. Partnering with amazing foundations like Dreams Flights is just one of the ways we help our residents live their best life. From outings and events to a wide range of activities and classes, offering opportunities for our residents to engage, have fun, and enjoy meaningful activities is at the heart of what we do.

You can learn more about Tampa Gardens Senior Living by visiting our website, or come see us in person for a tour and get to know our amazing community.