Valentine's Day is a time to celebrate love - in all its forms! Whether that means a romantic evening with a partner, a gal-pal day, games with friends, or reminiscing with family, Valentine's Day is a great time to reflect and share appreciation for the special people in our lives.

When it comes to our senior living communities, we love to celebrate love! One of our favorite things is seeing the new friendships and bonds that form between residents and neighbors within our communities.

Whether it is old friends reconnecting, or discovering a best friend later in life, our communities promote an active social life where residents can get to know one another and form bonds. From outings to social events, to walking clubs, card games, craft classes, or quiet times sharing stories or reading, there are so many ways our residents can connect with one another.

Of course, Valentine's Day is also a great time to show some extra appreciation to a special someone, be it a partner, spouse, or companion. Having a romantic evening together, sharing a candlelit dinner, or going for an evening stroll can be great ways to spend time with just the two of you, basking in the love you have for one another.

Family events are also great ways to share love and enjoy the loving connections that many of us have with family members, children, parents or grandkids.

Many of our communities have been hosting special Valentine's Day events, ranging from dinners to banquets, dances, movie nights, or craft times. There are so many different ways you can celebrate this sweet holiday. In the lead up to the big day, some of our residents shared their stories of love and friendship, reflecting on the relationships and connections that have moved and shaped them.
---
Joyce and Joanne have lived at Meridian at Laguna Hills since July 31st, 2020.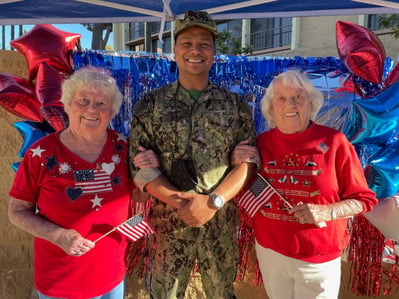 The two were born on February 20th, and their love and sisterhood began from their very first moments together. Both sisters went to nursing school together and became RN nurses at St. Jude Hospital in Fullerton.

When Joanne and Joyce got married, they each started a family, but lived only a few miles from each other. Now the sisters live in the same apartment at The Meridian at Laguna Hills. They enjoy each other's company while participating in activities, happy hour, outings, games, and movies. Their favorite community activity to do together is joining in Trivia with Solomon. Joyce and Joanne share a bond of love, family, and life at the Meridian at Laguna Hills.


---
Some of our residents at Pacifica Senior Living Victoria Court were also getting into the Valentine's Day spirit.

Sheila and Loretta are two residents who have grown closely over their time spent together at Victoria Court. They especially enjoy doing arts and crafts together, and participate in lots of community activities together.
---
Angela loves everyone in her community at Pacifica Senior Living Victoria Court. She was a nurse for over 15 years, and worked in the Pediatric Intensive Care unit before transferring to special needs group homes. Caretaking is in her blood, and she loves to help out where possible, taking care of and looking out for other residents in the community.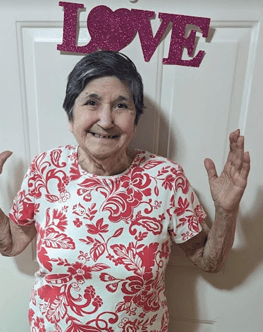 ---
Today and every day, we encourage you to enjoy the company of those you most care about, and tell those who matter to you most what they mean to you. Valentine's Day is a great time to remember the power of spreading love and joy. It is the connections and bonds that are the most meaningful part of our lives, so we send our own love and gratitude to our residents, family members and teams across all our communities.

Want to join us for a Valentine's Day event, or upcoming community activity? We always have something going on. Reach out to your local community or sign up to our email list so you never miss an event.