Last weekend marked an extra special Veterans Day for Sun City Senior Living. This tight-knit community in Sun City, Florida, experienced the joy of a wedding on Saturday November 11th. The beautiful bride was none other than the community's long-serving Activities Director, Jennifer Petit.

Jennifer has formed a tight bond with the team members and residents of Sun City over the years. As the Activities Director in the community, she is constantly interacting with the residents, hosting events, activities and classes with them. Throughout her more than 8 years here, she has formed strong connections with many of the residents, who see her as an extension of their own families.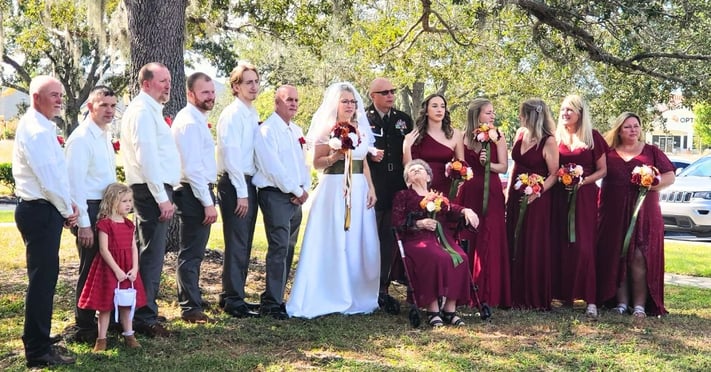 When the announcement came that Jennifer was planning to marry her partner of 9 ½ years, Aarik, they were overjoyed. Many had come to know Aarik, and were very happy for the couple. When they heard Jennifer and Aarik planned to have a destination wedding in Europe, one of the residents, Larry, arranged a surprise send-off reception for them to celebrate their love and impending nuptials.

Unfortunately the arrangements for the overseas wedding fell through due to complications with paperwork, and the couple returned from their European holiday unwed. The disappointment from the residents was palpable. Seeing how much the residents and team at Sun City cared for them, Jennifer and Aarik decided they had found the perfect place to reschedule their wedding: right there at Sun City Senior Living.

With the community's blessing, plans were made to host the wedding within the community. The residents were overjoyed to be included in such a big day.


"I have heard from many residents in the community about how much this wedding means," said Petit. "Some can't remember being to a wedding in over 50 years. And, some say that to see one of their own get married is as sentimental as if it were their own granddaughter or great-granddaughter tying the knot."

Residents were made to feel a special part of this day from the beginning. Both Jeniifer and Aarik had become very close with 103 year old Mary Ellen, and she was chosen as the Matron of Honor for the big day. Jennifer and Aarik also decided to have their wedding on November 11th to honor Aarik's recent retirement from the Army National Guard after 30 years of service.

He chose to wear his dress uniform for the occasion, and was delighted to find out the renewed uniforms were reminiscent of those worn in WWII, a meaningful nod on Veterans Day.




One hundred and twenty-five guests were in attendance in the Sun City Senior Living courtyard, including family, friends, and members from the community. The beautiful ceremony was full of love and support for the happy couple and was a wonderful time for senior residents to unwind and share in the joy of Jennifer and Aarik.

The two could not have been happier with how the day turned out, and everyone at Sun City Senior Living loved being part of their big day.

Congratulations and best wishes to Jennifer and Aarik!