September 21st is World Alzheimer's Day, and Pacifica Senior Living communities are celebrating by running fundraisers and events to raise both funds and awareness for Alzheimer's research.
Pacifica works closely with the Alzheimer's Association in order to work towards a cure for Alzheimer's disease and raise Alzheimer's awareness for a better understanding of memory loss conditions and other types of dementia.
Many of our communities work closely with Alzheimer's and dementia associations, partnering with them on all sorts of events. One of the most common events is the Alzheimer's Association Walk to End Alzheimer's, which many of our communities partner with and participate in. These walks are a great way to raise awareness and support family members and loved ones living with Alzheimer's.
Alzheimer's is the most common form of dementia, and affects over 6 million Americans, 73% of whom are aged 75 or older. Every day, our communities work to create an environment that is secure, comforting, and enriching for our Memory Care residents. Our communities know Alzheimer's is a condition that affects both the individual and those around them, and that adjusting to a dementia diagnosis can be a process. In addition to those diagnosed, more than 11 million caregivers and healthcare workers care for and support others with Alzheimer's.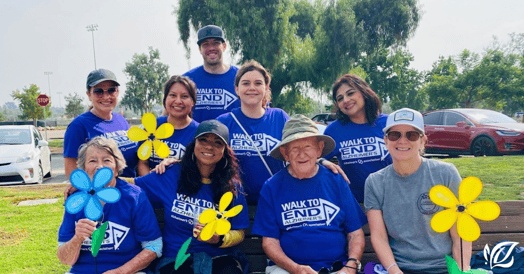 During World Alzheimer's Month, our communities are focusing on outreach, memory walks, and fundraising campaigns and education initiatives. Pacifica Senior Living Fresno is hosting an Alzheimer's Walk on September 24th from 7:30am to 11am. Hillsborough is getting festive with a Spaghetti Dinner fundraiser on September 22nd between 5 and 7pm, with proceeds going to the Alzheimer's Association.
Similarly, Pacifica Senior Living Lynwood is hosting a drive by fundraiser on the 23rd of September with all proceeds going towards their upcoming Alzheimer's walk event - which will take place October 8th. The fundraiser will involve a bake sale as well as a $5.00 hotdog lunch. Alternatively, you can join Pacifica Senior Living Oceanside's Walk to End Alzheimer's on September 24th.
Pacifica Senior Living Fort Myers is set to host a cocktail hour on October 20th where carers, family members, residents and team members will be able to come together to talk about dementia. As part of awareness month, they discuss a range of topics from warning signs and risk factors, to encouraging loved ones of those affected to share their stories, and find support in one another.
Pacifica Senior Living Snohomish will be involved in the ALZ efforts, and are running a Alzheimer's Association Fundraiser from October 1st-15th collecting donations in exchange for doughnuts. Similarly, Pacifica Senior Living Vacaville will have a fair consisting of crafts, fun and a hotdog lunch, with all proceeds and donations going to The Alzheimer's Association.
As the 5th largest provider of Memory Care in the nation, Pacifica Senior Living is fully invested in the ALZ cause. We continue to run fundraisers and events throughout the year, but especially this month.
This year's international campaign and theme is "Know dementia, know Alzheimer's". It is important for all of us to understand more about what dementia means, demystifying Alzheimers and memory loss conditions. Knowing and understanding not only what dementia is, but how it affects not only those diagnosed, but those around them, is an important step towards the betterment of all those involved in Alzheimers. The 2022 theme is very similar to the one last year, but with a special focus on post-diagnosis support.
Educational initiatives aim to teach and support those who have recently been diagnosed, as well as come alongside the caregivers, friends and family members of that individual in order to build a system of support for the diagnosed and those around them. Pacifica has Dementia support groups at a number of our communities which focus on supporting those affected by Dementia and Alzheimer's Disease.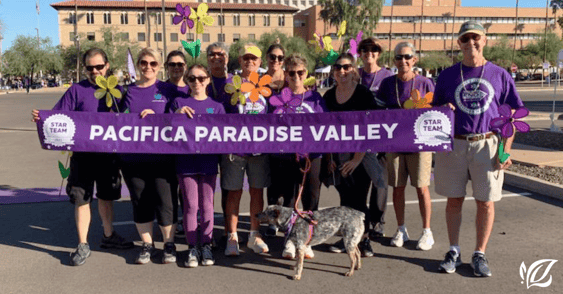 As part of a World Alzheimer's Day celebration and ongoing support campaign, Pacifica Senior Living Paradise Valley took part in the Village Walks to End Alzheimer campaign. On October 8th they are hosting an onsite event featuring live music, a Kona Ice truck, community craft for sale, pet therapy, charity raffle prizes, sale tables, donation booths and a whole lot more! This event is focused on fundraising and support. You can catch the team at Paradise Valley on Good Morning Arizona today, as they talk about the upcoming walk and their passion for Alzheimer's research and support.
If you or a loved one are seeking assistance with Memory Loss conditions, we have a number of Memory Care communities across the country. Learn about our care levels, unique approach to Memory Care, and how we have become an award winning support system and home for residents with Memory Loss conditions and dementia. We pride ourselves in providing exceptional care based on knowledge, compassion, and patience, and creating a tailored approach to Senior Living.

Learn more about our partnership with the Alzheimer's Association, or come out and participate in one of these amazing events by reaching out to your local Pacifica Senior Living Community. Additionally, you can donate to the ALZ cause directly or find a walk near you. We can't wait to see you out at one of our events!