Elegant enough for a dinner party, easy enough for every night of the week.
Pork is an excellent choice for a dinner meal. It is hearty, filling, and delicious, and also had a number of vitamins and nutrients our bodies need to stay healthy and strong. Pork is a good source of zinc, vitamin B12, vitamin B6, and iron.
This delicious recipe for pork medallions in mushroom Madeira sauce is actually very simple to prepare. It's all about marinating the meat so it becomes tender, juicy, and full of flavor - then all you have to do is roast the medallions and let them simmer in a buttery mushroom Madeira sauce until tender. A robust, fortified wine such as Madeira accentuates the pork juices in the recipe while complementing the mushrooms for a dish you'll love to eat again and again.
This recipe by Chef Roger Reinisch of Tampa Gardens Senior Living is a great main dish to pair with your favorite sides and works perfectly with our Duchess Potato recipe and your favorite vegetable. Give it a try and tell us how you like it!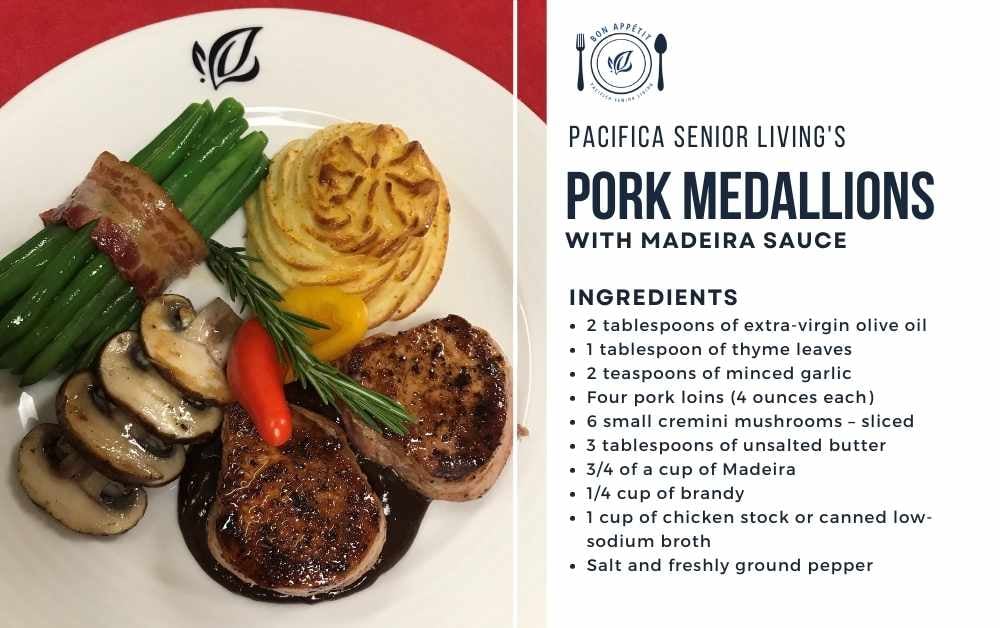 ---
Ingredients
2 tablespoons of extra-virgin olive oil
1 tablespoon of thyme leaves
2 teaspoons of minced garlic
Four 1-inch-thick pork loins (4 ounces each)
6 small cremini mushrooms – sliced
3 tablespoons of unsalted butter
3/4 of a cup of Madeira
1/4 cup of brandy
1 cup of chicken stock or canned low-sodium broth
Salt and freshly ground pepper



---
Preparation
Step 1.
Combine the oil, thyme, and garlic on a large plate. Add the pork medallions and turn to coat in the seasoned oil. Let stand at room temperature for 2 hours.
Step 2.
Meanwhile, wash and slice the cremini mushrooms. Drain, rinse under running water and pat dry.
Step 3.
With the skillet on high heat, add the Madeira and brandy and cook until reduced by half. Add the mushrooms and chicken stock and cook until the stock is reduced by half, about 7 minutes.
Step 4.
Preheat the oven to 375°. Heat a large ovenproof skillet until almost smoking.
Season the pork medallions with salt and pepper and cook over moderately high heat until deep golden and crusty, 4 to 5 minutes. Turn the pork chops, transfer the skillet to the oven and roast the pork for about 6 minutes, or until cooked through. Transfer to a platter.
Step 5.
Set the skillet over high heat. Add the mushrooms and sauce and cook, scraping up any browned bits, until slightly reduced, about 2 minutes. Stir in the remaining 2tablespoons of butter and season with salt and pepper. Set the pork medallions on 4 large plates, spoon the sauce and garnish with the mushrooms.
---
CLICK HERE for a downloadable recipe card

Great food and nutritional meals are an important part of our Pacifica Senior Living communities. We pride ourselves on offering a variety of restaurant-quality food options for our residents to choose from. Come visit us and enjoy a complimentary meal as part of your tour.
subscribe to our email list on the right for more great recipes like this one.

BON APPETIT!