Try this festive spiced dessert this season, and bring a little bit of pumpkin spiced fun right into your own kitchen. This delicious, decadent dessert by Chef Jaime is a fall favorite at The Park Lane.
Enjoy pumpkin mousse as a halloween treat, or serve as part of your Thanksgiving festivities. Part sweet, part spice, and all delicious, this is a great dessert choice for those that love the warm cozy tastes of pumpkin in the fall.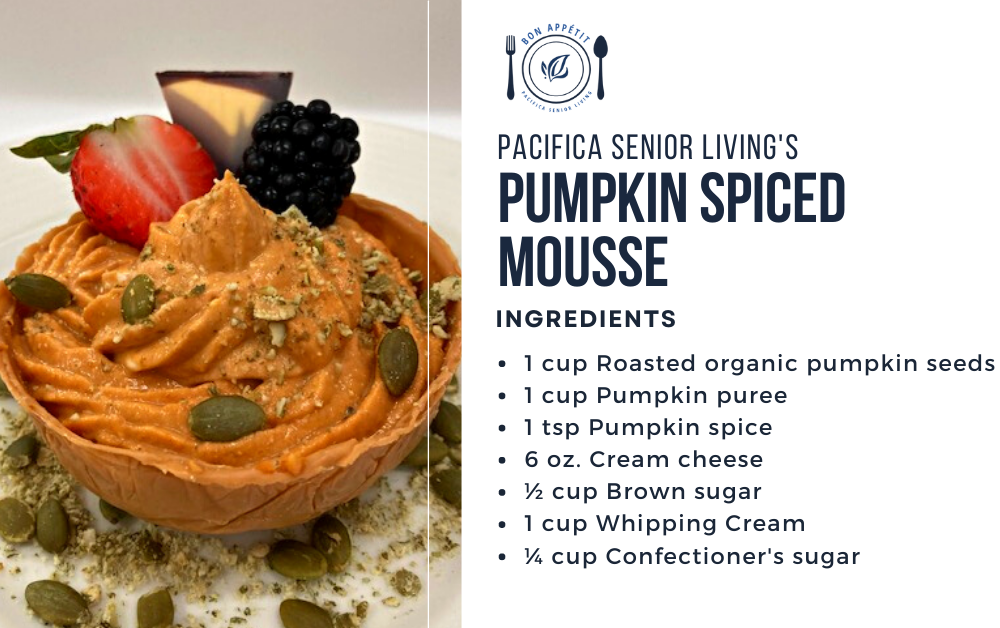 Chef Jaime Fernandez is an esteemed chef who has been part of the Park Lane family for over 30 years. His years of experience and leadership skills have helped him to become the beloved mentor and head chef he is today.
Residents of The Park Lane love the impressive menu options from Chef Jaime. Whether it is comfort food, specialty dishes, or desserts to satisfy your sweet tooth, he is always serving up excellence.

His dedication to top quality food, and his heart for supporting other young chefs makes him an invaluable part of The Park Lane team, and both residents and staff have benefited from his impressive leadership and skills for decades. You can read more about Chef Jaime in an employee spotlight article for more about his role at The Park Lane.
---
Ingredients
Butterscotch Shell
12 oz. Butterscotch chips

2 oz. Clarified butter

6 ea. 6 oz. round bowls

Aluminum foil
Pumpkin Spice Mousse
1 cup Roasted organic pumpkin seeds

1 cup Pumpkin puree

1Tsp Pumpkin spice

6 oz.Cream cheese

½ cup Brown sugar

1 cup Whipping Cream

¼ cup Confectioners sugar




---
Preparation
Butterscotch Shell
Step 1. Temper the butterscotch chips with the clarified butter.
Step 2. Add 2 tsp of the butterscotch to each bowl and swirl to coat the entire inside of the bowl. Freeze for 15 min.
Step 3. Add a second coat of butterscotch to the bowls to get a shell thickness of 1/8 in (3 mm). Freeze for 15 min.
Step 4. Carefully release the shells from the aluminum foil.
Step 5. Refrigerate the shells until ready to serve.
Pumpkin Spice Mousse
Step 1. In a mixing bowl, whip cream and confectioner's sugar until stiff peaks form. Set aside.
Step 2. In another mixing bowl, combine softened cream cheese and pumpkin puree until smooth.
Step 3. Add brown sugar and pumpkin spice, and mix until smooth. Fold in the whipped cream.
Step 4. Cover and chill at least two hours before serving.
Step 5. Pipe the filling into the Butterscotch Shells, and garnish with whatever you like. Suggestions include fresh berries, chocolate drizzle, or crumbled pumpkin seeds.
---
Great food and nutritional meals are an important part of our Pacifica Senior Living communities. We pride ourselves on offering a menu of restaurant-quality food options for our residents to choose from. You can learn more about our Culinary Program and how we ensure delicious and healthy options here, or come visit us and enjoy a complimentary meal as part of your tour.
Subscribe to our email list on the right for more great recipes like this one.
or check out our recipes tag here for more recipe options.
BON APPETIT!