More often than not, the vegetables or side dishes of a meal can feel like an afterthought compared to the main dish, but no more! This bacon-wrapped green bean recipe will take your veggies to the next level. It is a side dish that will wow - and we bet it will soon become a new favorite.
These bacon-wrapped green beans combine the earthy freshness of green beans with the rich, meaty flavor of bacon. This fun, easy appetizer is what you might consider making the next time a bacon craving strikes. And It's an absolute show-stealer on the dinner table.
This recipe by Chef Roger Reinish of Tampa Gardens Senior Living is a great side dish that goes great with any main - like our Pork Medallions or your favorite cut of meat. You can even add our Duchess Potatoe recipe to make a whole meal!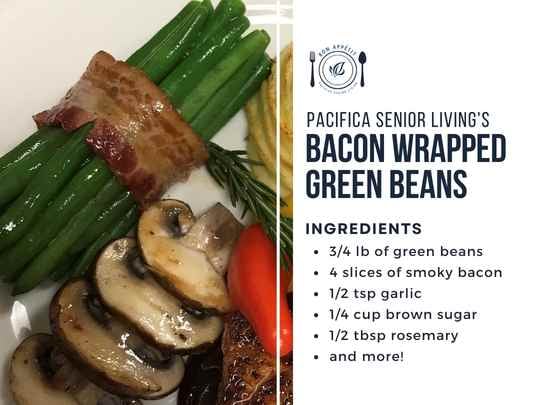 ---
Ingredients
¾ of a pound of French green beans

4 slices of thinly cut smoky bacon

1 tablespoon of extra virgin olive oil

½ teaspoon of garlic

¼ cup of light brown sugar packed

½ tablespoon of finely minced fresh rosemary




---
Preperation
1. Preheat oven to 400˚F. Place several layers of paper towel on a work surface near the oven. Line a sheet pan with foil for easy cleanup.


2. Arrange bacon strips on foil so they aren't overlapping. Bake for 10 minutes or until strips are beginning to turn golden but are still soft. Remove the pan from the oven and transfer bacon to paper towels to drain.


3. While bacon is baking, bring a large pot of water to a boil. Add beans, cover and cook for 1 minute. Place a strainer in the sink and drain beans. Immediately rinse beans with cold water for 1 full minute. Drain well and then transfer beans to a clean kitchen towel. Pat with the towel to remove as much water as possible.


4. Place beans in a medium-size bowl. Combine olive oil and garlic salt. Drizzle oil over the beans and toss to coat.
5. Arrange beans in 4 bundles of 10-12 beans. Place one bacon strip on a work
surface. Place a bundle of beans on one end of the bacon strip. Roll bacon around the bundle and secure with a toothpick. Repeat with remaining bacon and bundles of beans. Arrange beans on a sheet pan lined with clean foil.
6. Combine brown sugar and rosemary in a small bowl and stir well. Sprinkle one teaspoon of the brown sugar mixture over each bean/bacon bundle.
7. Bake bundles for 15-20 minutes at 400˚F or until bacon is golden brown and beans are tender. Remove from oven and serve warm. Remove toothpicks and garnish with more finely chopped fresh rosemary, if desired.
---
CLICK HERE for a downloadable recipe card

Great food and nutritional meals are an important part of our Pacifica Senior Living communities. We pride ourselves on offering a variety of restaurant-quality food options for our residents to choose from. You can learn more about our dining options and how we ensure delicious and healthy options by phone, or come visit us and enjoy a complimentary meal as part of your tour.
Or, subscribe to our email list on the right for more great recipes like this one.

BON APPETIT!