Enjoy this flavorful filet dish from Chef Renee Jann of Pacifica Senior Living Paradise Valley. This Pan Seared Chili Rubbed Filet is paired with a hearty root vegetable hash, and topped with a pomegranate glaze for the perfect balance of savory, sweet, and a little bit tart.

Together, the elements of the dish make for an amazing meal that was voted the third place winner in our Annual Culinary Competition. You can find the full recipe for both the steak and root hash below so you can try it at home!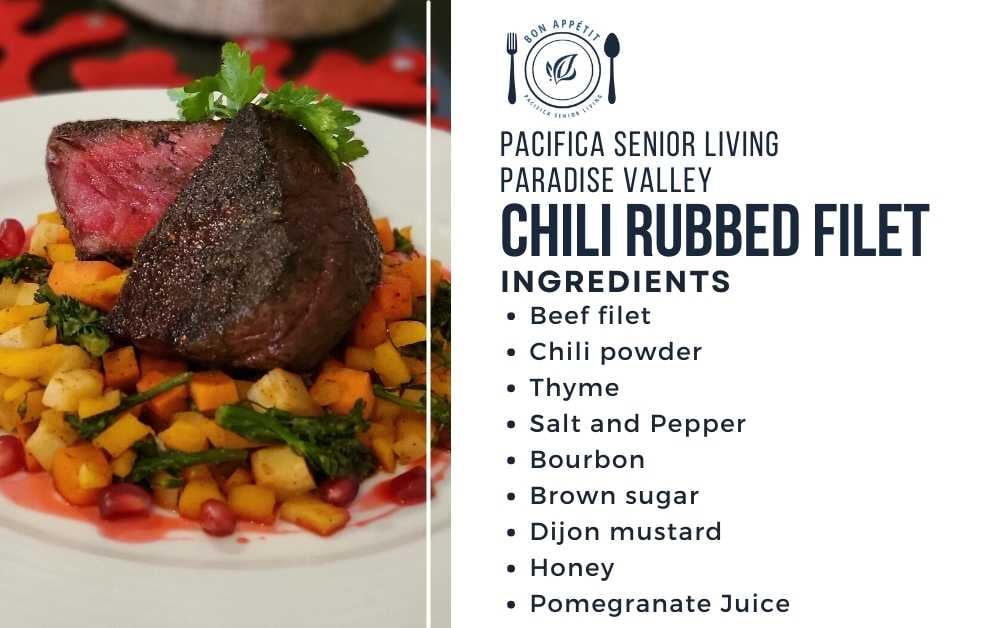 Chef Renne is an inspiring chef that is constantly coming up with amazing meals. From this award winning filet dish to korean beef dishes, rosemary roasted pork loin and so much more, she is constantly delighting residents of Pacifica Senior Living Paradise Valley with her impressive and creative meals.
Chef Renee was first drawn to cooking when Mrs. Fields of the famous Mrs. Fields cookies visited her middle school. She soon found a passion for cooking, and went on to Culinary school, graduating in 1995. She has worked in the culinary field for over 30 years, and eventually came to us at Paradise Valley. Chef Renee has grown to be a key part of our community in the short few months she has been with us.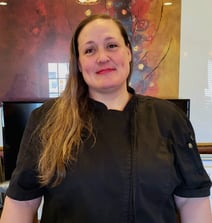 Chef Renee enjoys being able to talk to residents about their food preferences, and create dishes that they will love. Hearing the resident's compliments and gratitude for her wonderful cooking has been inspiring and rewarding.

"I love being able to make people happy through my food," she shared, "I love working with compassionate staff who also share the same goals of delivering a delicious culinary experience."


Ingredients & Instructions
Chile Rubbed Filet
Chili powder

Thyme

Salt

Pepper
Season steak with chili powder, thyme, salt and pepper.
Pan sear in over medium heat for 5 to 7 minutes.
Finish in oven until desired doneness (ideally medium-rare).
Bourbon Pomegranate Glaze
3/4 cup Bourbon

2/3 cup light brown sugar

2 tablespoons Dijon mustard or

whole grain Dijon mustard

1 Tblsp Honey

Pomegranate Juice (Add a little red food coloring to give it some brightness.)

Pomegranate Seeds for garnish.



Combine

ingredients in a saucepan and bring to a boil.
Then reduce heat and let the sauce simmer until it reduces to a thick glaze (like a syrup consistency), roughly 10 to 15 minutes.
Root Vegetable Hash
Butternut Squash

Sweet Potatoes

Parsnips

Broccoli

Small dice the vegetables, season with slat and pepper, and roast in oven, roughly 20 mins at 375. Blanch the broccoli and cut into florets.
Sauté roasted veg and broccoli all together.

You can view our other winning dishes from our Annual Culinary Competition like the Thai Chili Salmon or Maple Glazed Chicken, or see what your local community is cooking up!

Our amazing chefs and culinary teams create delicious meals with the dietary needs of our residents in mind, so they get healthful meals that still satisfy their cravings for excellent chef prepared food.

You can enjoy a complimentary lunch on us when you schedule a tour of a community in your area - come out and try our amazing meals for yourself! You can also view our other community recipes here, or ask us about our exceptional dining program.