Enjoy this winning dish from the Meridian at Stone Creek. Recently we launched our First Annual company-wide Culinary Competition where we searched for the very best meals from our talented chefs, food service directors and culinary team members. Out of all our entries, and nearly 100 different properties, the resounding winner was Chef Ryan McPherson from the Meridian at Stone Creek with his entree of Maple Glazed Chicken.
Sweet and savory, this delicious entree dish packs a punch of flavor. Maple glazed Chicken is topped with candied pecans and cranberries for an extra punch of sweet and tartness. Chef Ryan chose to plat the dish over a bed of Apple Couscous, with side dishes of duchess style parsnip and sweet potato, roasted Brussel sprouts, grilled zucchini and Bermuda onion for a perfectly balanced meal. Each element compliments the dish so well, and comes together for a true culinary experience.

Read more for the full recipe.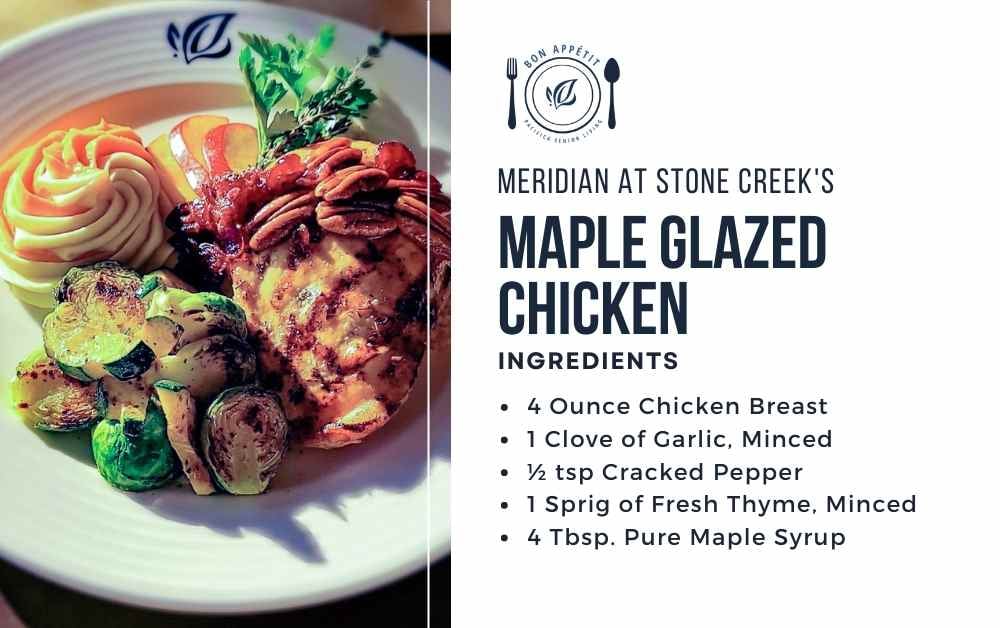 Try this chicken recipe out for yourself, and serve with these side dishes, or some of your own favorites. This simple but delicious chicken is versatile enough to pair with a variety of sides, but impressive enough to wow on its own. Make for friends, family, or guests and serve up something special.

This recipe was created by Chef Ryan McPherson of Meridian at Stone Creek. Ryan has a combined 37 years of experience in the culinary field, creating impressive dishes like this one.


"Cooking is always something that can be improved upon and to me, has limitless potential to always be exiting with new ideas, products and creative presentations"- Chef Ryan McPherson

You can read more about Chef Ryan and our other Culinary Competition finalists here.


---
Chicken

Marinade Ingredients
4 Ounce Chicken Breast

1 Clove of Garlic, minced
1/2 tsp of Cracked Pepper
1 Sprig of Fresh Thyme - minced
4 Tbsp Pure Maple Syrup
Preparation
1. Combine marinade ingredients in a plastic ziplock bag and place chicken in the bag. refrigerate in marinate overnight.

2. Preheat an oven to 350 degrees. Heat a heavy duty grill pan to high heat for about 2-3 minutes. Lower the heat to medium-high and add the chicken to the pan.
3. Cook the chicken for 3-4 minutes on the first side without moving, until the chicken begins to sear, and grill marks appear. Flip the chicken breast and cook the other side for the same amount.

4. Finish the chicken in the oven at 350 for roughly 20 minutes or until the chicken's internal temperature reaches 160 degrees.
Sauce Ingredients
2 Tbsp Butter



2 Tbsp Maple Syrup
Dash of Black Pepper
Pinch of Salt
1 Ounce of Pecans


1/2 Apple, sliced

1/2 once of dried cranberries
Preparation
1. Combine butter, syrup, salt and pepper in a Sauté pan. Add ½ of a freshly sliced red apple, pecans, and cranberries.

2. Lightly cook until most liquid is reduced, pour over Chicken breast.

Pair with your favorite side dish, like duchess potatoes, bacon green beans, or seasonal vegetables.
---
Great food and nutritional meals are an important part of our Pacifica Senior Living communities. Come visit us and enjoy a complimentary meal as part of your tour.
Subscribe to our email list on the right for more great recipes like this one.
or check out our recipes section for more recipe options.
BON APPETIT!